I LOVE Anime especially Kuroshitsuji/Black Butler. I love Sebastian lol. I am a kind person who draws for hobby and fun. I rarely get angry. I am kind, compassionate and caring and I like to help people. I do however make mistakes and errors just like every other human being. I'm not perfect. With that being said, here is something you should see in case you feel nervous about me.
hinatafox790.deviantart.com/jo…
Favourite style of art: Japanese Anime and Manga
Wallpaper of choice: Anything with Horses, Foxes, Anime and Manga
Shell of choice: Teenage Mutant Ninja Turtle Shell!! XD
[URL="
theotaku.com/quizzes/view/3541…
"][IMG]
www.theotaku.com/guru_results/…
Which Kuroshitsuji Character Would You Date?
Hosted By theOtaku.com:
Anime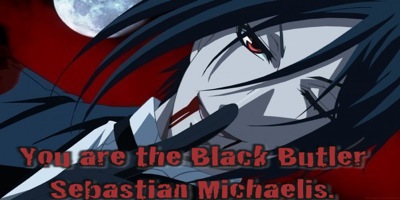 What Kuroshitsuji Character Are You?
Hosted By theOtaku.com:
Anime
What Anime Personality Are You?
Hosted By theOtaku.com:
Anime
Favourite Visual Artist
Kaz Silver, ect.
Favourite Movies
Anything foxy, Anime, Horse related, Drama Genre, Horror Genre, Thriller Genre
Favourite TV Shows
The simpsons, Naruto, InuYasha, Pokemon, Horseland, TMNT, Sonic the Hedgehog, Total Drama Series
Favourite Bands / Musical Artists
Linkin Park, Green Day, Kaz Silver, anything rock, pop, rap, hip-hop
Favourite Books
Manga and anything Horse related
Favourite Gaming Platform
Wii, PS3 ect
Tools of the Trade
Gimp, Colored Pencils, Prisma Color Pencils, Sharpies, Camera, Mechanical Pencil
Other Interests
Anime, Horses, Foxes, Manga, Japan, Hanging out with friends, going out on the town, going to clubs ect.