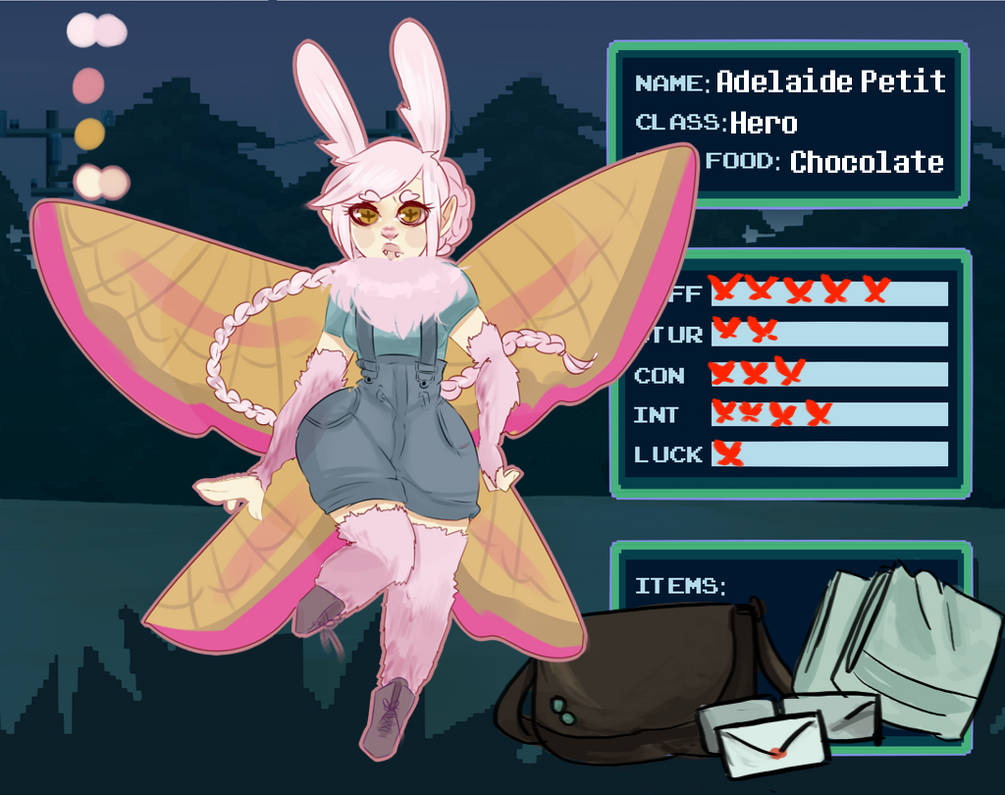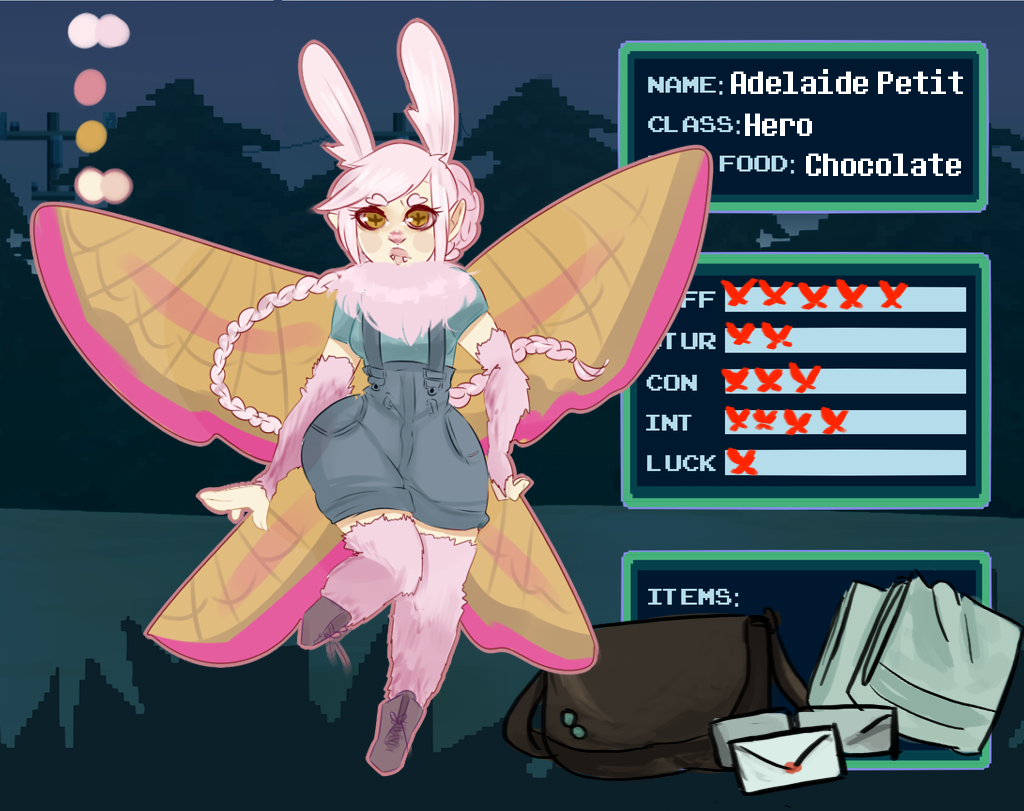 Watch
MR MOTHMAN MOTH ME A MOTH
For


■ Name: Adelaide (Del) Petit
■ Class: Hero
■ Favorite Food: Chocolate (preferably dark)
■ Items: Satchel: containing a towel, snacks, and various letters to be delivered. She uses herself as a weapon for both defense [puffing up to appear larger] as well as shedding poisonous dust from her wings.
■ Personality: Incredibly hard working, Adel is the type to support herself,and do what she pleases with or without support. She's confident in herself, and has incredibly high self-esteem, but has trouble opening up to people because of her self-sufficiency. That's not to say she wouldn't accept help, and is actually not above sweet-talking to get what she wants. She's a flirt,through and through, and will use whatever wiles she has to get her way. Under all of that though, she does care about a few certain people quite a bit...

■ Stats:
TOUGHNESS: |||||
STURDINESS: ||
CONFIDENCE: |||
INTUITION: ||||
LUCK: |

■ Background: Born on the outskirts of Paris, France, Adelaide was brought into the world by a mutant Moth- woman. The mutant community was thriving then, though most of them either lived in secret or underground. Her mother was one of the former, who resided in an underground city called Papillion. There was a decent population of mutants, primarily insectoid creatures, and all was well for a while. Sadly, her mother passed away from childbirth complications, and left Adelaide the care of a family friend named Francoeur. It was a happy life, as he'd treated her as his own, teaching her to fly, speak, etc.
Eventually though, chaos ensues when humans become spooked by the mutants, causing Adelaide to flee with Francoeur. Her childhood and adolescence (though a happy one) was spent just slumming around in safe houses, until Francoeur caught word of Indieville. A group of mutants made plans to escape to Indieville, and life was soon to change.
However, Francoeur became ill. He wasn't young when he took Adelaide in, and by the time she was a young adult, his body was worn. He made sure Adelaide was left with enough money to survive off of, leaving her on her own to move to this scary new place. She'd grown up a relatively well-mannered (though mischievous) girl, but became defensive and angry after Francoeur passed. Adelaide looked out for herself; made sure she had food, clothes, etc. but it was still difficult to adjust to life without Francoeur. She knew how to manage from growing up the way she had, though without him, her heart became hardened.
At age 19, she was finally able to make it to Indieville, and took residence in South Tracks where she currently lives. She mostly keeps to herself, fluttering around with parcels and packages, but even she desires to start a new life, and to let go of the past.
■ RP method: Typically I RP on discord, leaning toward paragraph RPs, but I'm flexible. Note me for my Discord!
■ Shipping?: No one yet! But I LOVE to ship, romantic or not!



---
■ Job: She's not hired anywhere yet officially, but she delivers letters and packages for people who ask. She calls it "The Moth Express", even though she can't guarantee a delivery if it rains.
■ Gender: Female
■ Age: 20
■ Race: Moth-Person
■ Ethnicity: Unknown.
■ Romantic / Sexual Orientation: Pansexual.
■ Other:
Ø Carries a towel with her to dry her wings if need be.
Ø The fur on her arms and legs spreads over her body and puffs out when she's angry, or defending herself.
Ø Likes to feel things with her antennae.
Ø Very warm blooded.
Ø Fluent in French.
Ø Her birthday is October 12th.