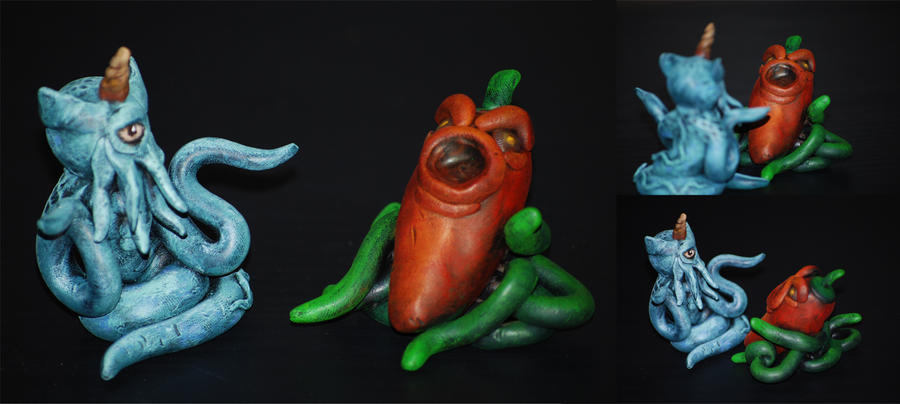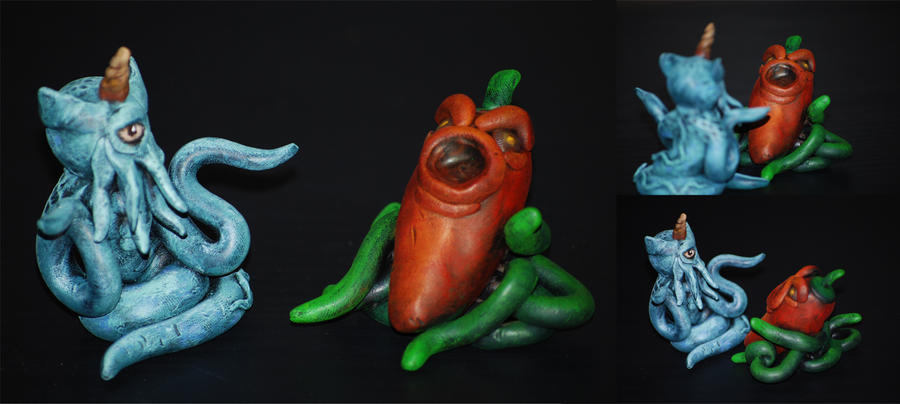 Watch
More miniature sculpey monstrosities! This time its a tangle between two tentacled titans: Chilizarr vs The Seaclops!
Chilizarr (aka Chili Czar)
[link]
Chilizarr is based on old B movie spoofs like Attack of the Killer Tomatoes. Chilizarr is a red pepper infused with extraterrestrial DNA, causing it to grow into an enormous tentacled monster filled with a blind rage. It crawls across the ground on a mass of green tentacle like vines, screaming like crazy or scowling like a grumpy old man. It has two large dark tinted eyes that have a yellow/orange glow to them at night.
Chilizarr is capable of spitting bursts of flames like a giant pepper-y flamethrower. He is also capable burrowing underground, although he rarely does so. Being a giant plant, Chilizarr certainly welcomes solar rays and water, but his alien DNA allows him to survive in any environment, even the vacuum of space. Chilizarr's most unique power lies in his innards: Chilizarr is an extremely spicy pepper dealing massive amounts of internal damage to an organic kaiju that takes a bite out of it. Just being around Chilizarr causes monsters' eyes to well up with tears and noses to run.
The Seaclops
[link]
Seaclops is inspired by Harryhausen's claymation monsters, namely the Cyclops and the Kraken (duh). The Seaclops is an ancient sea dwelling creature treated as a deity by a lost island civilization. After the island is discovered by Australian satellites and taken over by the Aussie government, the monster, without its daily sacrifices, goes on a path of destruction.
The Seaclops has a long serpentine body, making it very agile and fast under water. Its long tentacled reach works very well in grappling situations, and it prefers to choke out or constrict its enemies. It makes up for its lack of a ranged weapon with its cunning intellect. The Seaclops is a very smart kaiju, capable of identifying a foe's Achilles heel and exploiting it. This especially includes dragging monsters into the ocean, drowning them.
This battle takes place in Sydney, Australia. Both monsters have equal reaction time. Chilizarr is faster on land, while Seaclops has the advantage in the water.
So, who wins this tentacle-y battle??
Chilizarr or the Seaclops?
ps. Here's a group of the monsters for size comparisons:
[link]

I absolutely LOVE these two sculpts. They're superb in every way. If I could purchase these as action figures in a department store, I'd be on them like a vulture to roadkill!

I may have to draw this battle... it's really inspiring!
Reply

Thanks! I'd love to start making some for sell if you're interested.
And it would rule if you drew this battle.
Reply

Wow, very cool

Reply