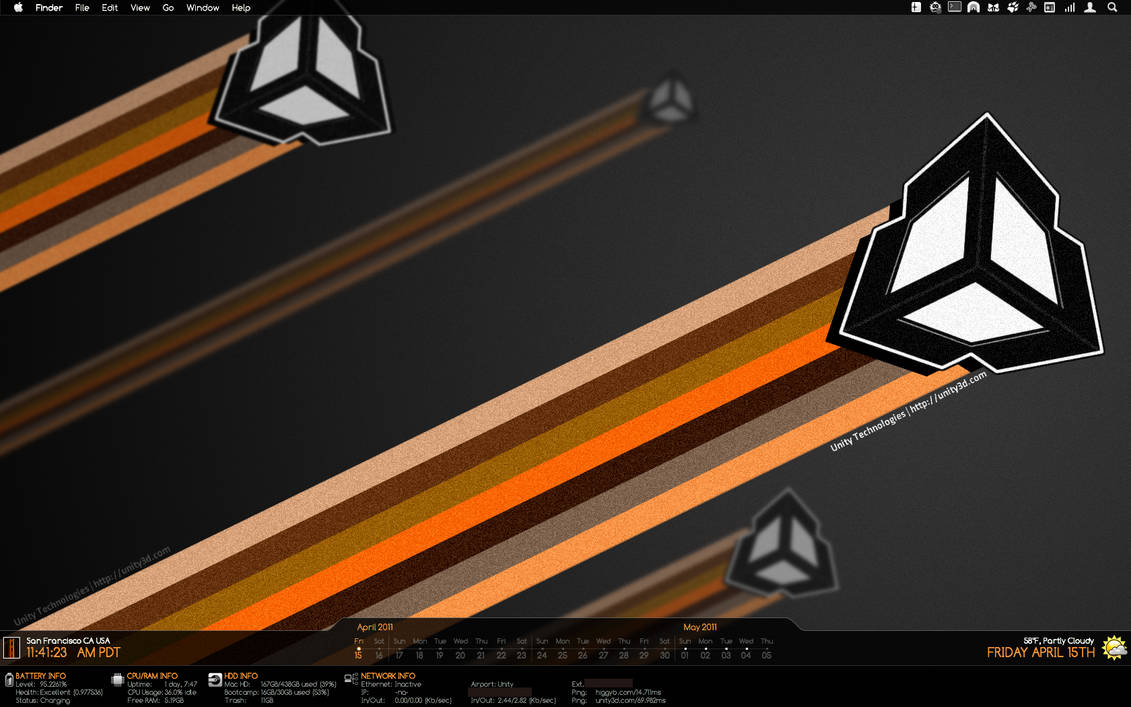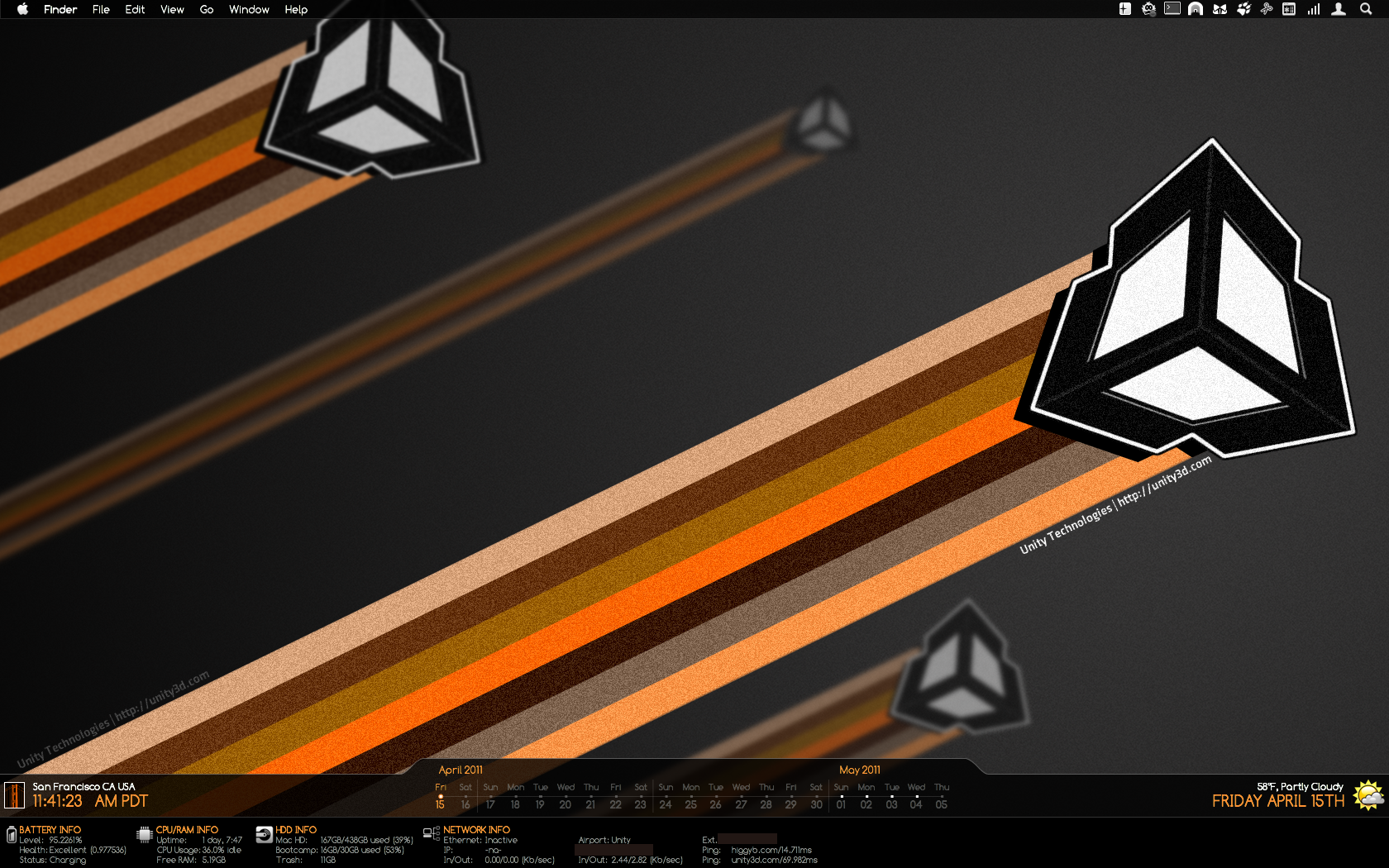 Watch
My first upload to DA, w00t! I work at Unity Technologies and am in love with my job and the product we make, the Unity game engine. As such my work laptop has been themed for a long time now, but as of early April a casual and light side effort become a hard core addiction. I found GeekTool then NerdTool, Secrets and TinkerTool, and more. The above was my desktop for most of April and the first week of May and it features:
Desktop wallpaper made by me
[link]
Weather conditions displayed using GeekTool.
Weather icons by JyriK here on DA, "Weather Icons Shiny"
[link]
Semi-transparent menu bar
White menubar icons
That's a Dateline calendar across the bottom
The data/info at the bottom is all GeekTool
FWIW, my dock was accidentally left out of the screenshot and a few weeks ago I migrated to a new set up. But it's in the bottom right corner with auto-hide on and an invisible background to it. That will appear in my next screenshot, my May desktop.
If you're interested in the wallpaper image itself then check out Wallpaper - Orange Love
[link]
here on deviantART. I posted a set of three wallpaper images, the one used above and two others that are similarly themed. Enjoy! (added May 25, 2011)
Note: I'm rushing to get this posted and I will come back and give proper credit for some of the tweaks like the menubar and whatnot. I most definitely did not come up with it all myself and owe a few folks lots of thanks!


nice one. thanks a lot for sharing with us.

and you already use geektool as i see right now (:
Reply

Thanks! I was using GeekTool, then I switched myself over to NerdTool entirely. But that Geek->Nerd migration was completed just in time for the release of Lion, and NerdTool is non-functional on Lion whereas GeekTool does work. So now I'll migrate back... Good times eh? I'm working on my first Lion update now, I should have it posted soon!
Reply

i am curious. my switch to lion so soon, since in the beginning there are a lot of bugs in the system and software developer have to update their software too ?!
anyway, i give it another half year and thank you for the info on geektool compatibility on lion. i have come to appreciate it very much for some functions.

good luck on the lion update. (:
Reply

Cool shot!

Like what you did with geektool

Reply

Thanks, I appreciate the positive feedback. Sorry I didn't reply until now but I've simply been off deviantART for a while now as I've been busy at work, with life, etc. Rock on!
Reply

Reply

I'd love to but I'm at work right now and that wallpaper file is on my backup drive at home, I think. If nothing else I can recreate it for you.
FWIW, I did a few flavors of that wallpaper, using those orange colors, another with a set of blues and a third using white, black and some grays. Then each of those in a few variants with how the Unity logo/stripes are shown, and how many are shown. My point? Once I find that source I may post a small collection of them for you to choose from.

Reply

Awesome

Thanks Tom

Reply

Sorry for taking so long but I finally uploaded the wallpaper image shown in my "OS X Desktop - Orange Love"
[link]
submission. You can find that desktop image plus two others in "Wallpaper - Orange Love"
[link]
. I run my MacBook Pro at 1680x1050 so that's the resolution I posted, if you need another resolution then let me know and I'll get those included for you as well (and be a bit faster!).
Enjoy!
Reply

Thanks for the link!
And don't worry about the screen resolution thing - I can scale it down myself

-Mike
Reply

please share the weather icon?thx
Reply

This is pretty cool. I'd like to do something similar, I can't wait till you post the rest of the information.
Reply

Thanks! I'm getting my personal website/blog in order and once that's sorted I'll share the details on how I made it all happen and of course on some of the other (cooler IMO) things I've added/changed in the last few weeks.

Reply