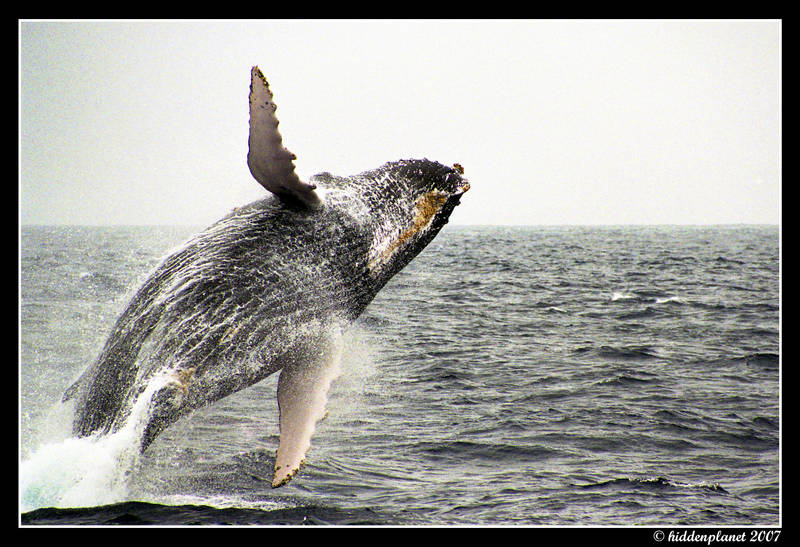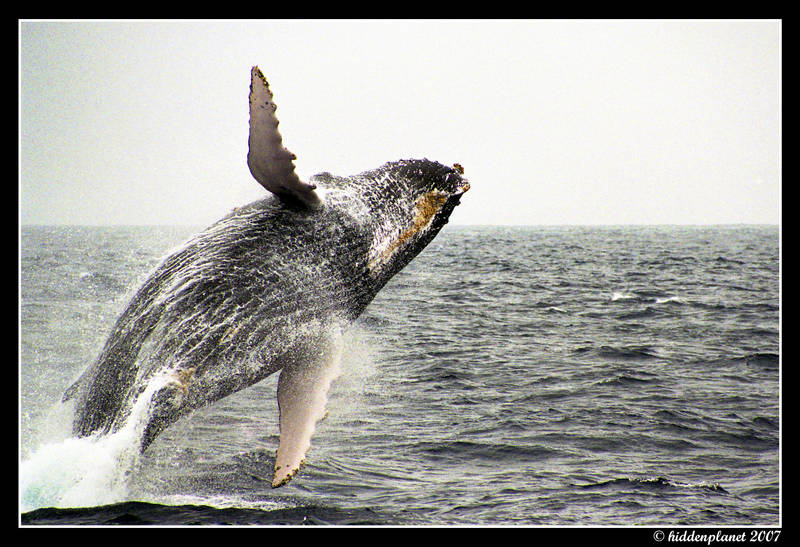 Watch
After 4 hours of searching for some humpback whales in pretty rough waters around Puerto Lopez in Equador, this mother whale surprised us by jumping up only 150 feet from our boat and giving us an old fashion splash-welcome in her "house".
...With its Latin name, Megaptera novaenglieae, meaning "long winged from New
England," this genus is aptly named for its gargantuan flippers which are
nearly a third of the whales body length.
...The bump just in front of the dorsal fin as well as the series of bumps on
the back, behind the fin on some of these whales inspired the whales¹ common
name, humpback.
...Humpback whales are among the larger of the baleen cetaceans, averaging 19
meters in length and weighing up to 48 tons.
...Although they are not very fast swimming creatures, great energy--along
with grace and acrobatic skill--is displayed when the humpback plunges clear
out of the water, in a performance more aerial and animated than any other
large whale. This act is termed breaching, a trademark of the humpback, and
a behavior whose significance is not clearly understood.
...The humpback¹s song is an important part of its behavior. Each major
stock, separated by geographic area, has its own song. So far, scientists
have identified three basic dialects. The song sequence changes
approximately every year simultaneously in all members of the population.
Studies suggest that songs are almost always confined to the breeding
grounds, and that the singer is the male of the species. Therefore, it is
hypothesized that the song may act as a form of sexual selection: it may
serve to define territory or as a form of courtship.
This DA was renewed because the quality of scanning (new scanner) was much better than the first one.
And WOOOOOOOOOOW, on April 5th 2009 it was rewarded with a DD by
[link]
Thank a lot for that

Photo taken with a Nikon F801, 300 mm lens and using Fujicolor 400 ISO
Daily Deviation
Given 2009-04-05
Humpback dance
by *
Hiddenplanet
Now and then being in the right place at the right time can really pay off, as was the case with this shot here. Talk about a sense of drama and action....Whales in the wild, something one day I can only hope to witness with my very own eyes. A great capture at exactly the right second! (
Featured by kkart
)