Ah hah, dA lost another one to tumblr, I guess. It makes sense. A lot of people (even on tumblr) aren't really... talkers. Not bloggers, I guess. Texwallers. Who is? I am. The obnoxious one is me. Tumblr is a lot more suited to textwalling than dA.
I DIGRESS
Anyway, I've been working on two things -
-Rebooting MO. I'll be back with more updates about that. I also put a cover up a couple of minutes ago: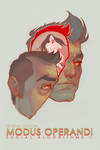 -Working for
Gestalt!
Thanks to
Coelasquid
for getting me out to SDCC, and
manic-pixie
for getting me an interview with her editor/helping me learn the ropes! I was not expecting to leave SDCC with a Real Comic Job at a Real Publisher, but it's
pretty awesome
. It's been the good kind of challenge. Hopefully, I'll be able to show you guys at least some crops from what I'm doing for them!
IT"S NICE TO TALK TO YOU AGAIN, DEVIANTART FRIENDS