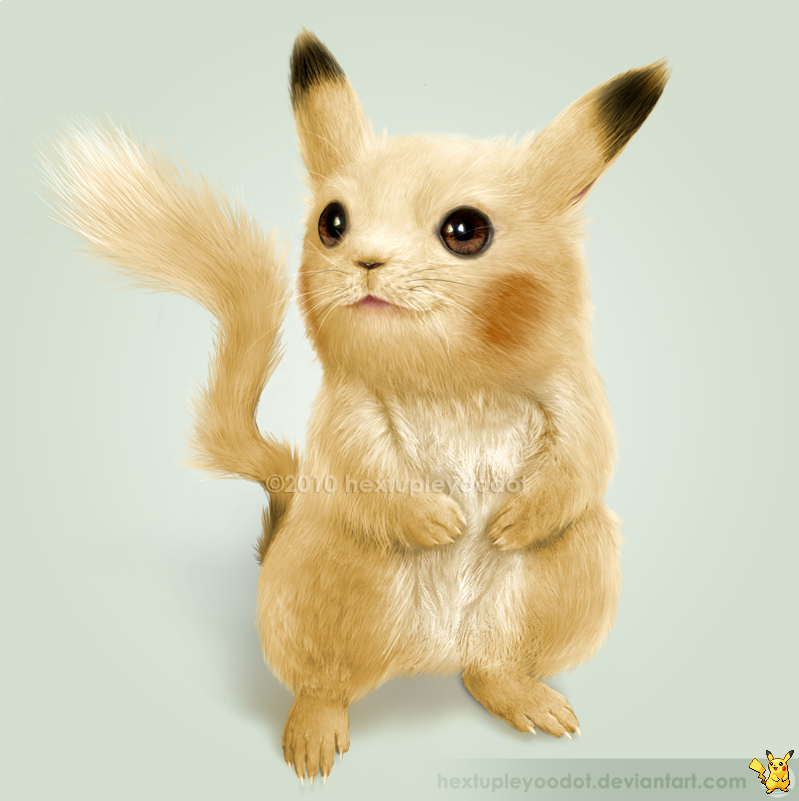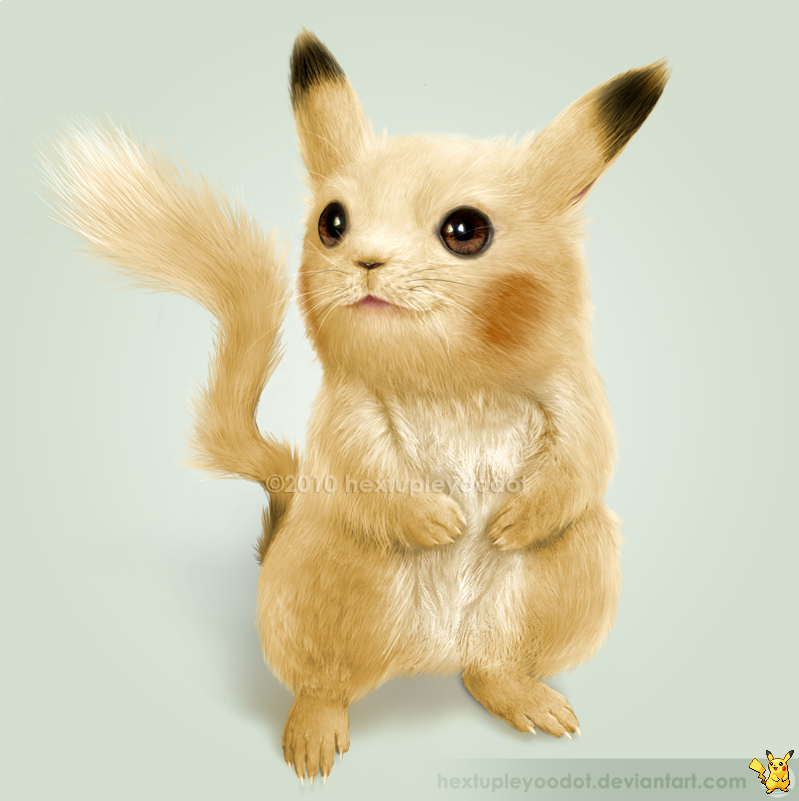 Watch
UPDATE:
Gritty Reboots used my realistic pikachu in one of their videos! Pretty flattering.
Click to watch!
See where it all started in this process video:
[link]
Whew.. where to start. This is a project I started way back in 2008. It began when I first saw the "Super Real Mario Brother" by

The goal was simple: rather than trying to take proportions from existing animals, I thought it would be more appropriate to take Pikachu's actual proportions and turn then into something plausible for the real world.
But not too far into it, I ended up giving up, as, while I could use various references to compose certain parts, I didn't have an easy method of replicating fur, especially along the perimeter of the piece.
As you may know, earlier this year, I finally got my hands on a tablet. And so, just over week ago, I was inspired to pick it back up after seeing "Eevee" by

Using my tablet, I was able to finally achieve a result that I'm pretty satisfied with.
The whole process was highly experimental. I started out simply cutting out parts from source images to create some parts, but eventually, I ended up doing a majority of the fur from scratch, so coming up with ways to create convincing fur was a real challenge. I think it came out pretty well.
Overall, it's been a huge learning experience. I've come to be a whole lot more comfortable using the Burn and Dodge tools in Photoshop, and of course, I was quite chummy with the Liquify filter. XP
If you look carefully at his eyes, you can see a reflection of my head in front of the window behind the sofa on which I was sitting while working on this.

Anyway, I hope I did Pikachu justice! I'll be opening this up to critiques, which is something I've not yet done. Just don't be too hard on me

I might make changes based on your input, so don't be afraid to tell me what looks bad!
Ash, I promised I'd finish this, so here it is finished! I hope when you see this it makes you smile!

(That's Ash as in Ashley, not Ash as in Ash Ketchum, for your information, viewers.)
Please don't use this image without permission.

Pikachu © 1995-2010 Nintendo / GAME FREAK Inc.
Overall it looks amazing honestly.
Except that the fur is too thick and makes pikachu look thinner compared to the show and pokemon games. You should consider making pikach a bit chubbier and softer looking with finer hair, sort of like a hamster.
The tail needs some work as well. It appears too fluffy, sort of cat like. The last bit of his tail could be a little larger, like pikachu's sprite image (if you compare the you can see that your tail is a little thin at the top then the sprite).
The face, eyes, nose look great! Well done.
The ear (pikachu's left ear, our right) isn't dark enough. Maybe you sould darken it, make the black more black.
But this is the best looking "realistic" pikachu that I've seen a real long time.

Great job!
The Artist thought this was FAIR
156 out of 230 deviants thought this was fair.
I used to work with animals and rodents in a pet store for quite some time. Let me say this one word. WOW. where should I start?! Everything about this screams to me something in nature. The body looks just like a Chinchilla with blond hair. The face is what does it for me the most! The mouth has that bit of pink fleshy spot that all rodents have. Also the whiskers and the eyes. Rodents generaly have very wide eyes and you accomplished that real well here. The eyes are wide on rodents so they can get as much light as possible. Rodents generaly are nocturnal by nature. The nails are also an impact for me as I recall being scratched by guini pigs when I worked for the store and having to trim their nails down lol. I can definently say if I picked up this pikachu and spooked him (assuming he doesnt electricute me) ide get a little scratch. My only critique is maybe have a little of his upper front teeth show just a bit. On a rodent the teeth grow long and they need to chew on lots of things to keep them trimed. If you go to a pet store and look at even a hamster look close you will see the front two teeth poking out a tiney bit. If you could add that in here you are as gold as the golden fur on this pikachu. You did the little guy huge justice rendering him like this he looks so real to me that I want to go out and find where in the wild one of these gus lives lol. Again wonderful job and thank you for posting this amazing peice.
The Artist thought this was FAIR
206 out of 212 deviants thought this was fair.