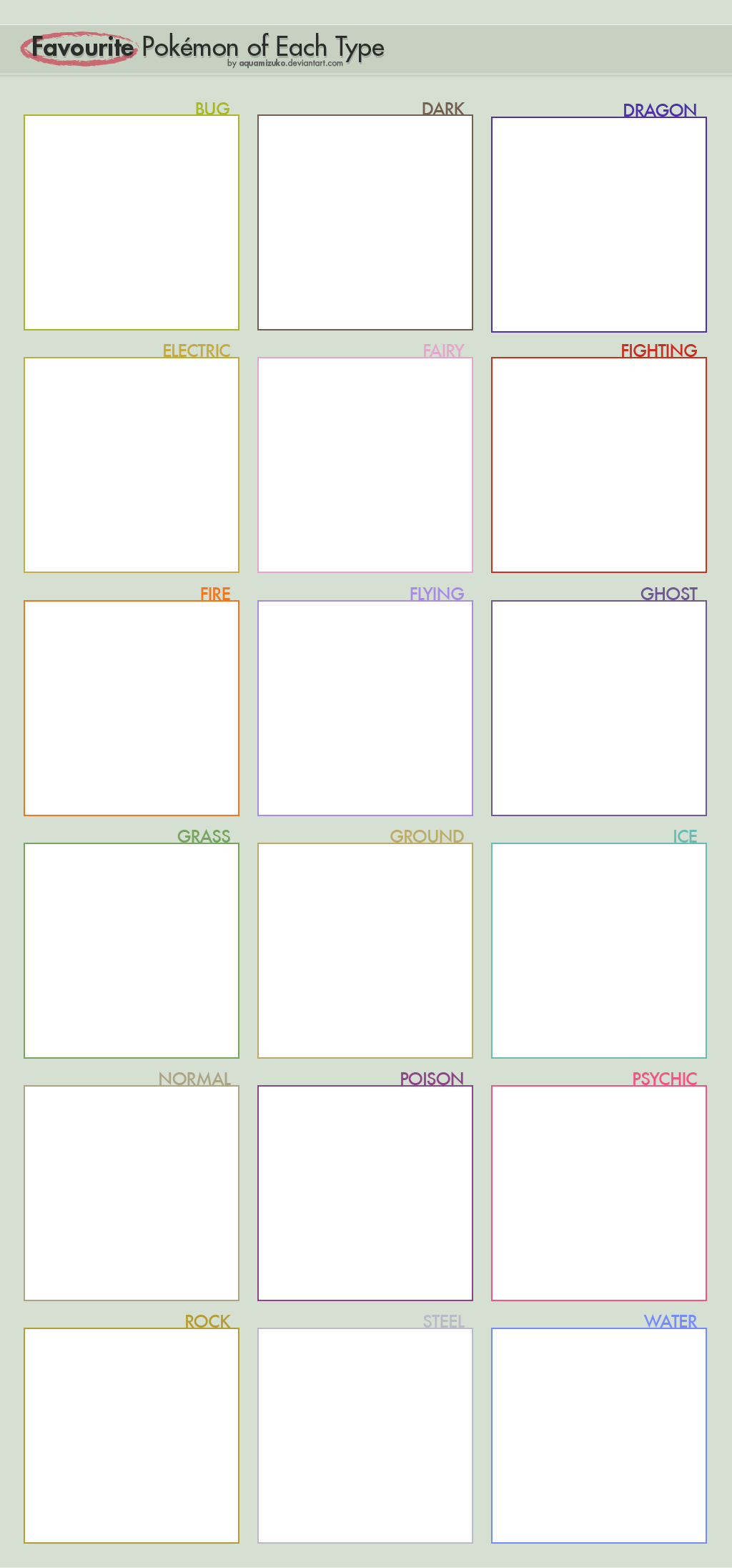 Watch
READ BELOW IF YOU WANT ONE OF THE OLDER VERSIONS OF THIS.
Something not particularily artsy, but..
I've found these memes kind of fun to do when I don't feel like making a serious drawing so I decided to make one, myself. I don't think this has been done for pokemon yet.
You can find lists of pokemon by type on sites like Serebii.net
www.serebii.net
or Bulbapedia
bulbapedia.bulbagarden.net/wik…
.
----------
Update - June 15, 2013: I've redesigned this to accommodate the new Fairy type! I went with three per row because that can be done evenly now. If you prefer the old meme design you can download it below..
Update - October 2010: Old news, but this meme got way more popular than I had expected. I guess people like drawing their favourite pokemon. I'm really glad you're all enjoying it so much.
I've updated the meme to look a little better, it's a bit larger now as well.
----------
CURRENT VERSION ALTS:
----------
Old Versions:
VERSION 2:
Normal 1030 x 1240px:
i.imgur.com/2KI3d.png
Smaller 800 x 960 Version:
i.imgur.com/HI24A.png
Larger 1661 x 2000 Version:
i.imgur.com/h6Ntr.png
Printer Version (2550 x 3300, 300DPI, reduced colour):
i.imgur.com/pyrNj.gif
ORIGINAL:
One size:
i.imgur.com/KRiWJ.png
----------
FAQ:
Can I do this on paper/print it?
Yup! There's a printer version just above for that reason.
I can't draw, can I use sprites instead?
It kind of defeats the purpose (draw your favourites), but I won't stop you.
How do I save it?
If you want actual size, hit the "Download" button on the right, then right click and save the image. If you're getting one of the alternative versions listed above, then click those links and again, right click and save (or print for the printer version).
I like the idea of this meme, can I make a "Favourite _____ Meme" or "Least Favourite _____ Meme"?
Sure, I'm not planning try and monopolize the idea.

How do I do this meme?
You'll either have to save it and open it in a drawing program that can read PNG files (MS Paint, Adobe Photoshop, GIMP, etc) or print it, draw it by hand, and then take a picture of it or scan it using a scanner. If you can't open PNGs, you can try the printer version (which is a GIF), though as a warning it's huge.
Can I fill out this meme more than once (by different generations, need to update, etc)?
Of course!
Hay someone should do an Arceus version olol
..Not exactly a question, but this has been done.