►
Commission slots for
PERSONAL USE
in accordance with A WAITING LIST.


►
Commission slots for COMMERCIAL USE are SEMI-OPENED.
My contact e-mail: hetiru.k@gmail.com

Please, remember:
By commissioning me in any kind of way, you are agree with the terms of service below.
If you, the customer, did not read the terms of services, I will not be held responsibility for your own misconception.


TERMS OF SERVICE
The commissioner receives a full sized 300 dpi digital picture with the small signature included.

No refund can be offered to you after paying. If you're not satisfied with the sketch in any way, I can cancel your commission and suggest you 50% refund. I keep the right to reject future commissions from people proved troubles.
The commission delivery time can variate by several weeks up to 1 year (i.e. many orders to be taken). I'm always in touch, so in case you wonder to know on what stage your commission is, send me a private note. Commission status is visible to everyone via my special google doc.

Not each time I follow the numbering in my to-do list. To do commissions properly and with best efforts, I search for time I feel most motivated in doing particular commission artwork.

I have the right to refuse an order if I am not comfortable/competent with it or if my workload is already enough for the current batch of orders.

PERSONAL USE ONLY! DO NOT reproduce the commissioned artwork in any way of commercial use (i.e. selling merchandise, prints, etc). In case you changed your mind and willing to use an early commissioned work for profit, please, contact me for further details.
I have the right to have your commission as a part of my portfolio, but I promise your commissioned piece won't be used in commercial purposes. The owner's name would be mentioned each time I share the commission on

my personal websites

. All copyrights to the characters fully belong to their respectful owners.

Feel free to upload your commission picture everywhere you want (

provided my signature is not removed)

and use it for social media banners, personal prints, wallpapers etc, but

you cannot use it for any profit and claim the work as yours

.

I deeply appreciate if you give me, Hetiru, a credit ♥
For the sake of successful work the commissioner should provide me neat big sized visual references in any case of ordering (adopts, OCs, fandom characters, game screenshots etc). I won't design

anything like

clothes and character's appearance if it's not a reference (Type4) commission.

If you still don't have a regular costume of your character,

ask another artist to create it and THEN commission me. Also you can attach outfit example pictures to your commissioner order form.

I draw only in my own style. I cannot imitate other artist's style, so check out my gallery to see what kind of artwork you will receive.

No changes will be made after sketch approval. On the sketch approval stage I won't fully redraw an artwork more then 2-3 times!

After the 3rd time I have the right to decline any further changes or to charge you an extra fee per every change.

Small changes in the final piece could be made for free only if it was an error on my part (i.e. I missed a detail that you had provided

in the order).

If you request the commission to be

private,

an

extra fee of 15 USD will be incurred

. The reason is simple: I lose out on my chance to display my current skills for potential customers and also it brakes the term about having commission as a part of my portfolio.



In case you want the commission to be done fast by the specific date (i.e. friend's birthday), do not forget to mention it in the commission form. An extra fee of 30 USD will be incurred and your turn would be first in my preference list.
Paying by PayPal
The commission must be paid in full via PayPal BEFORE I start working on the order.
I'll send you a back note after reading yours. There will be my PP-address and the final sum including PayPal fee in.
For my region (international transfer) it is 5,73% from the final sum.
In case you want to calculate the fee before ordering, you should do next: (the amount) x 1,0573
Please, pay within 48 hours once you receive an invoice.
By commissioning me and choosing the PayPal option,
you automatically agree and promise that you won't request any PayPal chargebacks.
If money has not been sent yet the commissioner has the right to cancel the commission.


WHAT I DON'T DRAW
Type 1: Chibi
[ *** USD ]
Type 2: Waist up
[ *** USD ]
Simple background included
◾
*** USD for additional character
◾
*** USD for half-detailed background
*** USD for detailed background
◾
extra for details/your own animal/super complicated BG
Examples: 1 - half-detailed background, 2 - simple background,
3 - simple baxckground, 4 - simple background + details, 5 - detailed background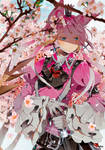 Type 3: Fullbody
[ *** USD ]
Simple background included ◾ *** USD for additional character ◾ *** USD for half-detailed background
*** USD for detailed background ◾ extra for details/your own animal/super complicated BG

Simple backgrounds are on the 1st example.
Other ones are pictures with detailed background.
Type 4: Reference
[ *** USD ]
Like on the example:
Full body (2) + a headshot + important details + (some redesign)
Extra:
super detailed design | full redesign | additional weapon, pets, etc | additional fullbody, headshot etc
Also I can create a custom design for you, but I need a VERY clear description and samples about almost everything (extra price).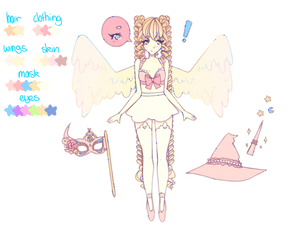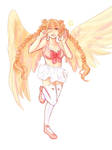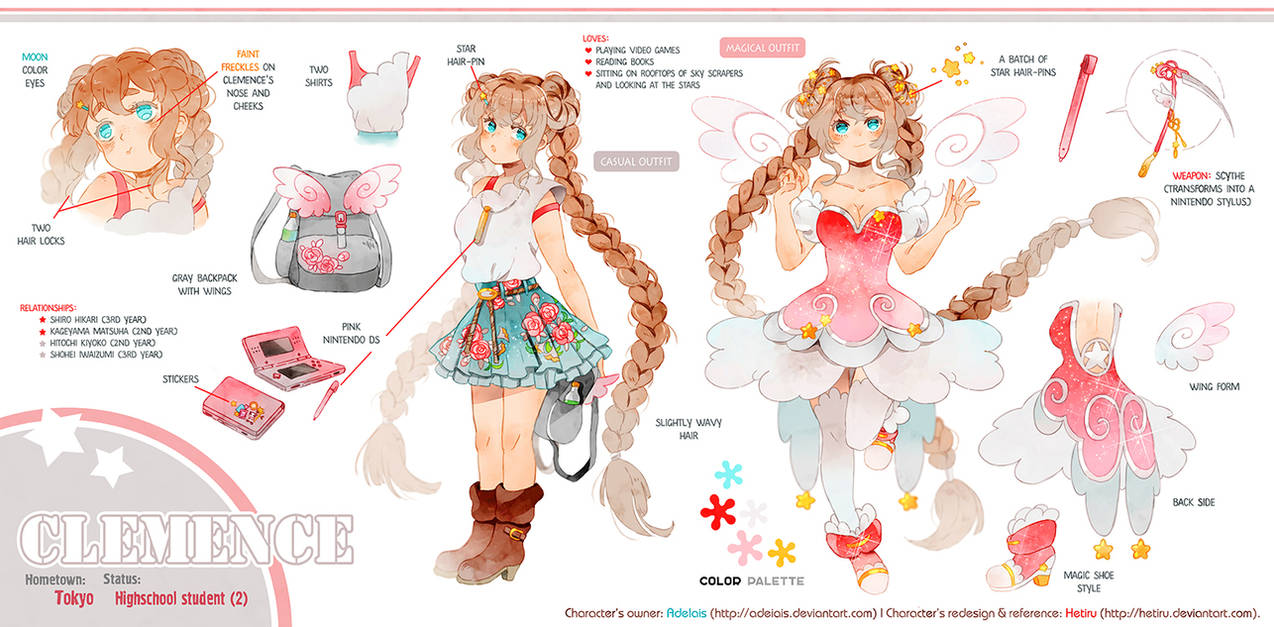 Type 5: Doodle
Fun-color sketch | *** USD per 1 chara

◾ extra for details/weapon/your own animal ◾
Pose and everything (full body/half-body) depends on my choice.
Order it on your own risk! X'D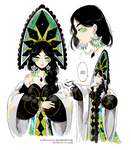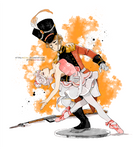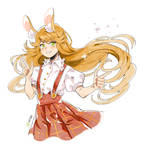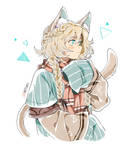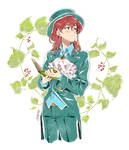 Type 6 "a": Anime stylized
*** USD per 1 chara

◾ extra for details/weapon/your own animal ◾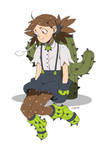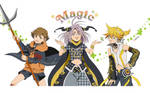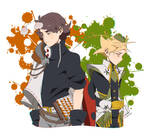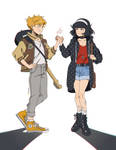 Type 6 "b": Anime stylized comic
*** USD per page

◾ little comic with your OCs and speeches/
up to 5-6 frames
◾


If you're interested, send me
a note
or
e-mail
(
hetiru.k@gmail.com
)
with the following information:
4) Background: yes (half-detailed, detailed)/ no

5) Short info about character's personality

6) Reference/sample pictures

7) Wishes about the future picture/examples

8) Do you want to see a sketch or not? (!!! sketch/wip is not available for Type 1,5,6)

Because there are people like me who enjoys seeing the finished piece at once - emotions level up!
COMMISSION STATUS:
CHECK THE ABILITY FOLLOWING THE INFO OF THE GOOGLE DOC BELOW
Personal-use commission progress & waiting list
By commissioning me, it means you have read and accepted all the terms above.
You will adhere to the policy of using the art for personal & non-profit purposes,
providing all image credits to me, Hetiru