Type 4 reference commission for

and their OC Drew and Lilia.
Thank you so much for commissioning me~!
Sorry, it's been a while I posted something on DA, but still I'm totally alive and most for sure I'm going to update my DA page with some recent artworks. I didn't stop drawing even for a day, - currently working on a big and energy-taking project :'///3 Miss you guys a lot!!
Characters:
Drew and Lilia
(
c)
ktensei
Program:
Paint Tool SAI, Adobe Photoshop CS6, Clip Studio Paint EX
Tablet:
line: Cintiq 27 QHD, color: Wacom Intuos Pen Small
Time:
5 days total
Date:
~February 2020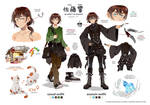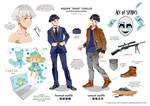 Image details
Image size
2638x1000px 1.39 MB
Comments have been disabled for this deviation