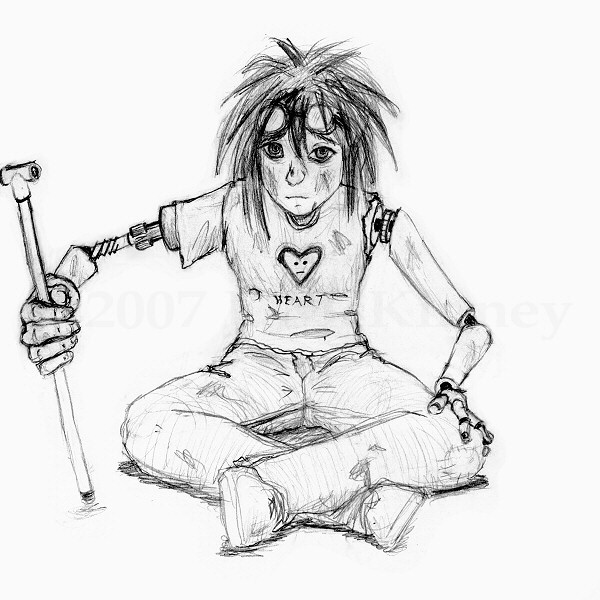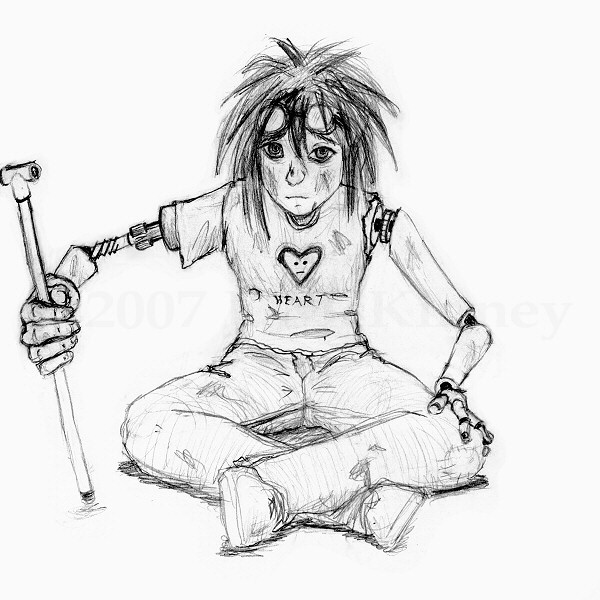 Watch
This is Sprocket, a character I made for our Changeling: The Lost game (White Wolf). She is a clockwork elemental (maniken), and lives in a junk yard.

Her hands and arms are asymmetrical due to the haphazard way she was changed into a maniken. She wears heart shirts (or decorates her other shirts similarly) because she doesn't have a real heart; it was replaced with clockwork.

What you can't see in this picture due to the resolution is that the irises of her eyes have small gears in them.

There is another picture of her in my scrapbook.

She is very much in the Changeling style. Sad and kinda lonley looking

She is very well done. But now I cant help humming to myself "If I Only Had a Heart"

Reply

Nice to see you posting something new up here; I figured you'd forgotten about this place.

I like her; you ought to do more.
Reply

Nope, I haven't forgotten. I just haven't been very happy with a lot of stuff I've been doing lately (and I haven't done a lot, but I'm slowing ramping up my speed again). And also I've been busy with moving and junk.

I probably will do more of her, as I like the design quite a bit.
Reply

Ahh, I know that feeling. With the lack of art love and moving both. I haven't kept up with you ( I'm sorry >_< ), I've been addicted to WoW. Did you and Pete find a new place to live? Or are you out on your own now?

Changeling looked really cool. Not sure if we'll play it though, maybe a short campaign for a few sessions before we find something more long-term for our secondary game.

You know what I could go for? A good game of Cat.
Reply

Nice drawing and very in style of changeling. I like it very much

I have to draw the characters of our group as well ...
Reply