Hello friends,
Well, I have truly entered the science fiction age, as you can see from the picture: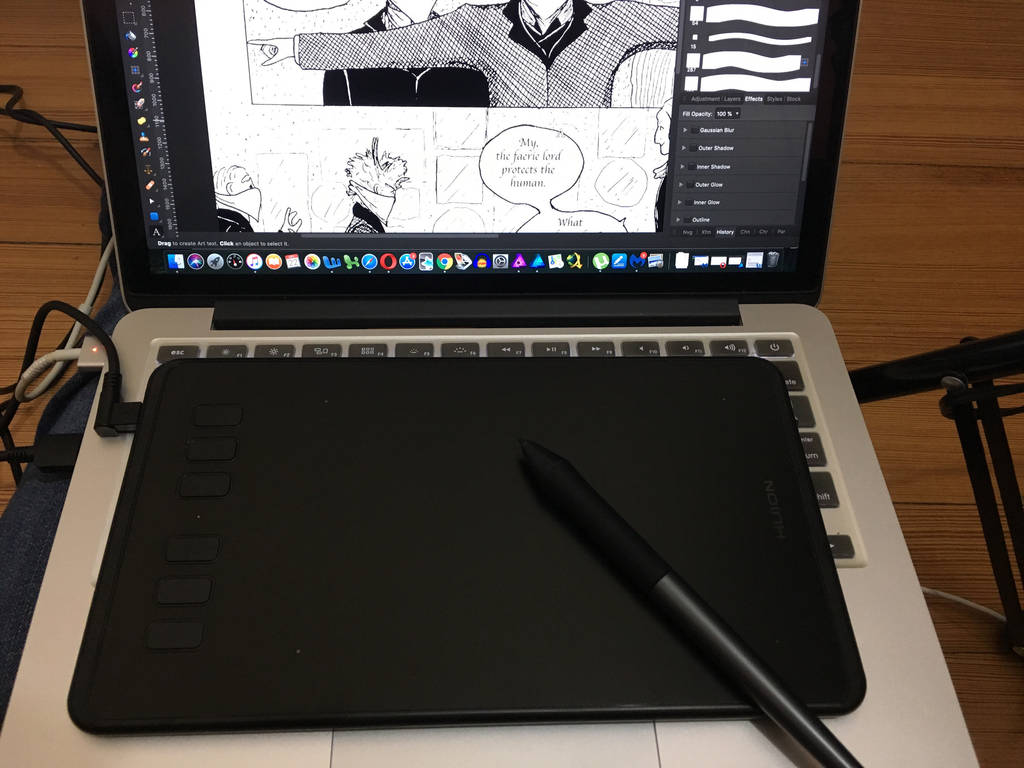 Here is the product here, in case you are curious: www.amazon.com/gp/product/B075… It's not a fancy graphics tablet, but it seems to be a good starting point, and possibly, final tablet purchase. I thought of two things that might make computer work easier if I had such a tool:
1. Editing comic pages, as pictured above. I am a master at using the laptop's track pad: after all, I edited four chapters of CRG with the track pad. I suspected, though, that using a stylus would be kinder on my hand. So far, it has proven to be the case. It's less strain than a normal pen.
2. Making fonts. If you have been following for a while, you know one of my dreams is to make a proper font for my invented script/language. Wouldn't it be so cool to have character dialogues in Nansha? Not scrawled by hand, but a proper font? I played on the vector program Affinity Design, and I was surprised at the ease of using the stylus.
Other considerations:
3. Formatting comics for the web. A recent conversation made me realize how the page-by-page reading of comics online is so cumbersome. Shoot, when I look for manga to read, I look for the scrolling setup rather than "click for the next page". I plan to still use the traditional page format, but I acknowledge that scrolling format, and making them visible by smartphone, is only becoming more and more important. More on this in the future.
4. If I every wanted to make a vector image where I can change the size (I saw one comic artist make a banner for a comic con), I now have the option.
A neat treat has been the pressure control: I thought that feature would be reserved for $$ tablets. (the expression was accidental, but I thought it was rather appropriate):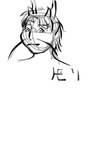 Conversely, I'm confused that rather than acting as a replacement for the laptop during editing, it is only an extension. I still make liberal use of the Enter/Return button on my Mac.
No, I'm not making the plunge into digital art. Like using a dip-pen, using the stylus with the program as a mediator requires a whole new set of skills. Plus, I enjoy the physical media too much: the smoothness of the comic paper, the scratchiness of the maru nib, the rigid lines of the spoon nib, the voluptuous stokes of the G-pen, the smell of the ink, the risk and anticipation of how the character will come alive with lines of carbon water.
Plus, I am very picky about digital art: the pieces I like best clearly show hours of work (the latest Lackadaisey pages are very impressive). I feel like you can make just a pencil sketch of something, and it will look better than the equivalent on any program.
For other thoughts, I have been debating with the head-ratio of drawing characters. Andrew Loomis swears by the 8+ heads-tall character: Clamp's later comics, like Tsubasa and Xxxholic, show very long bodies (in contrast to Chobits, which shows more realistic proportions). In particular, how to draw a ten-year-old, and make him look at that age. I made fun of the Watchmen comic for making the kids look like small adults. I take back my insults: drawing kids is hard. Especially between the ages of a little kid and a teenager: how do you show a person with childish features just entering physical maturity?
Some different head ratios of the same character: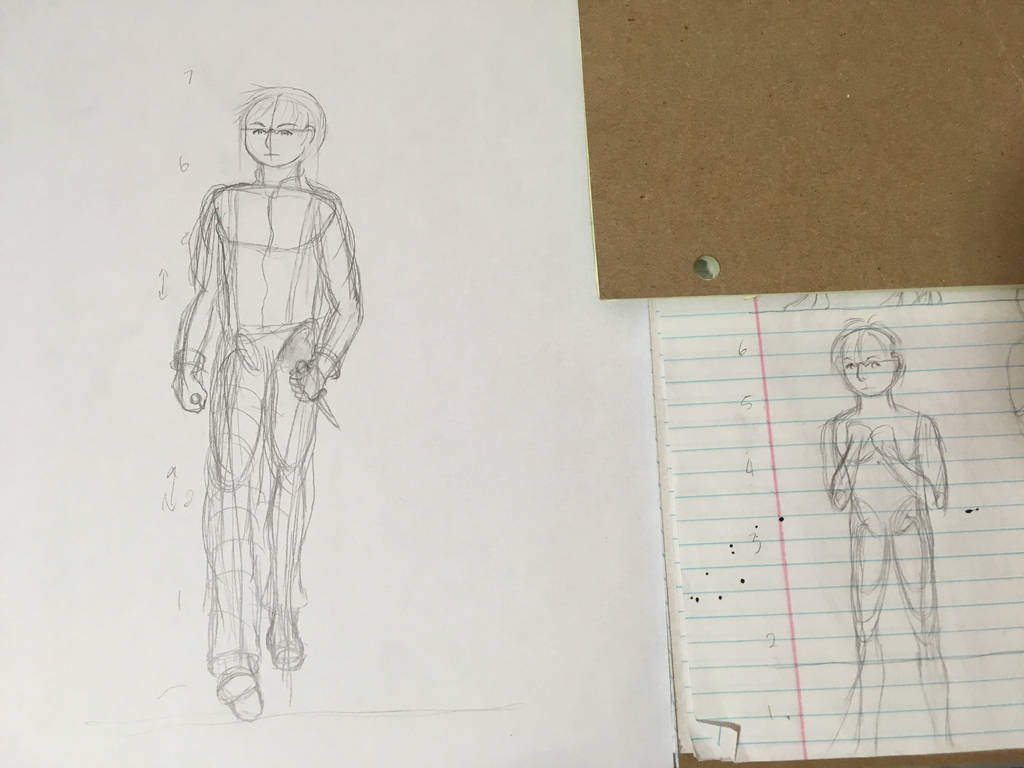 The left one has a ratio close to 6 heads, and the right one has a height of 5 heads. The 6-heads one, even though it's shorter than what Loomis would advise, still looks like I put a child's head on an adult's body (and one leg is too long, but anyway). The unfinished 5-heads one, definitely looks more like a kid, but looks younger than 10?...It's difficult. It would help if I had room for the drawing the feet. Feedback is welcome. Referring to manga depictions of characters, one case has the ten-year-old as 5 heads tall, the short male character at 6 heads tall, and the very tall figures at 8 heads tall.
Stay tuned for new developments,
Hestia