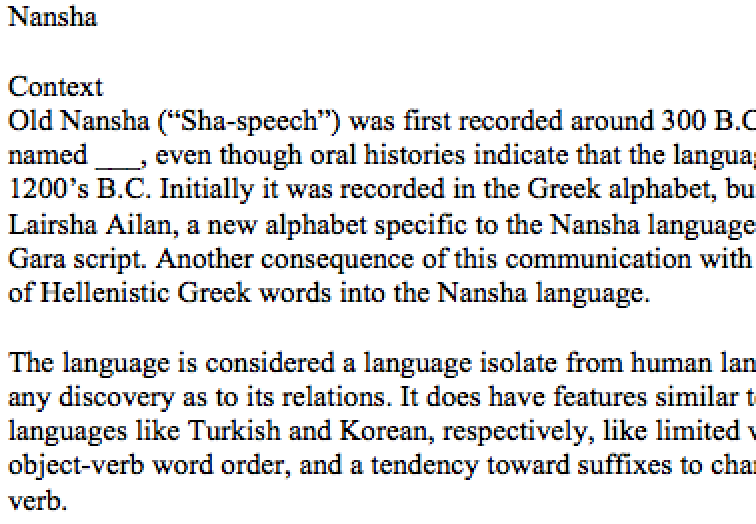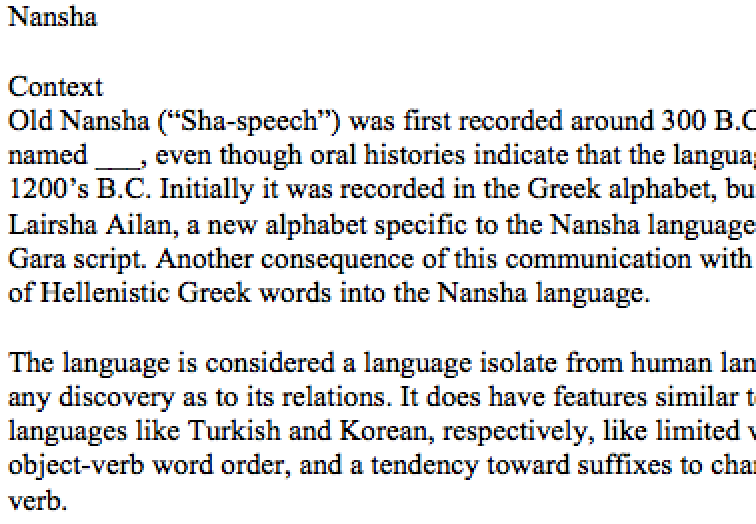 Watch
After the discussion with
MagicScripts
, I was encouraged to submit my WIP of my Nansha grammar sketch. As it currently stands, it is written like a linguistic paper: something linguists (and conlangers) might appreciate and understand, but it is not really suited for the general reading public. I used this style of writing because I thought "that's how it's done", not because I'm comfortable with it. Upon an enlightening discussion with the conlang group on Facebook, I learned that people resort to this style not because they love it, but because they lack better ideas.

Since I imagine my character Rosamond Grey writing a how-to book in the Victorian/Edwardian period, the final version will follow a more friendly style to the average reader. It will read like a old-school "how to learn a language" text, and I even how a physical example from the 1920's that will work just right (Italian).
This is a Constructed Language that first appeared in my comic, Concerning Rosamond Grey. You can refer to the panels that show it:
fav.me/d9to15x
fav.me/d9xw7xd
Though the panels reflect my original intention of having the language read left-to-right. The sequel comic will show the current prototype of right-to-left.
You can start reading the comic here:
fav.me/d7pi52p

For easier reading, check out the comic at:
rosamondgrey.smackjeeves.com

Synopsis:

In the late 19
th
century, little Rosamond Grey sneaked into the woods one night, and was found unconsciousness the next day. For years afterwards she suffers from seizures from an unknown ailment. Dr. Glass is loosing hope for her cure, until a strange foreigner hints of a different cause…