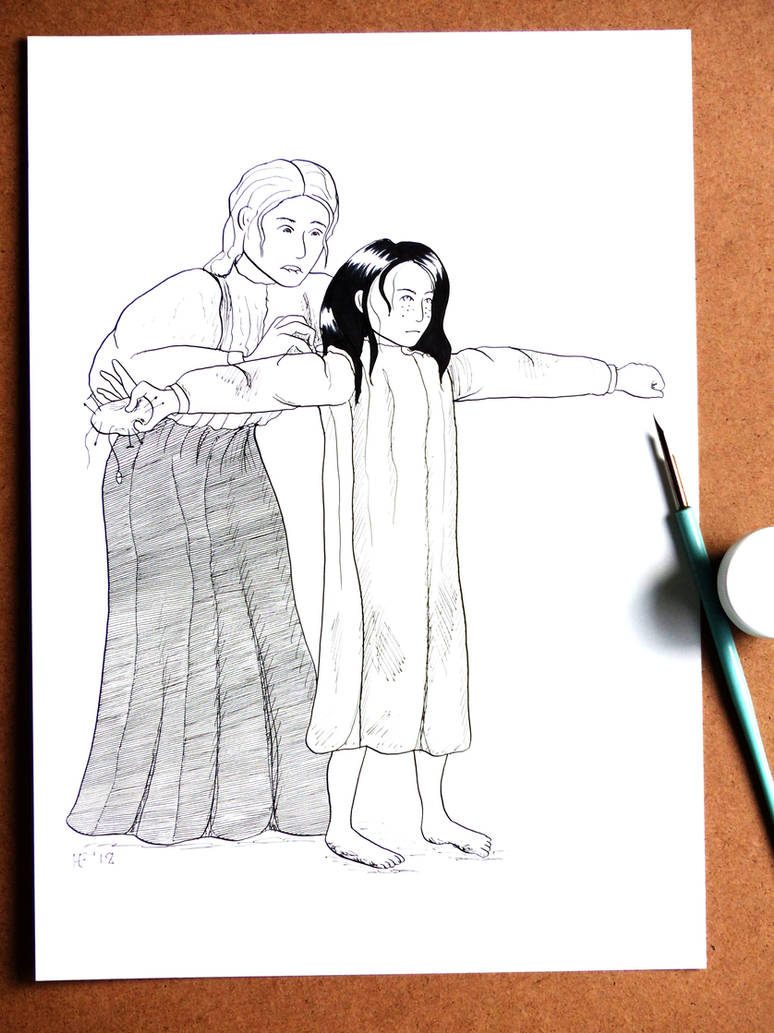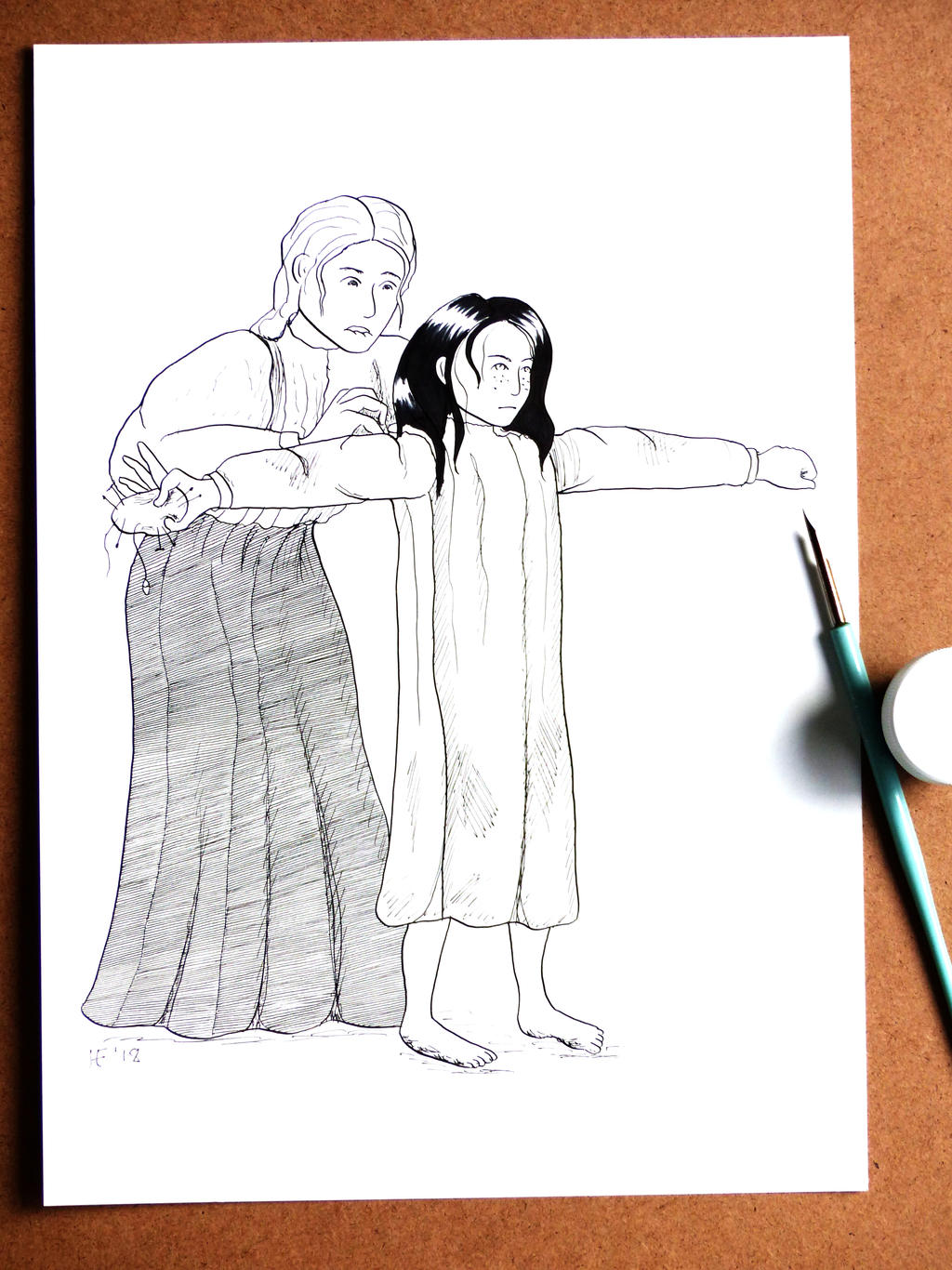 I was thinking of this page when I tried to think of poses to do:
fav.me/dabia6v
And it's also of a person bending over, so lots of practice.

The picture
mostly
works: it isn't my best example of tight line work, and the skirt is the reason I will experiment with ink washes to add gradients.
Edith Spooner
was sadly seduced by a half-human, half-Sha individual (similar to the Perpetrator from my first comic). The result was a daughter 1/4 Sha, and
Meredith
has some typical Sha traits like their eyes. Edith raises her daughter alone, and works to support the small family of two, possibly as a seamstress. Because of her father's heritage, Meredith has a singing voice that is otherworldly (when she chooses to use it). She is also able to see Shas that are invisible to other humans, and she has always known Lord Elaishar's true form. Sometimes the Sha lord employs her singing abilities to calm humans or Shas, and refers to her as his distant cousin. Both Edith and Meredith are supporting characters of my next comic, Atannan.
You can check out my first comic, Concerning Rosamond Grey. You can read it at:
fav.me/d7pi52p
For easier reading, check out the comic at: rosamondgrey.smackjeeves.com
Synopsis:
In the late 19th century, little Rosamond Grey sneaked into the woods one night, and was found unconsciousness the next day. For years afterwards she suffers from seizures from an unknown ailment. Dr. Glass is loosing hope for her cure, until a strange foreigner hints of a different cause…


Materials: Dr. Martins Bombay ink, Pro-white, Deleter paper, maru-pen, spoon pen.

Love the drawing.

















Reply

Hello from Project comment

I must say you did a good job, here. In one simple illustration you manage to express everything from the character's relationship to one another, the mood and feelings of the the young lady and her elder, as well as putting in for original characters whom are interesting and sharp looking. Overall the style reminds me of the long graphic novel Castle Waiting_which also used the white and black format with easy to see line work and lots of character emotion.
There are some areas of the anatomy that could be rendered better (this coming from someone who can't draw people at all

).
One is both the characters ears seem a tad too far back, ears should go slightly to the side of the head, veering towards the back. The other minor flaw is the woman's shoulder seems a tad too wide, due to the lower part of the sleeve not having any ruffles. These are minor issues though, I've done so much worse even to this day XD. Plus even though there are minor flaws you draw hands impressively well, bravos to that, hands are tough!
I also feel that though the scratchy shadowing works very well with the little girl, the darkening of the woman's skirt might look better with smoother coloring. Try getting a color mixer for smudging charcoal into darker shades or use your finger tip

.
I think the format you give for sharing the work is great, I love seeing the backdrop of your illustration desk, along with the the art supplies next to it. Feels very personal and gives us insight into your process. Now for more detailed comic pages Id subjects scanning if you have that option available. I've been in scenarios where that's not an option

.
One last thing, some of the ruffle on the girls dress seem to go on too long, usually clothing ruffles along the frame of the person(unless super tight cloths that don't ruffle much) so the lines around the hip should perhaps dip into the girl's curves a bit.
Hope this was helpful and that you continue the great work. There's a lovely elegance to your simplistic yet detailed style that carries a lot of charm.
Best Indra1408
Reply

Hello there, thank you for the critique and the favorite.

Of course I welcome input from people of all skills: you don't have to be skilled at something to know that something's off.

Interesting observation with the ears: I had not noticed that, but then again, that's why I ask for critiques. I agree with the dark skirt; I am actually experimenting with ink washes that very reason, and because it takes
forever
to do tight line work like that. I also need to work on how clothing wraps around people.
Thank you again.

Reply

Hi! I´m from

Very neat and clean drawing, Hestia

You can see the strokes executed, the way you did the outline, the way the characters stand out despite having white as well as in the background, the anatomical positions achieved, the moment the woman measures the girl that resonates in the mundane and in addition, their expressions very well highlighted.
I really like this drawing, so clean and so perfect. You just won a Watch! Keep it up, Hestia! <D
Reply

The comic element in this piece is great, it's got some real potential to become an even greater piece of art, to begin with, the poses seem very fluent, and actually look proper, even with the one in the front holding her arms up, it doesn't look robotic, the facial expressions are also great, and I feel as if you expressed the characters greatly through their facial expressions in this piece, it is also very clear on what is going on in this picture, and I think it has a very comical element to it... well done

Reply

This looks awesome! Can't wait to see the new comic!
Reply