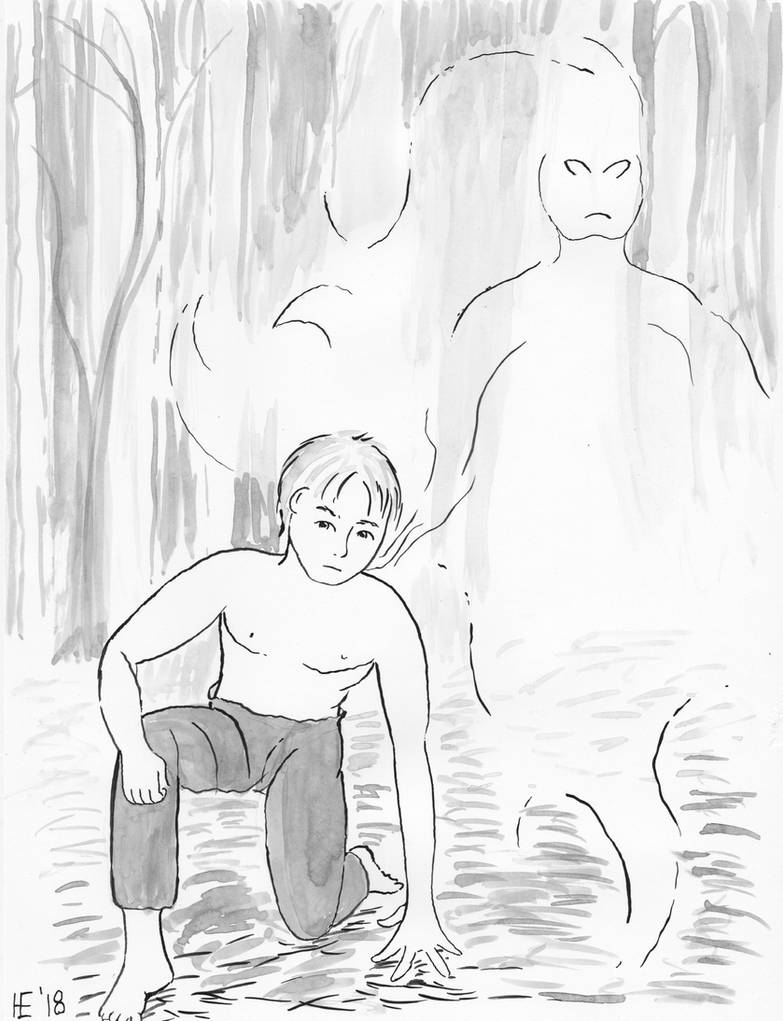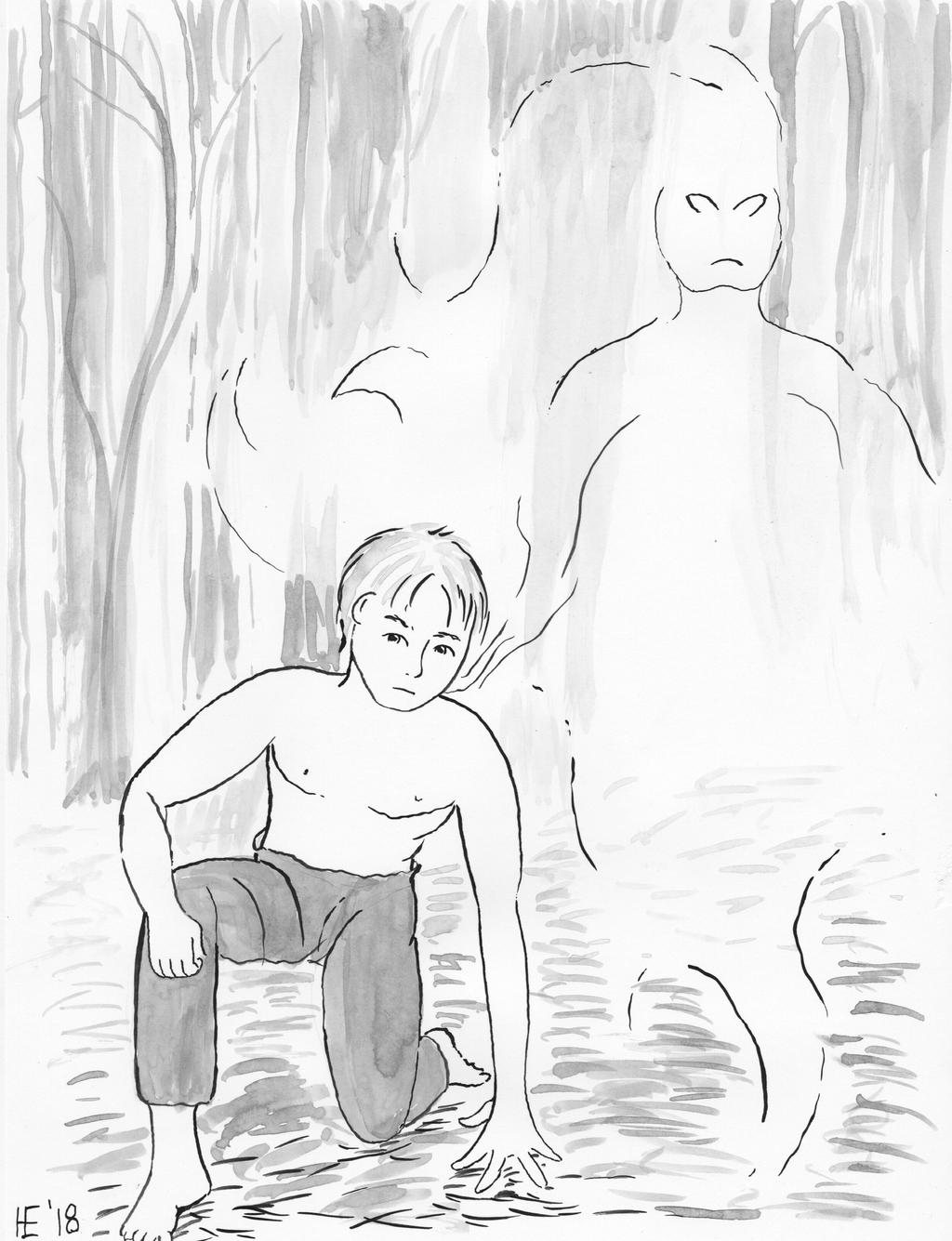 I recently posed a question on the Book and Comic forum about comics using ink washes (
forum.deviantart.com/entertain…
) and I got some ideas for reading material. In particular I was alerted to the works of Freddie Williams II, who uses ink washes:
www.comicartfans.com/comic-art…
(thank you
ShepherdsCrystal
) Upon seeing some of the art pieces, I noted that he seemed to have done
ink washes on comic paper.
This surprised me: wouldn't comic paper wrinkle?
With further exploration, and as this pieces demonstrates, you
can
do some ink washes on comic/manga paper with minimal warping.

This is a relief, because smooth watercolor paper is at least $1 per page, whereas manga paper I can buy a 40-50 sheet pack for $15-20. I also find manga paper easier to use with my light box.
This piece was also an exploration in using a brush rather than an ink pen. That's right, everything you see here is with a brush. I need to practice better control with line thickness and in general, but I found it to be less intimidating than I expected. I also need to work on smoother washes (like the pants). I contemplated having faint shapes that you can see through Ishuram, but probably next time I would leave his internal space white.
So, what this experiment tells me:
1. I can use manga paper with ink washes (yay!)
2. I can use brushes for line work
3. I need to leave white space for Ishuram rather than having faint shapes
4. I need smoother washes for certain areas.
5. I can use diluted washes for backgrounds (
sweeet!!)
My concerns are: minimal.

I just need to practice fine muscle control, but that shouldn't be difficult. It's also fun and easy on my hands.
These are main characters in my upcoming sequel comic, Atannan. You can read the my first comic here:
fav.me/d7pi52p
For easier reading, check out the comic at:
rosamondgrey.smackjeeves.com
Characters and story are original to Hestia-Edwards
Materials: Deleter 135 ruled manga paper, Winsor and Newton 951 Black Indian Ink, water, Connoisseur Sable Mix round 0, Robert Simmons 2, Robert Simmons 0

I approve of the ghost figure. So I suppose Ishuram is the name of the ghost figure, and I read that you were planning to leave it's space white next time, so for that I'd suggest leaving faint shapes as you did this time, but even fainter, because otherwise it will be a floating white being instead of looking transparent. I'm not sure how you want it to be though, so do tell xD.
I love the background, but I think even the trees need a few smoother straight strokes, because the one above Ishuram seems like a lot of lines instead of a few straighter ones.
Making the bold outlines makes the drawing seem incomplete, because then I'm expecting shadows and more detail. The character also needs anatomy work, but also shadows would be a huge improvement. Algernon has his ear above the eye! The eyes look good though, and focused. Looking closer the outlines are a bit shakey, especially on the chest. The ghost figure on the other hand could use more shakiness instead of giving it a compact form. Unless that's how you prefer it to be.
In conclusion it's a good drawing considering you tried a new style, and the characters and the background fit well and create a good scene, it just needs more form and shadows.
Found this piece at
ProjectComment
Reply

Hello! Thank you for the critique, and I apologize for the delay in response. It's been a weird week for me.
I confess I was thinking of making Ishuram just a solid white space, but it seems people
do
like to see a hint of something there. Perhaps I will go with the suggestion of making the shapes paler.
Ah yes, the ear above the eyes...An anime trait, I wager.

Anatomy will be a constant uphill push. I agree with the shaky lines: I am used to an instrument with applying pressure to the paper. Brushes take practice. I also agree with the shadows--they are lacking.
Thank you again.

Reply

Nice! I remember doing ink washes before (good to know I can do it with cheaper paper!)
The overall composition is nice. It doesn't feel cluttered at all and there's nice flow to it. I think you should experiment with working up to deeper values to really bring contrast to your art. It can help direct the viewer to where you want them to look. In addition, I actually think that having the faint color behind Ishuram looks good, it shows that they are transparent.
The boy's posing makes it obvious he's tracking/looking at the ground. Ishuram's posing makes me curious, what are they up to in this image? Is the ghost also looking at the ground? Is it mocking the boy? Is there something in the distance it's looking at? It doesn't seem focused on anything in particular. As for the boy, maybe having him scrunch down more would make the pose a little less awkward. It might seem even more awkward to you, but really pushing the pose can help bring life to your characters.
I look forward to more experiments! It's very cool that you're making a comic. That's one of my future goals. I wish you luck!
From
ProjectComment
Reply

Hello! I apologize for the delayed response--I've had a weird week or two.
I
know
, I was so relieved when I learned I could use cheaper paper

Good, smooth watercolor paper is expensive. I agree about the values: in person it looks fine, but when I scanned it I thought "man that looks pale". It's good to know that the faint color behind Ishuram works: perhaps I will keep doing that.
As for what they are looking at, I did leave that to the imagination.

But perhaps making it clearer would make the image stronger.
Thank you for the review and for the watch and favorite! I really appreciate it.

Let's work towards comics together.
Reply

Hey! I'm from
!
So, I must say, this piece gives off a cool, but spooky, kind of vibe! And I love it! Now, for some suggestions!
I must say, the way you portrayed the ghost/spirit is very nice. The flow of the spirit, the expression, it's all very nice! The boy is also very well drawn, although maybe you could use a more dynamic pose? Im not one to judge anyone, for I can hardly draw even close to as well as you, but you could try giving the boy some life! What do I mean? Give him an overexaggerated expression! Give him an overexaggerated pose! Try to make the boy seem alive in the drawing, and maybe practice drawing poses, like me XD. Anyways, I hope this critique helped in some way... Good job on the drawing!

Reply

Hey, thanks for the comment!

And yes, drawing humans...Always the challenge. Making them technically correct is one thing, giving them "life" is another.
But I'm glad the piece works overall.

Reply

This looks really awesome! I am really excited to learn more about this world. The picture looks marvelous, I really enjoy this style
Reply

Thank you kindly.

Do you see much difference between this and my regular line art?
Reply

I would say it's much more defined and has a lot more dimension to it. It looks less like a sketch or a doodle ( no offense) and more like an actual illustration.

Seriously this could actually BE an illustration in a 1950s-1960s childrens fantasy book
Reply

I really like the work. I'm still working on character work myself but this is still really good. If I may make a few suggestions though. Hand on the ground is really quite wonky and the fist resting on the knee is a bit unnatural as well. I would Practice hand studies.
www.youtube.com/watch?v=2CmrMR…
is a really good start to hand construction. The greatest thing about hand studies is that most people have two available models to study at all times. Set up a way to photograph the hands in similar positions as you want and get a really good grasp of the anatomy. The feet could use a bit of work too in the same way. Your overall anatomy is well proportioned and you did a great job with the ground fading it into the distance. The trees in the background do conflict a bit with this depth since they contrast a bit too much with the level of depth they are in but even in the trees, you are showing depth (An area I still struggle with). The final thing I would mention is that the body form really could benefit from some shading and highlights. The Character overall while I can see the foreshortening in the limbs still feels two dimensional, building some volume with lighting and shadow would really make the piece pop. I can really see some good work here and I can't wait to see more progress.
Reply

Thank you for your comment.

I was thinking as I was looking at the image on my computer "it looks pale overall compared to my black-and-white comic pages". I agree that adding more contrast (particularly on the boy) would enhance the piece. I was also wondering about the hands and feet.
Interesting observation about the distance trees being too similar to the ground: I will keep this in mind.
Thank you again.

Reply