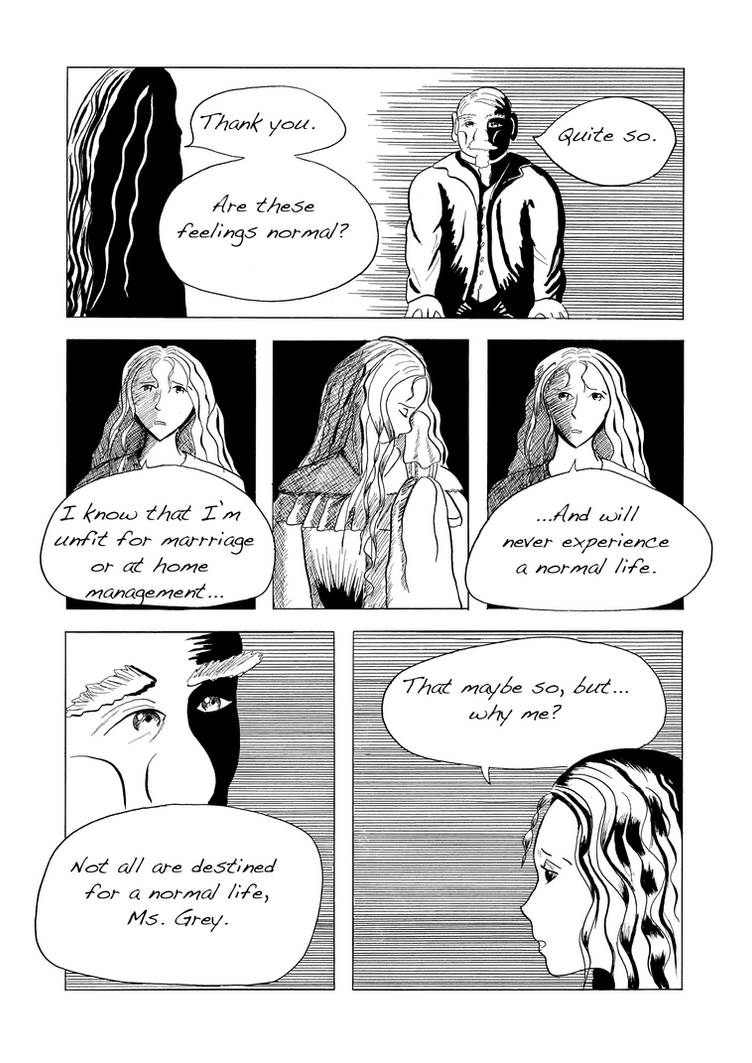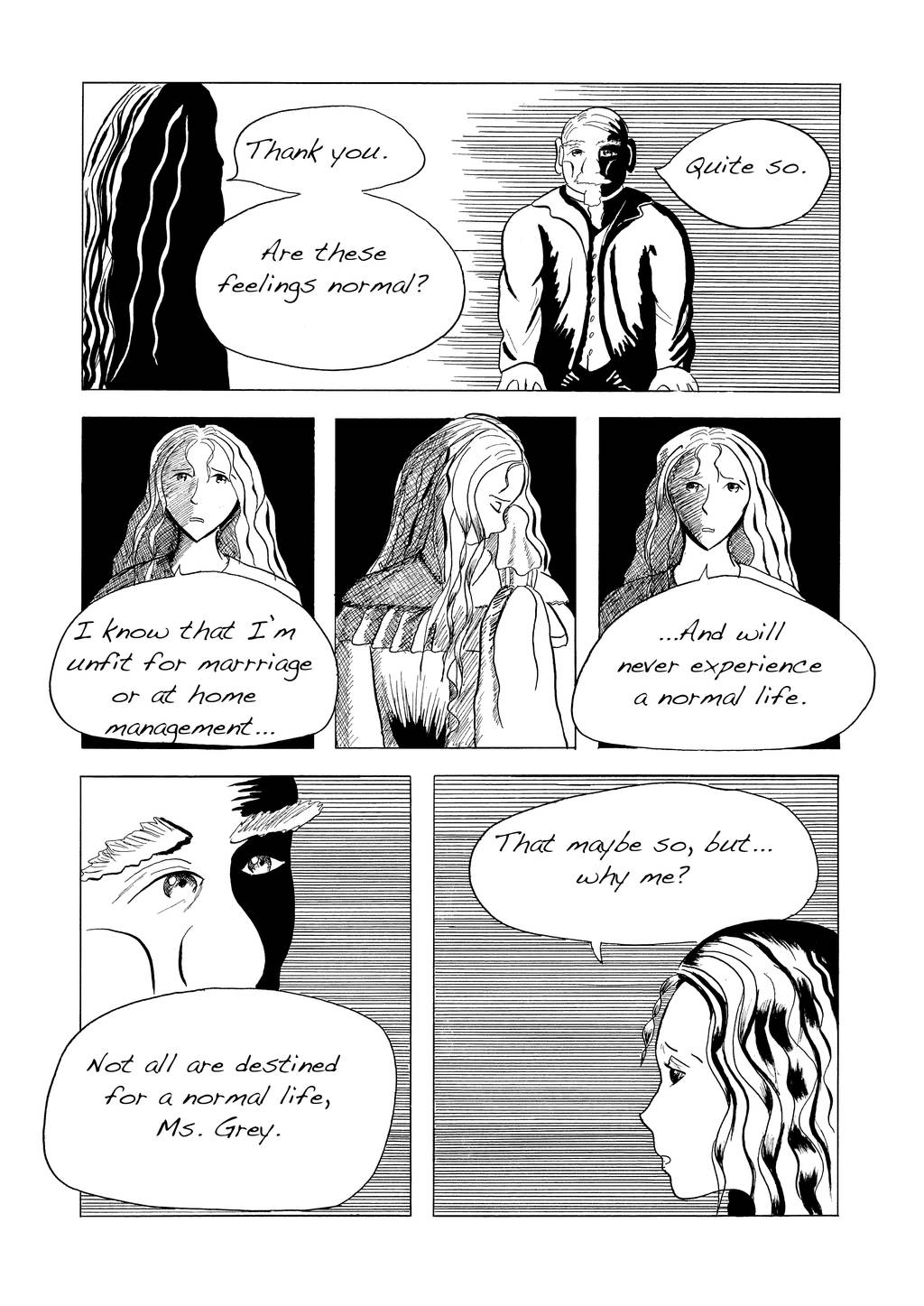 Read the next page here:
fav.me/d8gl5qn
First page:
fav.me/d7pi52p
For easier reading, check out the comic at: rosamondgrey.smackjeeves.com
Synopsis:
In the late 19th century, little Rosamond Grey snuck into the woods one night, and was found unconsciousness the next day. For years afterwards she suffers from seizures from an unknown ailment. Dr. Glass is loosing hope for her cure, until a strange foreigner hints of a different cause…
Comment:

Here I am experimental again:
1. I varied the panels by having either the figure or the background in high contrast and the other in cross-hatch. This worked in the second panel, but I can see that I need work on consistancy.
2. This is the first time trying to "draw long hair as it it were ribbons", and reading works by Shiomi Chika inspired this approach. I have long been unsatisfed with my depictions of long, wavy hair, and this is my attempt to change. I'm not sure how I like the shading in the last panel.
3. Not really experimental, but I wanted to note how please I am at how the Doctor came out in the first panel; not so much in the last panel, but hey, I shall celebrate small victories. I think that was my best depiction of him yet.
Materials:
maru-pen nib, Pilot Drafting Ink, Copic markers, Pro-white, Photoshop for clean-up and words.

I hope she does find happiness

Reply

Hi! I read your whole comic in one go. I like the plot. It is a simple premise on the surface, but leaves the viewer with a lot of questions. I have a comic too and also using it as a means to experiment. How do you keep a fairly consistent schedule?
Reply

Thank you for reading and the comment! I am glad you found it entertaining.

For scheduling, first of all I have the plot already written out. This way I don't have to worry about "huh, what do I do next?" I found that it's easier (and less stressful) to start the next page the day I turn in the previous one. I'm guessing on average I spend two hours on pencils, four-five on inking, and on hour on scanning and Photoshop. I find if I procrastinate, the quality of the product goes down, and I don't get to experiment.

I hope that was helpful. Do you have specific questions?
Reply

Thanks for the advice! I guess I just need to do my work in one go, instead of doing part of it and procrastinating.
Reply

You're welcome! I found that even if my art is not (yet) professional looking, having a weekly deadline is very useful to keep me on track.

I also saw that I failed to include the link to the next page.

I edited the description so you can continue to page eight, and beyond.
Reply