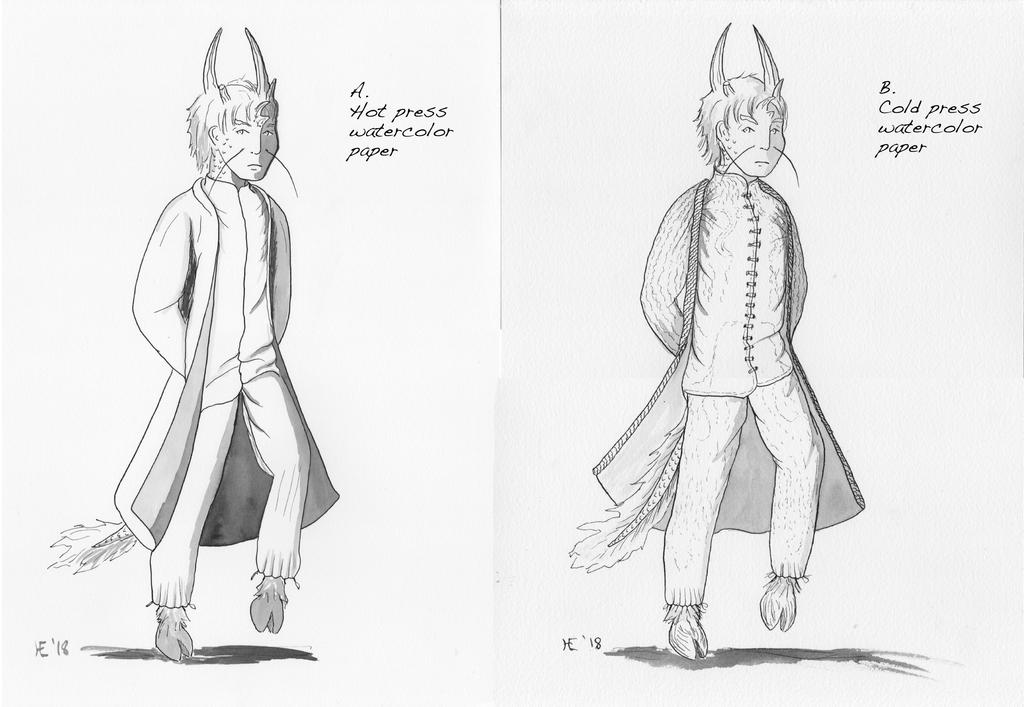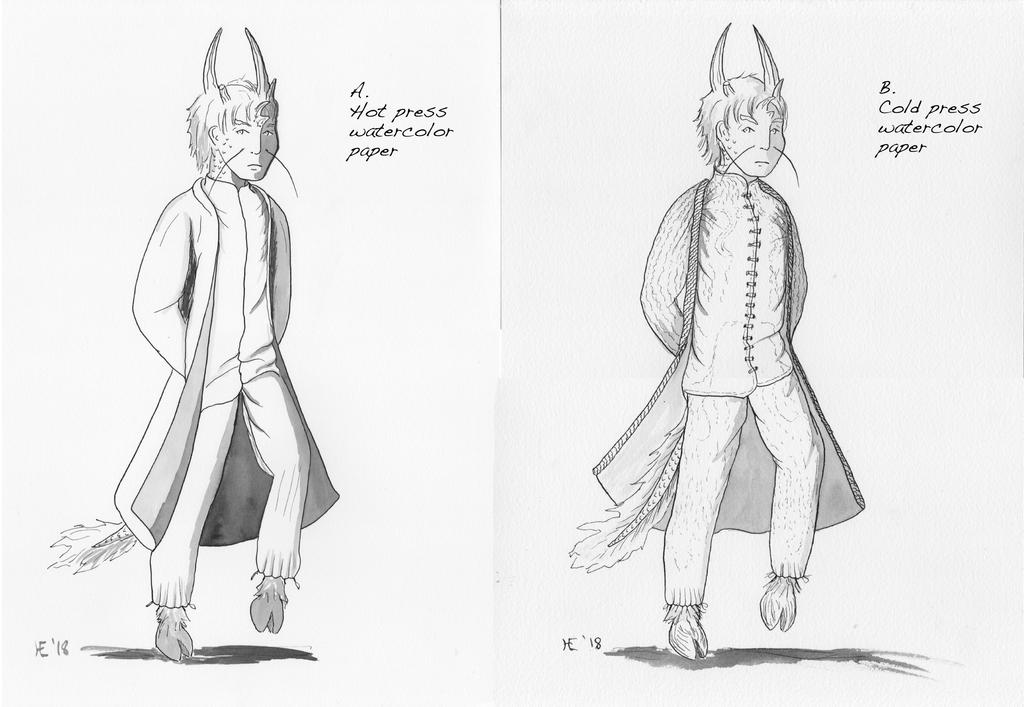 I recently posed a question on the Book and Comic forum about comics using ink washes (
forum.deviantart.com/entertain…
) and I got some ideas for reading material. I also discovered that Will Eisner's The Plot also uses ink washes in conjunction with standard ink line work (hurray used bookstores!)
Here you see two renderings of Elaishar, one of my characters, in ink wash and in ink line work. Both are scanned with my printer/scanner with media setting "Grey" on VueScan. Both were scanned in two parts and rejoined on Affinity Photo. The first is on smooth hot press watercolor paper, and the rejoining of the two parts is seamless. On part B. I changed the original sketch (the first looks like he has no chest, for example). The sketch still looks lazy to me (the horn placement I think is a bit off). On B. I used the coarse cold press paper, and as a result, you can see the texture of the paper and the seam between the two halves (right below the last clasp on his shirt).
So, what this experiment tells me:
1. I can use the "Grey" setting on my scanner with good results.
2. Hot press paper is preferable to cold press.
3. The small amount of liquid doesn't buckle the paper; so I don't need to tap it down on a board.
4. I can successfully replace the tight ink line work with a grey wash that would take 1/10 of the time (or less).
My concerns are:
1. Obviously, watercolor paper isn't as thin as manga manuscript paper, so I struggle with the final inking even with a light table ( you can see how I use it here:
fav.me/daba4c9
). This could be remedied by frequently flipping to see the original sketch, or to resketch lightly on the watercolor paper.
2. I would need cheaper watercolor paper...Arches cost like 2-3$ per small sheet.

3. I
could
use white-out for certain parts, since I'm scanning the piece, but it would be more obvious than on comic paper. So, it's better if I know exactly what I'm doing before I lay brush onto paper.
4. I would separate need bottles for each designated dilution of ink, rather than making it as I go. That's why the ground is so dark, for example.
Overall, a success. I think this calls for more experiments.

You can also see the Made Abyss comic that uses gray-scale and a textured background (though I think it is digital:
mangalifewin.takeshobo.co.jp/r…
Click on the yellow button)
This is a character presented in my first comic, Concerning Rosamond Grey. You can read it here:
fav.me/d7pi52p
For easier reading, check out the comic at: rosamondgrey.smackjeeves.com
Synopsis:
In the late 19th century, little Rosamond Grey sneaked into the woods one night, and was found unconsciousness the next day. For years afterwards she suffers from seizures from an unknown ailment. Dr. Glass is loosing hope for her cure, until a strange foreigner hints of a different cause…

Materials: Arches cold-press paper, Arches hot-press paper, spoon nib, maru nib, Winsor and Newton 951 Black Indian Ink

I like these changes. It is good to experiment and improve with new things.
Reply


Thank you. I guess my fear is that people would prefer my old line work to something like grey washes that are less time consuming.
Reply

Well I think you should do what satisfies you. Personally if you are willing to put in the time, I would say go for it.
Reply

Yeah...I'm not sure if I'm willing to put in the time.

My goal is to be able to do 2-3 comic pages a week, and using ink washes is helping me toward that goal.
Reply

Well I would be a huge hypocrite if I chided you for taking shortcuts. I use them all the time on chickamangu and have learned more as I have progressed. That is why I don't do backgrounds unless they are necessary and skimp on details when I can. In my opinion, my art looks better for it. There is something in being detailed only when you have to be, and contrasting detailed scenes with bland talking scenes.
Reply

I remember a How to Draw Manga book that made a similar case: that it's better to have a mix of detailed and not-so detailed panels. I'm not sure if having completely white backgrounds is desirable, though.

Something I've considered for the sequel comic is varying the inking by the environment/story: there will be essentially two separate story arcs running concurrently for a good while, and it might help to visually differentiate between the two. I've also considered a different style for the Otherlands (sort of like Kansas versus Oz).
Reply