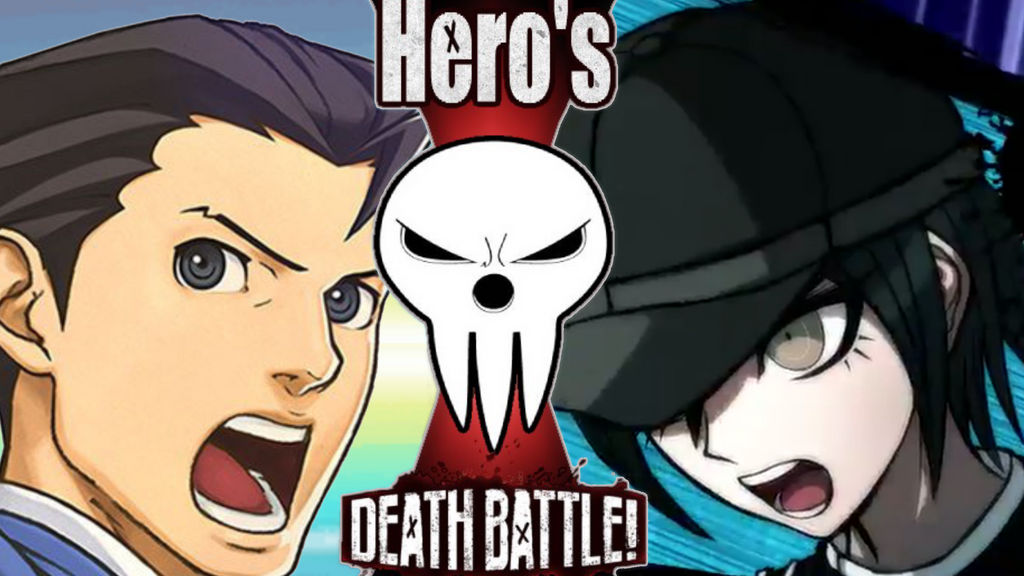 Spyka
: Well, the combatants have been analyzed, researched, and looked into inside and out! But most importantly, they're ready for battle!
Roman
: In that case, there's only one thing left to do! Let's finish this debate once and for all!
Helix
: It's time for a DEATH BATTLLLLLLLLLLLLLLE!!
----------------------------------------------
Unknown date and time
Unknown area
Darkness. That was all there was in the rooms of wherever had been waiting for the people kept in them. No one knew where they were, what day it was, not even when the last time they slept was. Everyone was separated from each other, not knowing who lurked in the other rooms of the dreaded, pitch-black building. It was the perfect plan for a certain someone who did this as what almost seemed as a hobby. No one knew what they were in for, perfectly filled with despair…
...Until someone turned on the lights.
In one of the rooms, a man in a blue suit with spiny hair and a badge shining brighter than gold had awkwardly covered his eyes as the lights flashed to the entirety of the isolated dwelling. This was a defense attorney known as Phoenix Wright, who was honestly less intimidating than he seemed.
"Agh! My eyes!" he yelled out in a slight pain before slowly uncovering them and looking around the room he had been held in. The room was completely black and white, even the carpeting and ceiling. There were several bookshelves and desks in the room as well, with papers on one of the desks that seemed particularly unimportant at the time. The books on the shelves also had covers of black and white with a few humorous titles such as "To Kill a Mockingbear" and "Monochrome and Juliet".
"Am I in a library or something," Phoenix spoke to himself, "or is this just some crazy trick that Maya played on me in my sleep?" He shook his head and decided not to worry about it. He looked back at some of the books on the shelf and decided to grab "The Great Gatsbear". He sat down at a chair next to one of the desks in the room, licked his finger, and opened the book. Inside the pages do the monochrome book, the first few pages of the book were blank. Phoenix squinted his eyes as he flipped through more and more sheets of "literature" until one page had a few words in a scarily written font that read "Hope you're prepared for the time of your life".
"Is…" Phoenix questioned himself, "Is that a threat or an invitation? The font is awfully confusing…" He stared at the strange message. It seemed like an inviting message, like to a party, but the font seemed like a letter with words taped on from magazines. He thought of it as if it had a mixed meaning, like it's possible that a good thing could happen, but the exact opposite also had a risk of occurring.
Meanwhile in another one of the rooms of the mysterious place, a younger person wearing several pieces of black clothing and a hat that almost covered his eyes, had looked around the room he was held in. This was Shuichi Saihara, sometimes called the Ultimate Detective. His hat protected him from hurting his eyes as the lights brightened the room. The room he was in seemed to be completely identical to Phoenix's. Bookshelves, desks, monochrome and all.
"Hm…" Shuichi spoke to himself. "This place… It's tidy and all, but something isn't right…" He looked around every corner of the room he was in, looking for some sort of reason as to why he was stuck in this cramped room, away from anyone else. He sat down at the desk and grabbed some papers that had lain on the cold wood for who-knows-how-long. The first sheet's title read "Finalization of Entrance: Shuichi Saihara" the title intrigued him, as he didn't remember signing up to do anything in recent memory. Was this a set of papers for a class?
He read further into the small stack of papers, which seemed to have a long lost of rules and expectations in a teeny-tiny font that was very hard to read. Shuichi tried to read the microscopic letters on the paper, but to no avail. On the back of the last sheet, there was something that was in a large enough font to read, but the realization of what it was caused Shuichi's eyes to widen and for his spirit to vanish for a split-second. The paper read "I, ________, hereby accept the terms and agreements of this list." It may not seem like a surprise, but it came to shock Shuichi as he read that "Shuichi Saihara: Ultimate Detective" was already written in the blank, in his own handwriting to boot.
"W-what the?!" He exclaimed in shock and surprise, nearly falling out of his chair. His heart started to slowly beat faster and faster. He could feel his forehead start to moisten with sweat. "I don't remember signing anything! What the hell is going on in this place?" Panic was slowly starting to set in for Shuichi, but he kept trying to remain calm during the realization.

(Music stop)


All of a sudden, a "Ding Dong" noise could be heard in every one of the isolated rooms. There was a small, rusty speaker intercom in the corner of each of the places where the confused people had dwelled. Then, a voice started to say something out of the intercoms. The voice sounded very cartoonish and high-pitched, almost like something you'd hear in a puppet show.
"Testing, testing, lalalala…" the voice rang through the entire building, clear enough for even a 100-year-old man to hear it. "Oh! This thing is on? Perfect! Well, hello everyone! Did I scare ya in there? Did I? Good! Anyway, I know what you're thinking right now. 'Who is this sexy fellow speaking oh so smoothly to me?' Well, to answer that very splendid question, I need you all to please report to the, um… what do I call it… Main Lobby of the building. I'll get some more introductory words out there, don't be late! You're not gonna like seeing me if you're late! ...Also, you'll be late in about two minutes! DON'T BE LATE!"
"T-two minutes?!" Phoenix yelled out. "I don't even have a map of this place!" Hearing the shocking news, he desperately ran toward the door of the room he had stayed in for the past few minutes. Shuichi did the same, but in a very much less panicked fashion. On one end of the building, the capped teenager had paced around the building, looking for directions in the halls, which he did eventually find and travel accordingly to. Phoenix, on the other hand, was in a mad dash down every single hallway, paying attention to nothing but the hallways in every direction.
"So if I go left, skip the next turn, then turn right," Shuichi calmly advised himself, "I should be able to get to the Main Lobby that the guy on the intercom talked about." He continued to quickly pace down the hallways, turn at the right places, and get closer and closer to arriving. Every step made an echoing sound as he paced across the stretched hallway. Including the footsteps of Phoenix Wright, which echoed the loudest of all, getting more and more noisy as Shuichi was getting closer and closer to passing by one of the hallways. As Phoenix was still rushing to who-knows-where, without even looking in front of him, he ran directly over Saihara, knocking his hat off in the process, accompanied with a groan by them both.
"Ah, sorry, uh… kid? Sir?" Phoenix apologized while trying to decide what to call the teen clad in black. He raised out his hand to help Shuichi up, but he ended up getting up by himself anyway. The black-hatted sleuth looked back up to be greeted by the blue-suited attorney. Shuichi was rubbing his head and had an eye squinted shut as he slowly stood up again. His eyes drew toward the man with the shiny badge, but despite the man being the one to push him over, Shuichi smiled at him, just because there was another person there.
"Just call me Shuichi Saihara," he said back to Phoenix. "People like to call me a great detective and all that stuff, but I don't really see myself as the type."
He then began to feel his head, and realize that something was missing from it. "Hey, where's my…" but Phoenix already was grabbing the missing hat and handing it over to the young detective. He retrieved the hat from his slightly larger hands and slipped it back onto his head. "So," Shuichi spoke once more, "there's no time to talk now, but we can probably speak after we get to the Main Lobby."
Phoenix analyzed Shuichi, looking at his traits and actions. He seemed to really like that hat of his, especially since it, at least seemed like it, was the first thing he asked about when he met Phoenix. He also felt a bit of relief seeing that the teen didn't get mad at him for the completely preventable accident, but instead acted calm and even smiled at him. He seemed like a nice kid that he could work with and help in finding a way out of the labyrinth of hallways. At least without a panic, that is.
"Hey, um…" Phoenix embarrassingly spoke as he scratched the back of his head, "Do you know where the Main Lobby is? I've been having trouble all over this place, and I really don't want to know what happens when you're late."
Shuichi crossed his arms. "Did you not see the signs in the hallways?" He asked with a raised eyebrow.
"...What signs?"
"The ones in the hallways here. What else?"
"Th-there are signs in the hallways?!"
"Um… Yes?"
"...You mean I just missed them the entire time I was rushing to the Main Lobby?"
"...I can tell you're a bit, uh… less professional than expected, I guess."
"That's not the first time I've been told that."
Phoenix decided that he would laugh off the sudden realization he had and follow Shuichi to the Main Lobby. They still had went a bit quickly, but only because the two-minute deadline was almost up. This time, Phoenix paid attention and followed the signs posted on the walls and hanging off the ceiling. "Turn right to Main Lobby" one said, and they followed the wooden board"s directions.
During the walk, Shuichi decided to have various conversations with Phoenix to try and learn a bit about him and get familiar. They talked about how they felt about the voice over the intercom, their situations in the strange building, and even a little bit of small talk. He thought of Phoenix as a very determined person, but still clumsy. He mentioned something about an action show that he watched with his assistant and even had more than a few "let's call them hiccups" with the people who worked on the show. Phoenix looked like someone who could be able to cooperate with a lot of people, even really stubborn ones.
"Oh, I forgot to ask you something," Shuichi announced, "what's your name? It's just… I kinda want to make sure I can have someone I can work with if I need some help."
"What, you think we're going to have to work our way out of a haunted house or something?" Phoenix jokingly asked. "Are you scared?"
"What? No!" Shuichi replied, scratching his head and looking away as he paced down the hallways. "Y'know, I just… I just need someone that I can cooperate with if things get shaky or worse. I just don't know what to expect, that's all." Shuichi was already surprised by seeing his signature on the papers back in his isolated room, he didn't want anything more frightening to appear in his path, even though he could already theorize that something worse was bound to happen soon enough.
"Hm…" Phoenix stroked his chin as he pondered on what Shuichi had said. "I see. Well anyway, I'm Phoenix Wright, attorney at law."
"You said something about not knowing what to expect while you're in here. What makes you say that? I mean, I had a strange occurrence where I was at before running all over the hallways like a bull was chasing me or something."
"Um…" Shuichi began to scratch his head and break a sweat. He still remembered his name being on the mysterious paper. Was it a contract of some sorts? An agreement? Or simply a prank? "It's… it's nothing. I'll tell you later, Phoenix. I'll spare you in telling your story as well, I'm sure it's as embarrassing as mine. I think I just need some time to calm down. Besides, the Main Lobby is right there." He raised out his right arm and pointed outward toward two large, glass-paned doors.
"Well, what do you know?" Phoenix said with a grin, despite sweat dripping off his face in nervousness due to the worry of being late. "There it is… Um…" He stammered for a second, not really knowing what to say in an awkward silence. "Y-you can go in first, kid. I already forgot your name, but you was nice enough to show me how to get here."
"I appreciate the gesture," Shuichi laughed a little. "And it's Shuichi. Shuichi Saihara. But if it helps, you can call me something for short, like Double S or something."
"You know," Phoenix laughed back, "you look like a rapper, but I don't think Double S should be your stage name. I'll just try to remember Shuichi." Shuichi nodded back at the spiny-haired attorney before placing his right hand on the left door's handle and pushing down. The small, metal handle was a bit cold, but not anything that would make you back away from touching it.
Shuichi slowly pushed the wooden door open and saw a circular room on the other side, with almost nothing inside of it other than a large stage on the opposite side of the door. The floor was made of wood, waxed well enough to see your own reflection in it. The walls were painted white and had very large picture frames in them, seemingly of people about Shuichi's age. The ceiling had a very large chandelier hanging from the top of it, with several light bulbs hanging off its branches. Phoenix, standing behind Shuichi, took a look inside the room and saw a handful of people, seemingly thirteen or fourteen, all looking completely different from each other. Did they know anything about this strange place? The two decided that they would walk into the room to find the answer to the question.
Unknown date and time
Main Lobby
"So," Phoenix leaned over and whispered from behind Shuichi as they walked into the room, "should we try talking to some of these people? They may know why we're here or something. Just something that can give us something to work with."
"There's no shame in trying," Shuichi replied to Phoenix. "But I have to admit, a lot of the people here dress up a little bit weird…" He eyed some of the people that stood in the room, seeming to be waiting on the person who was talking over the intercom. A lot of them varied in age, ranging from Shuichi's age to a bit older than Phoenix. "Let's try talking to--"
"Finally! More people here!"
Shuichi was about to point to someone to converse with about the current situation, but instead, a young woman about Shuichi's age ran toward him, almost skipping along the way. She wore a bright yellow jacket and had an orange ponytail that seemed too long to be anything the ordinary person would have. She also had a small necklace with a blue button-like piece in the middle with a smiling face on it. Shuichi was slightly startled at the surprise of this new person running in his direction, but eventually regained his composure.
Shuichi chuckled a bit at the surprise of the woman's presence before recapturing his serious composure. "You know," he spoke to the yellow-jacketed person, "you shouldn't just run up to people like that. It can scare people off. But nonetheless, I feel a little relief that I found you and a handful of others here."
"Relief?" She questioned with a tilted head and a finger on her chin. "What do you mean by that?"
"Well," he replied back, waving his hand as he spoke, "it's really a matter of dependence. I sometimes get in situations like these where I'm not sure what to do, and I'm just happy that there are people here willing to help me. Maybe I could help someone here too, if they're really that needy."
"Ah," the woman clenched her right fist before punching it into her open left palm, "now I get it! You need someone to help you out in this place, right?"
"Yeah, I guess that's what I need."
"Muy bien!"
"..."
"Uh, heh heh…"
"What is it?"
"I'm not your person for that…"
"You gotta be kidding…"
"But it's true," she reasoned after a sigh, "I have no idea how I got here, why I'm here, or what is going to happen." She crossed her arms and pouted, staring at the wooden floor.
"Well," Shuichi spoke up, slightly turning his hat, "I think we should get to know each other first so we can work together later on and possibly find out why we're here."
"Right!" The enthusiastic woman spoke up with a solute. "I'm Athena Cykes! Pleased to meet you!" She gave a peace-sign with her hand and had a big smile on her face, her teeth shining like little pieces of silver.
Shuichi decided to smile back at Athena. "So," he spoke up once more, "what is it that you do? Just uh… small talk, I guess."
"Oh, I'm a defense attorney," she replied, "but I also know a lot about psychology! At least, that's what my boss feels is special about me. I just kinda feel like psychology should be needed more in the courtroom. To remove the discord in someone's heart and bring out the true meaning of their words!"
"Y'know what?" Shuichi asked, with his arms crossed. "I think I can get behind that. Bringing the true meaning of something out of someone all while still in a comforting session, psychology's really something, isn't it?"
While the two had gone into a conversation of "the miracles of psychology," Phoenix had decided to stray off from Shuichi and meet some people on his own. He felt about the same way as the teen with the cap, he needed some allies in this strange place. He set his sights on a young blonde girl, about Shuichi's height. She wore a white backpack and had little music note shaped hair clips. Phoenix walked toward the girl and introduced himself.
He tapped on her shoulder. "Hey," he said with a welcoming smile. The girl turned around to see him, but jumped back in surprise. Phoenix didn't know why this was. Was something scary behind him? The girl then sighed before laughing embarrassingly and scratching the back of her head.
"Oh!" She finally replied. "I'm really sorry about that, I think I must've gotten startled by the height difference in us…" Phoenix laughed a little at her remark, he didn't mind it. "Anyway," she spoke again, "I feel like we should go ahead and get introductions out of the way. I'm Kaede Akamatsu, the Ultimate Pianist." She then stuck her hand out for a shake before Phoenix did as well.
"Ultimate Pianist?" He asked, striking his chin.
"Well, I kinda hope to get called that by a lot of people someday, but people mostly just call me Piano Freak…" Her eyes drifted away from Phoenix as she spoke, feeling a little embarrassed.
"Y'know, I used to play a little bit of piano," Phoenix spoke to the Ultimate Pianist, having some memories of the past.
"Really?! That's awesome!"
"Heh heh, thanks."
"What songs did you know how to play?"
"Uhhh… Hot… Cross Buns?"
"T-that's a… a good song, it's great to start with."
"Tell me about it."
The two had grown a bit of a bond with one another, despite most of it consisting of embarrassing moments. Phoenix still felt though as if he needed to learn a little more of the girl. She seemed like someone who would be able to get him out of a pickle, when the time comes.
"Anyway," Phoenix smiled, "how did you get the name of Ultimate Pianist anyway?"
"Good question," she responded. "Well, I had been playing the piano ever since I was a little kid. I even played on those tiny pianos for tiny fingers back then! For so many years, I had this fascination with the piano. I would even play for so long that I'd forget to eat and sleep! I went to a lot of competitions over my life and won a handful of them, even some national contests! It just… it's something that I can do to make me feel happy, really. Oh, um… Sorry if I was showboating a little, I get carried away sometimes.
"It's fine, I'm used to hearing long stories," Phoenix replied. After all, he did listen to stories about crimes and prove contradictions in them for a living.
Shuichi, after finishing his talk with Athena, decided that she and himself would talk to some of the other people who found themselves inside this strange place. Athena decided that she would be the one to pick the next person, because "it's just nice to let me pick". She decided to grab Shuichi by the arm and lead him to a somewhat larger man in a scruffy green jacket, a clean haircut with only a little bit of hair sticking up, and a five o'clock shadow beard. Athena decided to greet the man by giving him a pat on the back, which…
"Gah!" The man in the scruffy jacket jumped back, before trying to reach into his pants pocket to pull something out.
"Eep!" Athena yelped and put her hands in the air, as did Shuichi. Was this guy going to pull out a gun or something even worse?
"Ah, drat," he unenthusiastically said, snapping his fingers. "I coulda sworn I had my taser kept in there! Someone must've taken it off of me…"
"T-t-taser?!" Shuichi whimpered, his chest still feeling a bit pained from fear. "You mean you was gonna shock us?!"
The man laughed at the question from Shuichi, his jacket slightly coming off his shoulders before he pulled it back up. "Tase ya? Why would I, pal? I'd kill ya if I tased ya! Besides, I'm not really supposed to shoot it at first sight, the boss is rough with me sometimes if I do stuff like that." Shuichi felt a bit of relief from this, yet also felt insulted. He wasn't gonna get shocked by a taser, but in exchange, he was called weak.
"Well, I guess I should go ahead and introduce myself to you folks," the scruffy jacket wearing man smiled. "The name's Dick Gumshoe, I'm a homicide detective. Just… don't go around calling me Dick, okay?"
Shuichi widened his eyes. "Wait, you're a detective? I'm a detective in-training. What's it like being in your shoes?"
"Hey," Athena spoke with a grimace on her face, "you never told me YOU'RE a detective… Or your name…"
"It's Shuichi. And uh… Sorry."
"Well, ah…" Gumshoe scratched the back of his head. "It's a little… rough, if you're me. Listen, pal. I spend a ton of time working on autopsy reports, looking for evidence, all that stuff that you see the detectives working on in the TV shows and movies. I even planned on using a magnifying glass at one point, but I thought 'Gumshoe! Isn't that a little overboard, pal?' So I wasn't any Sherlock Holmes or anything. But listen to this part, okay? Every time I spend my time showing everyone what I got, some tells me I screwed it up and I get a pay-cut from the chief prosecutor. Isn't that terrible, pal?"
"Maybe," Shuichi tried to give some advice, "you could try and double check everything once you're finished with reports and all that..."
Gumshoe crossed his arms as his bushy eyebrows lowered.
"What I mean is tha--"
"Don't start that with me, pal!"
Back to Phoenix, he had decided that he would travel with the Ultimate Pianist to meet the rest of the people inside of the room. The two had grown familiar of each other and felt that they could have themselves be allied with each other in finding answers to problems that come their way. Kaede looked toward a taller man with a slim body, a bit of somewhat long hair on the top of his head, and a small patch of hair on his chin. He seemed to be staring away from the two.
"Man," he said to himself, stroking his chin, "how did they even get the materials to make this place? And how did they get us to be the guinea pigs for it? These vast mysteries may only be a problem with us, but our answer surely lies somewhere within the universe!"
"...You mean," Phoenix sighed at the man, "this room or the whole building? Because I don't think one of those questions would help us all out that much…"
The tall man looked back and saw Phoenix and Kaede next to each other, both having taken notice of his evergling monologue. "Oh! You mean you actually heard me? I've hoped for an audience to listen to my words of wisdom for millennia!"
Kaede tilted her head. "...Are you putting on an act or is that how you actually talk?" She had that feeling you get when you hear about something and it's not even anything to worry over. Something like a tabloid in a newspaper.
The man stood in silence for about five seconds with a smile on his face before sighing and scratching the back of my head. "Maybe," he finally spoke again, but to himself, "I should try toning the corniness down on my monologues… No, then the kids couldn't get behind what I'm saying… Actually, I… Never mind, I'll just go ahead and stop there." Phoenix and Kaede stared at the man, still confused on many levels. "Alright maybe I should just introduce myself to you two." He hit his fist over his chest twice before giving some sort of solute. "I'm Kaito Momota! Luminary of the Stars! Even crying children adore the Ultimate Astronaut!" He then gave a thumbs-up and winked at the two.
"You're an astronaut?" Kaede asked with wide eyes and an interested expression. "That sounds amazing!"
"Yes, of course, young lady!" Kaito replied. A few seconds later though, he crossed his arms and looked at the floor. "...Buuuuut also no. You see, I'm an astronaut in-training. I haven't actually been in space yet, but I know a ton of stuff about it! Did I tell you I'm actually the first teenager to pass the exam to become an astronaut? They normally don't let you take it until after college!"
"They don't really let you take many job exams at all until after college," Phoenix replied with an unimpressed face. He couldn't bring himself to believe all of what Kaito was saying. "How did you get to take that anyway?"
"Well," Kaito replied, tilting his head, "I actually know a guy who--"
"Of course."
"Oh, um… Hope that's not a problem. But I promise," the astronaut said, continuing his speech, "once I eventually reach the wonders of the places outside our atmosphere, I can tell you all about it! Straight from the mouth of the Ultimate Astronaut!"
Shuichi and Athena had split up after talking to Gumshoe, Athena seemingly walking over to see the Ultimate Astronaut. Gumshoe hadn't followed Shuichi around after meeting him, probably because he wanted to meet the rest of the people inside the room, and because he felt slightly insulted by Shuichi, even though it was meant to be advice. Shuichi traveled across the wooden floor to see who would come across his path next. The next person that the Ultimate Detective would meet had a tall build and dark-grey hair that went down to the bottom of his ears. He wore similar clothing to Phoenix, but it was a scarlet color and he had a white ascot where his neck and shoulders met. He had a badge on his suit, although it didn't look like Phoenix's at all. He also wore a small pair of glasses on his face.
As Shuichi walked toward the man, the red-suited had already turned his head toward him and gave a smirk. Shuichi was a bit surprised at first, but then kept pacing toward him. Perhaps the man was looking for someone to simply start a conversation with. From his looks, he seemed to be a humble person.
"Um…" Shuichi tried to think of a question to ask him, but couldn't think of anything interesting at the moment, He decided to ask something simple. "Hey, mister? What's your name?" The strange man didn't answer, only scoffed. He had crossed his arms and looked away from the Ultimate Detective.
"That shouldn't be the important thing as of now," he said to Shuichi. "What does matter though is the reason of why we're here and how we suddenly ended up in this strange place. Perhaps the person who spoke to us earlier can answer that,"
"The person who spoke to us?" Shuichi questioned, tilting his head to the side. "When did someone talk to us?"
"I don't mean it as directly speaking," the man corrected, "I'm talking about the voice over the speakers that told us all to arrive here. You heard it too, correct?" Shuichi nodded his head in approval. "Perhaps I should take you as a understudy in revealing the answers of this structure's mysteries. Would that be appreciated, young man?"
"If it's anything to learn more about this," Shuichi replied, "then I'm all ears."
"Excellent," the strange man smiled. "Before I tell you what I've found from my very short examination, I'll go ahead and introduce myself to you. My name is Miles Edgeworth. I am a chief prosecutor. I'm pleased to be your acquaintance." He then bowed to him, his arm flowing downward in front of him, then back to his side. "Now then… Did you happen to look at the stack of papers on the wooden desk in our rooms?"
"Y-yeah," Shuichi replied, putting one of his hands on his waist and waving the other, "But how did you know that there was a desk in the others?"
"It was a mere assumption, but thank you for confirming my speculations."
"Gee, I'm so happy to see that I was a guinea pig today."
"But anyway," Miles had continued, "I noticed that in them, the font on them was too small for the naked eye to read. So to see what they all said, I had to improvise. I ended up using my glasses to view the letters in a legible size. I'd tell you what I read on the sheets, but…" Miles had shuddered and looked to the side, "I feel that it's better to leave the details out for you. It's… just better that way."
Shuichi was confused. What did he mean by that? "What, is it something that could give me a heart attack or something?" Shuichi asked. "Or is it something that I shouldn't know about?"
"Well," Miles continued in a slightly more quiet tone, "I guess you can say yes to both of those inquiries. That's all I can say on that part of the sheets. I should move from the scary parts to something of a bit of a higher level of curiosity. I'm sure that if you remember the papers, you remember that our names were signed on the end of them, along with a title of some sorts. Mine read 'Miles Edgeworth: Ultimate Prosecutor'. What did yours happen to read?"
"'Shuichi Saihara: Ultimate Detective'," he announced his name to the tall prosecutor. Shuichi then got a sudden realization. "Wait, 'Ultimate Prosecutor'? You got a title like that too?"
"From what I can assume," Miles continued, "everyone in this room got one. None of us have probably been called their title before, yet some of us introduce ourselves as it. Maybe the people in this room who noticed the papers have just been inclined to use this title because of a fear factor added within their minds…"
"It's quite possible," Shuichi, agreed, crossing his arms. "But there are still many mysteries I've yet to find here. Seeing that I was assigned as the Ultimate Detective, I feel that I should investigate on my own for a bit after we learn of that person over the intercom." Miles just closed his eyes and nodded in agreement, smiling.
Phoenix and Kaede, who were on the other side of the room, had still stuck together while they were meeting the others in the Main Lobby. Phoenix felt that he had met an interesting group of people here, even looking at some of them made a bit of an impression on him. The previous Kaito had, to Phoenix, looked like a person who worked at a place that was really small, yet he was a very young astronaut in-training. Admittedly, he still didn't believe Kaito's story all that much, but Kaede believed it, seeing that he was open to admitting that he had made an illegal maneuver to take an exam.
Phoenix and Kaede paced across the large lobby and ended up coming across a woman wearing a baggy pink jacket and goggles on her head. In the middle of her jacket, a very large bow was tied. Her hair almost came down to her waist and was very wavy. She was standing by one of the walls, looking at some of the pictures hung up on them, her focus completely on them. Her eyes were squinted as she stared at the frames and her head was resting on her right palm. Phoenix and Kaede decided to walk toward her, thinking that she would be a nice person to meet. Phoenix placed his hand on the woman's shoulder before…
"Agh! Son of a bitch!"
Kaede jumped back, hearing the woman's sudden remark of surprise, as did Phoenix, even though he was a few meters back. Phoenix got a glance at the front side of her, her face and torso. Her sudden remark, at least to Phoenix, seemed to match her looks, in terms of "she would say that". Phoenix decided to approach the woman, standing next to Kaede.
"I-I'm sorry," Kaede pleaded, "I didn't mean to scare you! I just wanted to--"
"Wait one second," the woman in the pink jacket said, "that was you who grabbed my shoulder? I thought it was your little spine-headed buddy over there!" She then began to point toward Phoenix. He scratched his head, confused of what was happening at the moment. "Hey, crotchrot! Was your hair staring at my ass?!"
"Wha..?" Phoenix was terribly flustered by the woman scolding him for almost no reason, he didn't even know what she meant in that question.
The woman then chuckled, before crossing her arms and shaking her shoulders. "Oh, I know now," she said with a smirk. "You wanted to get my attention so I'd turn around like this and you'd get a look at my tits. Well, congrats, you got a peek!"
"T-that's not at all what I was trying to do!"
"Oh, please! I can definitely tell that you're a fuckin' perv! I know everything about 'em, like how they wear suits like that to hide their perv reputation!"
"But this is what I wear out, what's the pro--"
"Well, go ahead! Get a good eyeful! Stare for as long as you want! You can only dream of scoring with a big-boobed hottie like me! Heh heh! You're definitely a virgin, aren't ya?"
"What does that have to do with anything?!"
"It means that you only hope for someone like me to waltz into your arms even more than any other kind of guy! Listen, I know people like you inside and out!"
Kaede put her hands behind her back and tilted her head. "That language is a bit uncalled for," she sighed, "but anyway, who are you? We should probably get to know you a little before we talk about other things."
The woman in the pink jacket put her hand over her chest and got a shocked expression on her face. "W-what?" she sputtered. "You mean you've never heard of me?" She then regained her composure before striking a triumphant pose. "I'm the girl who's golden brain and amazing looks will go down in history! I'm the one, the only Ultimate Inventor herself, Miu Iru--"
KRAK!

(Stop Music)


"O-ow! W-was that a whip?!"
"I don't care for foolish speeches as such, Miu Iruma. You should already know that."
After the literal whiplash that occurred on Miu, a tall, yet young looking woman walked toward Phoenix, Kaede, and Miu. She had short, light-blue colored hair and a black corset and a white long-sleeved shirt that puffed out at the shoulders. In her right hand, there was a long, brown leather whip, probably the one that had recently lashed out at Miu. She had a bit of a strut in her walk, maybe because of the heeled shoes she wore.
"Now, if you excuse me," she bluntly stated, grasping the thong of her whip in her right hand hand grasping the handle in her left, "this little girl's name is Miu Iruma. She is an inventor."
"Little girl?! I'm more than nine years old!"
"Shut it." She stared at Miu with cold eyes, flaring her nostrils. She then quickly brought her arms apart at a distance where the thong of her whip was completely straight, it vibrating a bit after the sudden stop. Miu just stood back and whimpered, not wanting a second lashing. "Now, to you two." She gave the same stare to Phoenix and Kaede, just as serious as the last. "I'm sure one of you already know me. Go on, tell the other who I am."
Phoenix already knew this person. He had met her in courtroom battles numerous times. Without even looking at Kaede, he said "Her name is Franziska von Karma. She's a prosecutor that I've had many encounters with."
Kaede's eyes widened. "You… You know this person?"
"Of course he does," Franziska answered. "As if anyone didn't know who I am. I am the second-best prosecutor to ever walk the face of the earth, only bested by my own father. I got my prosecutor's badge at age 13 and have only become better at my work since." She tilted her head and gave a devilish smirk toward the three others, her right hand on her hip.
"So you're a prosecutor?" Kaede asked. "Does that mean you've gone in cases against Phoenix before?"
KRAK!
"Owww…"
Franziska lashed her whip out at Kaede for asking the question, just like she previously did with Miu. "...I have." She answered after a few seconds of silence, her cold stare returning. "But that is all I will say about it." Phoenix knew why she refused to give details about her clashes with him. Franziska's pride was all based around perfection, and she does not deal well with anything less. That includes the previous times that she lost courtroom debates to him. The first time she lost a case to him, she lashed her whip at him so much, he passed out because of it. He knew her feelings about perfection and how she got her pride and ego from it, although it wasn't nearly as much as her father's, who Phoenix had also met once.
"Oh, I never bothered to notice until you asked," she continued, "but apparently, the stumbling attorney was dragged here along with me." She leaned and pointed toward Phoenix, the leather on her gloves reflecting the light from the ceiling.
"Ms. von Karma," Phoenix pleased, "I know that you really don't like me sometimes, but this one, we need to cooperate. There are many questions about this place that I need answered. Besides, isn't that our role as attorneys? To find answers and unravel the truth?" Franziska only crossed her arms and scoffed at Phoenix. She wasn't going to take him seriously. She laughed before strutting away from the group.
"Hey," Kaede scratched the back of her head. "What was that all about?"
"Yeah," Miu said in agreement with Kaede. "What's her problem?"
Phoenix lowered his head and stared at the ground. "I'd explain," he spoke, his arms behind his back, "but it's too long of a story. I'll try to tell you later."
Shuichi had decided to travel with Edgeworth only for the time being. They decided they would split up once they got to meet a few more people. They still felt though that there were several mysteries that needed to be answered sooner or later while they were in the Main Lobby. Everything so far had seemed fairly calm, seeing that everyone Shuichi hadn't met anyone that acted annoyingly or obnoxiously so far, and he was pretty happy for that. This moment however, was a bit more strange. Shuichi had caught his attention on a boy that looked like he was wearing weird metallic clothing being chased by a girl with a weird robe and even weirder haircut.
"Stop chasing me!" The boy was yelling at the girl as she sprinted toward him. "Why me? Why not anyone else?"
"It's because your costume looks so cool," she responded, "it's like the villain in the last Steel Samurai episode! I didn't know the episode got so popular so quickly!"
"What do you mean 'Steel Samurai'?!"
"It's my favorite TV show! I can tell you all about it if you stop! Pleeeaaase?"
Shuichi was slightly hesitant to approach the two, seeing that they were a bit hard to catch up to. The two seemed to have very strange appearance and were acting even stranger. Shuichi thought to himself about if these were the only two weird people in this room. He certainly hoped it was true. He didn't want to ally himself among others who were "untrustworthy" to say the least.
"I think I'm familiar with the young lady," Edgeworth leaned and whispered to Shuichi, "but I've never seen the boy." Shuichi had hoped to himself that Edgeworth could say that the girl wasn't this crazy all the time. Shuichi was going to speak back to Edgeworth, until…
THUNK!
The girl had tripped over Shuichi while she feverishly chased the boy. A few seconds later, Edgeworth grew an expression of disappointment and facepalmed.
"Oh," she frantically started to stutter as she stood back up from tripping. "I-I'm sorry about that, sir! I was just trying to see if I could catch up with that cosplayer over there!" She pointed toward the boy in the strange metallic clothing. The boy looked back and saw that Shuichi was still on the ground, so he ran over to him, grabbed his hand, and pulled him back up to his feet.
"Are you hurt?" He asked Shuichi. "If so, I guess I can try to recommend some advice for a faster recovery. Would that be alright with you?"
"No," Shuichi replied, adjusting his hat, "I'm fine. At least this time that I was knocked over, my hat didn't fly off. I'll be fine." Shuichi got a look at the boy from a closer view and saw that his clothing was stranger than he first saw. It didn't look just metallic, it looked like actual metal. The light from the ceiling could even bounce off of it. The bit of metal around his neck seemed like it glowed. "I kinda feel like I should be the one asking if you're okay."
The strange boy put his hands on his hips and slightly tilted his head. "What do you mean?"
"I don't really think you should feel this fine with that costume on while that girl was chasing you around in circles."
"...What do you mean 'costume'?"
"You know, the one you're wearing."
"Are you another one of those robophobes?!"
"R-robophobe? Are you acting in-character or something?"
"Hey! If you make any more robophobic remarks, I will see you in court! I was programmed with a recording function and can track every word you say!"
"Y-you mean you're an actual robot?!"
"Of course," the robot answered, "but I'm not just any robot! I'm K1-B0, the Ultimate Robot made by only the best robotics expert on the planet! But please, address me as Keebo." He knocked on his left arm with his right knuckles to demonstrate, each bit of contact making a "klang" noise.
"A robot?" The young girl asked. "That's so cool! It's just like the robot in the last episode of the Steel Samurai! 'The Massacre Machine!'" She then began to make some explosion noises, imitating the sounds of its attacks on Neo Olde Tokyo.
"Eehhh…" Keebo groaned, "I don't really like people who program robots for villainous purposes…" He crossed his arms as his irises drooped to the lower parts of his eye lenses.
"Anyway," Edgeworth decided to speak up. "So, you're a robot, yet you act and sound very human. Are you sure we should believe that you are a robot?"
"You still think I'm just some cosplayer or something?" Keebo questioned. "That's… actually proving the success of the professor! I know I look like a robot, which, I guess I am, but I act like one of you! You see, I was made by Professor Idabashi, one of the best robotics experts in the world. He programmed a 'Smart AI' in me that made me mature and learn just like a human brain."
"So," Edgeworth questioned, crossing his arms and tapping his fingers, "when you was first made, did you happen to know anything about the world around you?"
"Not anything other than what things looked like, really," Keebo replied. "I was like a baby at first, but then I ended up learning from the professor and maturing over time. He even was able to enroll me in high school! Isn't that great?"
"I guess it really shows," Shuichi replied, impressed by Keebo's background story, "that the technology of today is much more advanced than that of years ago."
"Hey hey hey, move over for a second!" The girl with the weird hairstyle had pushed Keebo from where he stood before he could reply. "I still need to introduce myself! Ahem…" She straightened her back and put her hands on her hips. "Maya Fey, super-duper Spirit Medium at your service!" She then gave Shuichi and Edgeworth a solute that seemed less than perfect, considering she'd never been in any military, police enforcement group, anything of the sort. But she did see someone solute once, so she decided to try it as a greeting.
"You're a spirit medium?" Shuichi questioned. "Um… excuse me for asking this, but… what exactly are spirit mediums?"
"Hm…" Maya mumbled to herself, patting her unusual clothing, "I thought the clothes would've made it obvious, oh well." She then looked back toward Shuichi. "But anyway, spirit mediums aren't as much of a 'job' as other occupations, they're more of a hobby. Wait, they aren't really a hobby either… I guess it's a study, yeah. That's what I'll call it! Anyway, spirit mediums are known for communicating with the spirits of the dead. But not in a scary way, no! It's actually really interesting!"
"So you talk to the dead?" Shuichi asked. "How does that work?"
"It's a reeeaaally long story…"
"No, it's fine. I'm a patient person, I can listen."
"But I'll spend an hour on it…"
"...I stand corrected."
"Aaanyway," Maya continued, much more enthusiastic than a few seconds ago, "spirit mediums like me can communicate with the dead in many ways. We can even help others communicate with them! But when I tell people how, they almost never believe me!"
"How does that work?" Shuichi asked, "I bet it's not that hard to believe. You'll be fine!"
"Well, if you say so," Maya sheepishly continued. "You see, I actually have this really special power that can let spirits come to rest in my body and speak through me. It even alters my appearance!"
Shuichi's eyes widened in shock. "You're joking," he finally spoke, "you just have to be."
Maya giggled a little bit. "Heh heh! Nope, that's actually something that I can do! I've done it several times, but uh… Most of it's been with one person to be honest, so I guess I'm kinda used to it but also not? It's hard to understand, even for me!"
"How exactly…" Shuichi kept asking questions, "how do they change your appearance? Like, do you look like a ghost or something when they do?"
"Technically yes," Maya responded, "since, y'know, they are ghosts basically, but it would be better if I just showed you later. It takes time, you know!"
Shuichi adjusted his hat again. "I see," he responded. "That almost sounds like something out of a fairy tale. I woke up in a room I've never seen and met a robot and a spirit medium. How obscure of a day…"
Phoenix, still traveling with Kaede and now Miu, who he felt would travel with for a long time in the Main Lobby just to get on his nerves, had decided now that he could meet a few more people before finally getting time to wait for the man over the intercom. A lot of the people that he had talked to were open to speak up about who they were, what they did, and other things of small talk. Another young woman happened to catch Phoenix's eye, evident by a smile coming on his face after seeing every new person that got in his view.
Miu took notice of where Phoenix's view was headed. "Oh," she said to him, "let me guess. You're just walking around and saying 'hey! This person here would fit wonderfully into the harem!' Is that it?"
Phoenix's eyes widened as swear started to drip off his forehead. "N-no, that's not what I was thinking! You just chose to follow me around!"
"Well," she replied with crossed arms, "you really have gotten to know everyone that you passed by, right?"
"Uh… Yeah, I guess so. What abo--"
"Wrong, asshat!"
"What do you mean? Who haven't I gotten to know well enough?" Phoenix frantically asked. But Miu just leaned her head a bit toward Phoenix, raising her eyebrows. He still was slightly confused, at least until Kaede decided to tell him that Miu probably is talking about herself. "Well," he decided to reply after a long sigh, "I guess I can get to know you a little bit more. Well, what is it that you do?"
"Alright," Miu cracked her knuckles. "Now's probably a good of a time as any for this. Well, in case you don't remember my name from Ms. Whip Happy Witch earlier, my name is Miu Iruma. I am the greatest. Investor. To ever walk the the planet." She punched with her right fist into her open left palm each time she stopped in the sentence, just to add a bit of umph to her words. "Oh, fuck, that feels GOOD to do!" She spoke in a slightly different manner in her last sentence, almost sounding like a moan, that made Phoenix start to sweat slightly in what would have given him high levels of embarrassment in any place with more people than the lobby they were in.
"Aaanyway," she continued, "I've made a whole bunch of things in my time. I've made stuff that lets you type while you sleep, eat while you sleep, oh! One of my favorites was--"
"Wait," Phoenix spoke, interrupting Miu's monologue. "Why do you make so many things that have to do with sleep?"
"Well, duh," she replied in an I'm-smarter-than-you manner, "don't you know how much time people have to waste on sleep? That's a whole third of your day that you could spend revolutionizing something! Y'know that one phrase 'I could do this in my sleep'? I practically invented that!" She then put her hands on her hips and gave out a loud, triumphant laugh.
Phoenix was impressed by her accomplishments. "Hey, Miu, was it?" He started to ask. "Do you think that you could give me a replica of the contraptions you made?"
Miu crossed her arms and pouted. "Well, here's the thing," she unenthusiastically replied. "You see, if I had any of the stuff that I use to actually make my inventions, I'd make you something. But I don't have any of it."
"Really? You'd do that?"
"Sure, how many hours of free time do you have?"
"Hours? For giving me something?"
"No, for giving you something to think about in your next tug sessio--"