BRANKHOS was so sorry because of having
no son nor daughter although
even he was married for 5 years. So he sends his wife to the temple of Hestia to ask a price to pay. She returns without a solution because her husband is so cruel and has no mercy to the poor men. But BRANKHOS sends her to Temple of Hestia for a second time.


So BRANKHOS does the things as Hestia offered but, the deer complains about him to Artemisia and says he didn't ask for her permission. So Artemisia gets angry to Brankhos and says; " You will have two son, but younger one will betray to his elder brother. but if you punish your younger son, there will be a big curse of Artemisia not only with Brankhos family but also the Simena city and even at the whole Kekova"
...
..
.
Soon after red scarf and money bag of Brankhos received by the Sybill, Brankhos has a son (Bellos ). It is followed by a second one two years later ( Agenor).



Bellos and Agenor grows up happily but Brankhos never forgets the curse. He worries about his elder son because he was in love with a young girl (Pearl); bright skin as white as snow, green eyes as deep as the clear water of Mediterranean sea. On the wedding day Brankhos gives some advice to his sons but, when Agenor sees the bride of his elder brother he gets out of his mind. He develops a quick decision that he must have that girl for himselves.
...
..
.
After celebrations Bellos and Pearl begins to live in a house on a hump of Kekova mountain till the day Bellos must travel to Piriene.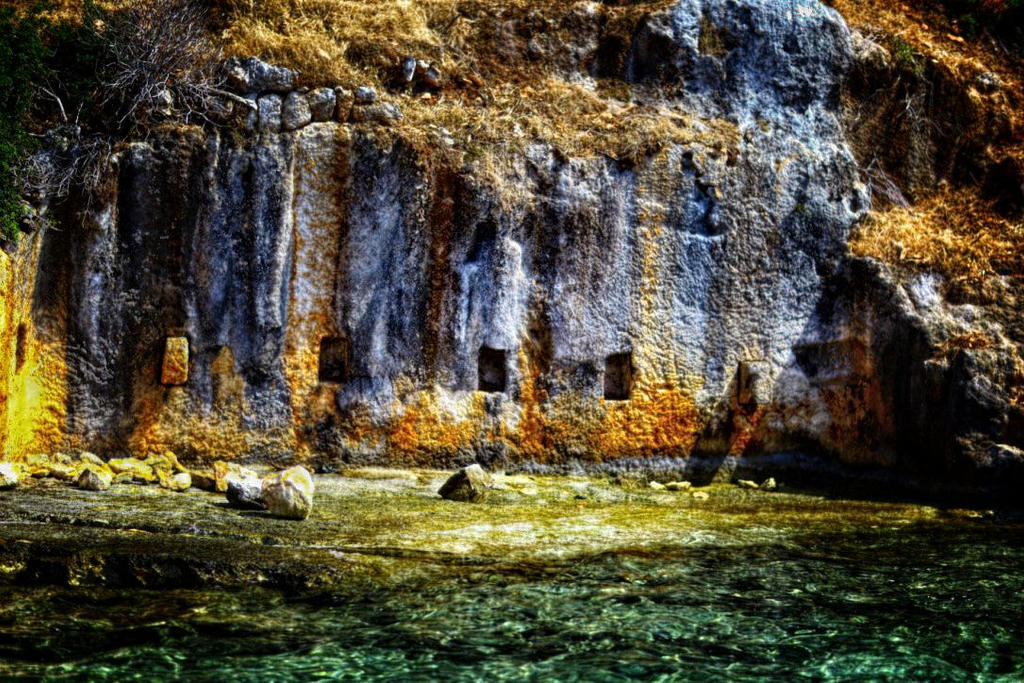 While he is away his younger brother makes some plans and invites Pearl to a dinner. After some amount of wine he persuades Pearl to play a kind of game. So he ties her eyes with a white scarf and they dance till the late hours. And when pearl falls asleep he succeeds to have her sweet favor. While Apollon was lightened the twilling on the east side, Pearl awakens with her eyes bounded...
She tries to open it but she noticed that scarf become red because of the shame of their sin. She does not hesitate even for a moment, and kills herself by throwing her sinful body from the mountain.



Bellos finds the red scarf as soon as he returns from his short voyage. After a quick investigation he understands what has happened. He cuts his brothers neck in a minute...