Hello, my friends!
Thank you all for watching me and for faving, I really appreciate it!

I'm thinking about opening commissions.
I have free time, and need some money, and want to apply somewhere what I can paint, but I'm so not confident..
I can't decide, does it make sense to open сommissions with my skill, or I should learn more and it's too early to think?
How do you think, at what price can I paint pictures like in my gallery?
For example:
landscapes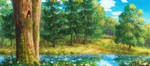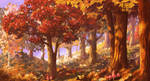 or characters