As much as I
adore
this design, I haven't really been able to draw the species properly, and I don't think I'd be joining in on the arpg activities any time soon.
So I'd much rather trade them for a species I'd like to be more involved with. Maybe I'll come back to the browbird scene at another time!
Anyway, here's the bird: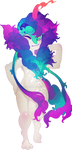 Looking for grems mostly!
I can also add on characters/cs from my TH if it sweetens the deal:
toyhou.se/hellebee/characters/…
toyhou.se/hellebee/characters/…
Also willing to look at:
-Hoshibuki
-Cccat (very picky)
-Esk (picky and unlikely)