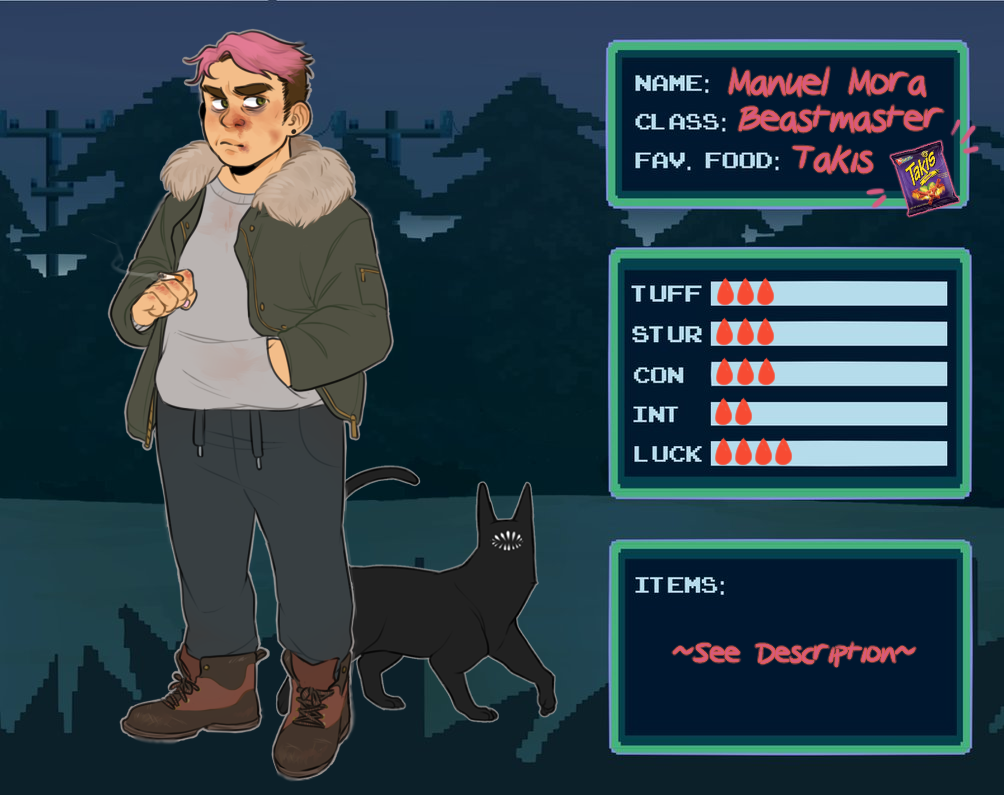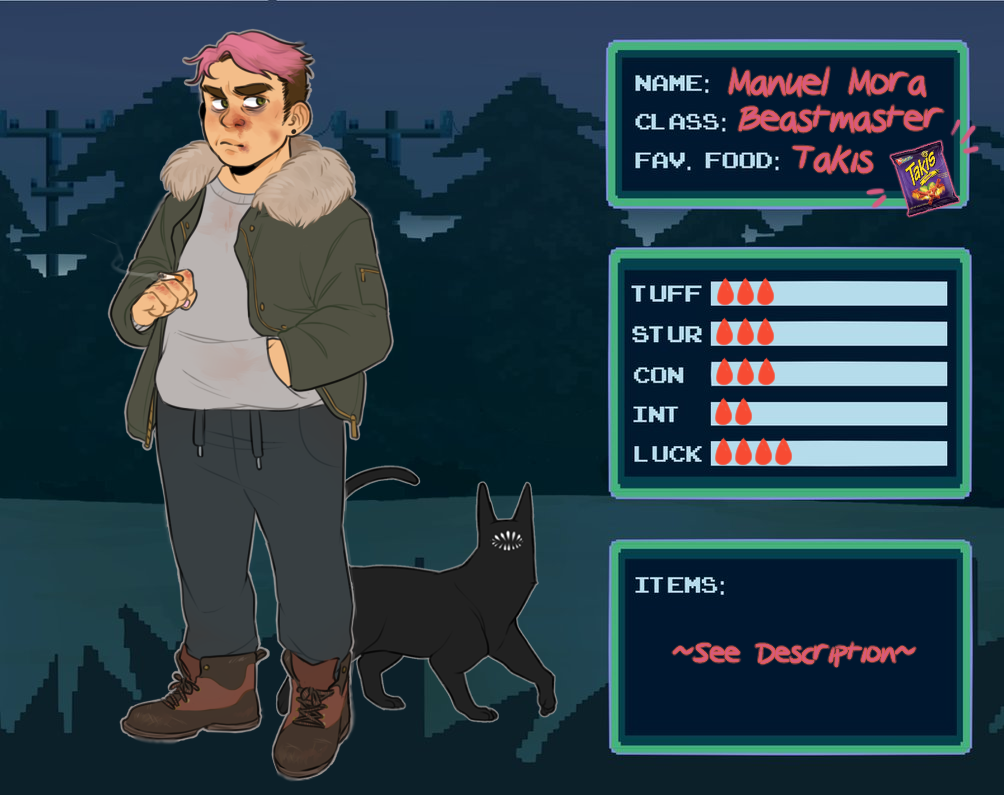 Watch

▸Personal

■ Name:
Manuel Mora
■ Nickname(s):
Manny
(Introduces himself as such, refuses to be called anything else)

■ Gender:
Male
■ Age:
29
■ Ethnicity:
Latin American/European (Half of his family is from Mexico)
■ Race:
Human ?
■ Romantic / Sexual Orientation:
Demi-everything
■ Height:
5'1"
■ Weight:
like a fat child
■ Class:
Beastmaster
■ Job:
TBD.
Does odd jobs for cash, down for almost anything.
■ Favorite Food:
Takis
®
, baby!
■ Weapon:
9mm pistol (glock 43). He doesn't always carry it.
■ Inventory:
Lighter. For cigs or general arson.
Marlboro Reds. He's not picky about brands, but he doesn't care for fancy stuff.
Flask. Who knows what's in that.
Cash. Tied up in a big wad with a rubber band.
iPhone. The screen is pretty busted.
■ Personality:
(+)
Bold, Humorous, Resourceful
(~)
Stubborn, Outspoken, Independent
(-)
Irritable, Selfish, Abrasive
■ Likes:
✓
Cats
✓
Snack food
✓
Street brawls
✓
Mint
✓
Whiskey
■ Dislikes:
✖ Spiders
✖ Sarcasm directed at him (Hypocritical considering he's a sarcastic piece of shit)
✖ Comments about his height
✖ Raw meat
✖ Being called anything other than "Manny"
▸RPG
■ Stats:
TOUGHNESS:
✦✦✦
STURDINESS: ✦✦✦
CONFIDENCE: ✦✦✦
INTUITION: ✦✦
LUCK: ✦✦✦✦

Total: 15
▸Background
- p a s t -


Manny grew up in a relatively normal household, raised by his grandmother in Toronto, Canada. He moved to the US to go to school and his life had been pretty average, if somewhat lonely, for a time after that. But taking odd jobs for any cash he could grab inevitably got him into some deep shit.

- p r e s e n t -


Ever since a certain fiasco in his mid twenties, Manny seems to have become a magnet for spooks and spirits. Dealing with such anomalies in a mundane human society proved to be a bit stressful (not to mention made him look like a lunatic). Eventually, Manny packed up his shit and moved to good old Indieville, USA in hopes to achieve some kind of "normalcy" in his life.
▸Other
■ Tidbits and trivia
He's not entirely sure what his pet "cat", Cat, is. Some kind of spirit or eldritch beast, if he were to hazard a guess.
As scrappy as he can be, he's more bark than bite. He fights very dirty when provoked, however.
He had a high school juggalo phase that no one must know about.
■ Voiceclaim? ✨
Jesse Sendejas (Lead male vocalist for Days N' Daze)✨
■ RP method: (In order of preference)
Discord exclusively. Haven't really been feeling the rp vibe, so headcanons or faux-rp (hcs with script) is how I'd prefer to roll at the moment!
■ Shipping?:
I love playing with crackships and hypothetical scenarios! But please know that I tend to only ship seriously with muns I've been talking to for a while and gotten to know well.
---
■ Relationships:


Nope \\

Sketchy \\

A'ight \\

Buddy \\

Best buddy \\

Family \\

Sweet on \\

It's pretty serious