Name:
Jens
Birthday:
January 1st -
[
Capricorn ♑︎
]Species:
Pangolin
Catchphrase:
"goro"
Quote:
"You got your troubles, I got mine."
Character Type(s):
Cranky
Skill:
Tinkering
Goal:
Mechanic
Fear:
Fire
Style:
Rustic
Song:
K.K. Rockabilly
Coffee:

● Type:
Kilimanjaro
● Milk: None

● Sugar: One spoonful
Personality:
Jens is an introverted, world-weary fella. He values his peace and quiet when he can get it, and will usually be found hanging around his home, tinkering and building little trinkets in his spare time. He may come across as rude initially, but he's just wary of strangers. Truthfully, he's a bit of a wallflower. Give him time and some patience, and he'll be glad to share light conversation over a cup of coffee.
Despite his aloof disposition, he loves kids and would like to have a few of his own someday.
History: -
tbd-
Other:
Nekked: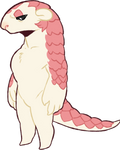 ARPG Tracker