I'm a 22 year old student from Belgium.
I study Digital Arts and Entertainment (game related studies) in Kortrijk at The Level.


I love to chat so don't be afraid to drop me a note or comment.
Every single favorite, comment, llama and watch is very much appreciated.
I always try to thank everyone but just in case I forgot : "Thanks a lot :3"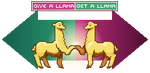 My store can be found here: commiss.io/hellcharm
It includes products, info and prices.


━ ▪ ▪ ━CHARACTERS━ ▪ ▪ ━

All their refs can be found here