I'm doing conbadge commissions for this year's Summer of Sonic! What I'm offering is a smallish, (about A6 or so?) laminated picture of your fan character (or fursona), which I will then attach to a little keychain (a supply of which I just got in today!). The price is £4.50, although if you'd like additional badges on the same keychain (like the TallGuy example below) they'll be just £4.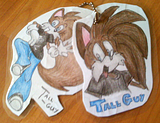 I will be handing them out in person at Summer of Sonic, although if you're not going or would rather I can also mail them to you for £1 (to an address the Uk. This is a Uk only offer at the moment also).
Payments are to be made by Paypal only, and I will only start work on the badge once I have been paid in full. Its not possible to pay me on the day unfortunately.
Here are some badges I made last year :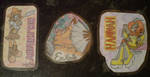 If you have any questions please do not hesitate to contact me! Finally, I'll be uploading photos of all the designs to my sketch account

__________________________________________________________________
Please check out my sketch account :