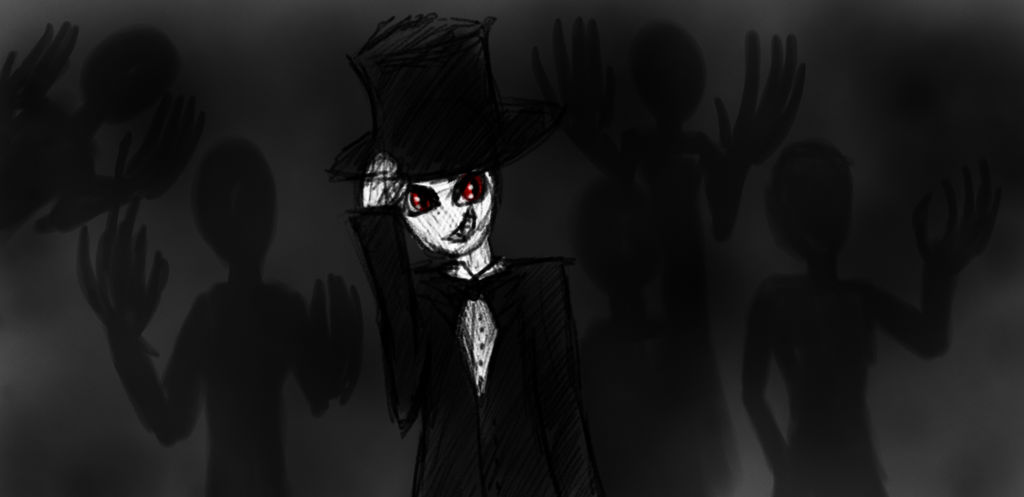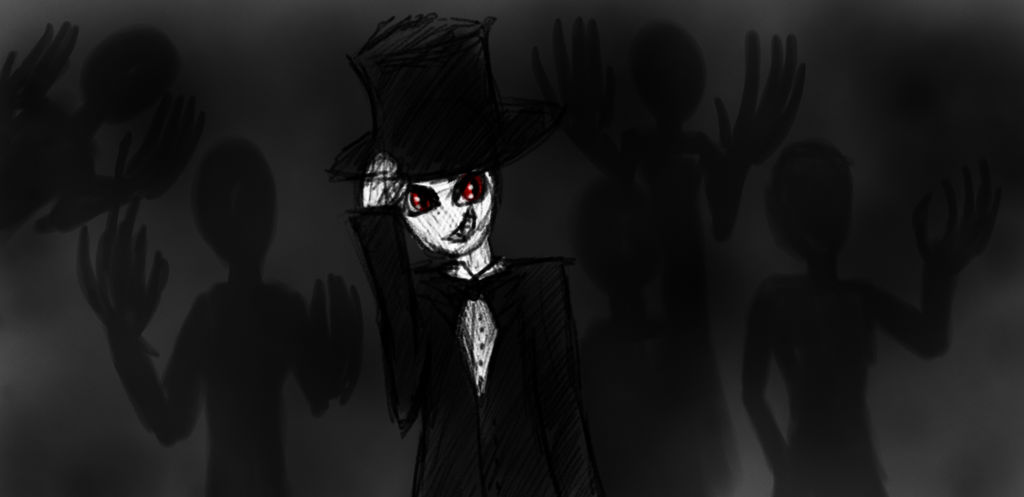 Watch
cause many guys dont understand my nightmare, here u have Voice, guy who talking to me and showed himself one time, and shadow people who are always around me. they are scary, they talking random things, sometimes they touching me and thats hurts. it was drawed as sketch, so isnt perfect but I hate them so much that I probably wont add regular art with any of them.

art which I drew on my tabled Ill add later or tommorow cause I dont copied it to computer. and today Im not in home so not too much arts. Im not sure that today Ill add something more. but I planning start translating my new story
The one night that I was visiting my grandparents in Michigan, I snuck out of the house and slept under the stars. I was awoken by menacing whispers. My eyes flew open. I jumped forward intending to shred my enemy to pieces. I landed on the ground and turned around. I saw the shadow people. Mr.Voice jumped out of the tree I was sleeping under. Then, they all disappeared!
Reply

O.O Woah that's scary... but hey the easiest way for them to stop tormenting you is to think that in the end they are only products of your mind. So you have the power over them. The next time you see them, just think that the shadows are rainbows, or pink girlies or sometthing. If they can't scare you they can't hurt you. So, just as an experiment. Think of mr voice here. No, doesn't the voice remind you of something? exactly. Imagine him singing something stupid, with a tutu. He isn't that scary now huh?

Reply

your ideas are great but this not works. they arent part of my imagination now. for my mind they are living beggins which are real
Reply

I know it seem wrong. I'm gonna explain it carefully. This "things" are the reflection of your fears/hates/bad feelings in general, that your subconscious throws at you due to your "problem". So you can't control them consciously, nor can you really damage them short-term. But in fact there's one way to win the battle against them. Stop fearing them, that easy. Of course they'll keep apearing, and short-term they can deal a lot of damage. But when they are gone, and they will allways have to temporarilly stop at least as long as you have medicines, they can only affect you as long as you let them affect you. So, by humiliating them you make theyr damage affect you only in short-term, but ineficient in long-term, and slowly, you drain their power (as long as you have medicines too, that's important) Of course they'll get angry/violent if they can see what you are doing, because in the end they are your subconsciousness trying to beat your consciousness, and the brain is the most powerfull of the muscles. But slowly, second by second, minute by minute, they'll start appearing less times, because if you combine medicines with the overcoming of the fear they create in you they just can do nothing. I know what I'm talking about, I studi biotechnology and a lot of my teachers come from the neurological institute near my university, so I ask them. Look, if you don't believe this just keep one thing in mind:
THEIR ONLY LONG-TERM WEAPON AGAINST YOU IS FEAR, DON'T LET THEM USE IT!
Reply

Reply

look, explaining it a bit scientifically/estrategically:
The conflict between you and your subconsciousness can be structured in 3 parts:
-chemistry: thatīs what medicines are for, and itīs actually the most important of the three parts, also, itīs the one I canīt help you with.
-emotions:and specially the bad ones. This is the part YOU can control the best. If they donīt make you feel bad when they are gone, they have lost the battle that simple, if you need any help, or someone to tell if you feel bad, I am here, so please send me a note and Iīll answer you as soon as I can.
-social life: well, a thing like this can really tear your social life appart, so donīt let that happend, if you start to see that it happends call for help to whoever you think can solve it, donīt be afraid of telling someone how you feel, and again, Iīm here to help you if you need me (I actually had a social problem, so in this part I can try to guide you as best as I can)
And again, relax, donīt let them damage you long-term and youīll see it will go better
Reply

Reply

Boskie^^ i straszne zarazemXD
Reply