Who: You, admins galore, and deviants from all over the globe
What: deviantART's 10th BirthdAy Bash
Where: House of Blues on the Sunset Strip - Los Angeles, CA
When: August 7th, 2010 from 3:00 PM to midnight
Why: We're celebrating 10 years on the Interwebs!
How: Buy tickets online or at the door
Join deviantART administrators, leaders and familiar faces from around the community, and deviants just like you at the famed House of Blues in Los Angeles. With the capacity to hold up to 1600 deviants, this all-ages event will include a lot of creativity, a dash of magic, and a ton of llamatastic fun. Help us celebrate this truly momentous occasion!
While we have your attention
, check out the newly-released event booklet, complete with the party's schedule of events!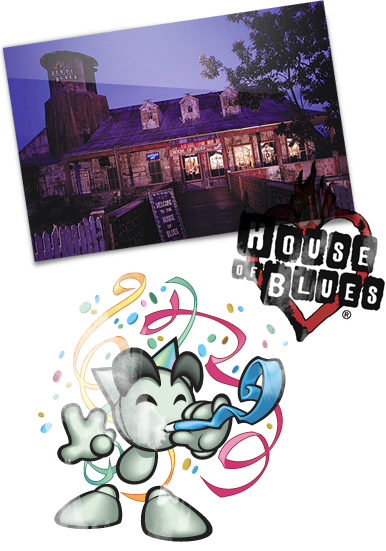 Here are just a few things that you will find at deviantART's BirthdAy Bash:
A major site-feature announcement with live demonstrations!

Special appearances by some very familiar deviants... names to be released soon.

Convention-style panels filled with admins and special guests, ready to answer questions about deviantART and the pursuit of art.

Art rooms filled with supplies, just awaiting your inspiration!

Interactive tutorials led by admins and art experts.

An art wall adorned with 10 years of artistic creativity.

Food, drink, music, merriment, and prizes!

A few other surprises we can barely keep to ourselves!

The BirthdAy Bash's schedule of events is now online for your viewing pleasure. From red carpet photography to $spyed's welcome speech, find out exactly what we're doing and when we're doing it!
The usernames below represent a small sample of who's attening our fabulous party! Don't miss out on what will surely be a celebration to remember. Join us!
Community leaders: `Artgerm, *dcwj, +ekud, *kunkka, `precurser, *tobiee, `ukitakumuki, `vhm-alex, `zemotion
Former admins: `keiross, lolly, °matteo, `Waveswinger
Current admins: $spyed, #ArtBIT, $ArtisticAunJuli, $Ayame-Kenoshi, $bionikdesign, $breathemuzik, $chris, $codenamepanther, $crgriffith, $electricnet, $endosage, $eriemer, $eStunt, $ewm, $damphyr, $Dan14Lev, $Dollwithagun, $godofodd, $gorillalure, $grieves05, $gzobel, $Heidi, $hwetzler, $Ikue, $jeanpat, $jekor, $kemayo, $kouiskas, $laurenkitsune, $liquisoft, $makepictures, $margotdent, $marioluevanos, $mccann, $mhalpert, $Moonbeam13, $mudimba, $nutnics, $pachunka, $PattersonArt, $Puglife29, $reiiz, $RuthN, $SGonzalez, $shkvarchuk, $Stykera, $zilla774

On August 7th, 2000, a baby website was born. Throughout the years, we've grown up, expanded, learned, and been touched by deviants in the community in ways that were so fulfilling, it only seems fitting, 10 years later, to give back to the community by hosting an enormous BirthdAy Bash!
If it takes a village to raise a child, then it takes a community of dedicated, talented deviants to strengthen and nurture a website through its tenth year and beyond. Armed with the hard work, dedication, and love from every deviant — member to volunteer to staff — our sights are set on the future and all the fun features and improvements we're equipped to add to our arsenal of awesomeness.

It doesn't matter if you've been on deviantART for 10 years or if you signed up last month. It doesn't matter if you're the next Picasso or if you just uploaded your first deviation from a napkin. You are the reason we're here, the reason the we come to work every day, and the reason we come up with new and exciting features that will help you become the artist you've always dreamed you'd be. And for that, we thank you from the bottom of our hearts... with a huge-ass party!
(In the event you can't party with us in person, we encourage you to host or attend a satellite BirthdAy Bash deviantMEET in your area. If that's still not your style, fear not! We'll also be featuring a plethora of online birthday events for you to partake in during our birthday week.)
Get Tickets