We're Sponsoring Artists' Alley at Comic-Con!
1 Favourite
836 Comments
22K Views
deviantART is sponsoring Artists' Alley at Comic-Con 2011

Every year, Comic-Con International: San Diego hosts a huge gallery of artists in what's known as Artists' Alley. It's an honor for the artists, who have earned the right to sit among their peers with a lifetime's worth of hard work and incredible talent, and it's an honor for the attendees to meet face-to-face some of the artists that have provided such inspiration and stunning visual entertainment. In years past, notable deviants have sat in this accomplished Alley of Artists and we've attended to offer support to past and future deviants across the convention.
We'll be providing not one, but two huge display screens streaming art from artists attending Artists' Alley. The displays, measuring roughly 11 feet wide, will be hung from the convention ceiling right over the Alley to show works from these great artists to the whole convention hall. Computer stations, complete with Wacom tablets and connected to the Web, will be located in a designated area, where artists in the Alley can demo digital drawing styles or showcase their work from online resources, digitally complementing their physical works.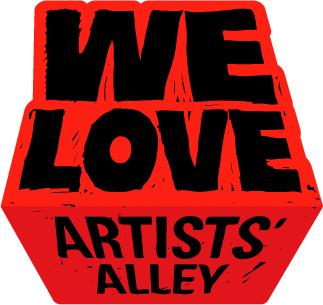 Comic-Con attendees will see the above graphic spread across Artists' Alley and Comic-Con itself.

As part of deviantART's sponsorship of Artists' Alley, we'll be providing two scholarships to emerging artists — one web-based comic artist and one traditionally-based comic artist — who will be guests of deviantART and Comic-Con. The chosen artists will spend two days at Comic-Con, where they will be able to cruise the convention floor, attend panels, and be introduced to prominent artists in the industry; with a chance to pick their brains and gain artistic inspiration right from the source.


To learn details on how to apply, click below. And good luck!
#Comic-Con Group

If you're already planning to attend Comic-Con, join us in Artists' Alley!
Stop by and see the incredible talent of the 190 artists who have traveled to San Diego from around the globe. Show your support for artists and the comic arts by visiting the tables that line Artists' Alley. DeviantART will have various staff hanging out in Artists' Alley all day, so be sure to come by, say hi, and introduce yourself!
We'll be spreading the "We love Artists' Alley" news and may even have some deviantART swag to hand out! (Please note that Comic-Con is sold out. Deviants who are unable to join us in person can be kept up-to-date by following reports we will post to #Comic-Con, Twitter, and Facebook.)
Comic-Con Group
Follow us on Twitter @deviantART
deviantART on Facebook

Comic-Con International: San Diego is the largest comic book and popular arts convention in the world. Held at the San Diego Convention Center from July 21st to the 24th this year, Comic-Con draws a worldwide audience of entertainment enthusiasts of every kind, filling the convention center to its brim.
With panels, seminars, and workshops with comic book professionals, along with art shows, portfolio review sessions, and more punctuating the various exhibits, attendees walk away with cheer in their hearts, bags of swag in their arms, and some tired, well-exercised feet. For more information, check out the Comic-Con website here.