DeviantART is proud to announce our Premium Content Platform — providing the ability for content creators to become sellers and generate earnings by making digital files of their high-quality work available for download. The Premium Content Platform allows deviants to buy and sell digital goods for immediate download and use. Sellers are able to charge a little and sell a lot, and take advantage of the easy-to-use Points currency for digital downloads. Buyers get the things they want with the satisfaction of supporting the artists they love.
‹‹ Back to Original Article
What is the Premium Content Platform?
The Premium Content Platform is a way for deviants to easily sell and buy digital content. The Platform is based on digital downloads, which removes all of the issues brought about by physical goods and their delivery; for example, printing and shipping products from one location to another. By selling digital products through downloads, sellers can easily connect to millions of potential customers. Once purchased, digital downloads can be accessed and enjoyed immediately. By using the deviantART Points system, sellers set their own prices for each download, opening up massive potential for purchases on a wide variety of items by the millions of people who use deviantART.
What are Points?
DeviantART Points are a virtual currency that can be used to buy virtual and real goods on deviantART — such goods include Premium Content Platform purchases, Premium Memberships, t-shirts and gear, Prints products, virtual badges, and more. Points can be purchased using a credit card or PayPal, and one U.S. dollar is the equivalent to 80 Points. A buyer making a Premium Content Platform purchase must use Points for the transaction. However, a seller's earnings are credited in U.S. dollars which can be withdrawn via PayPal or check, or converted into Points.
Selling Premium Content
As a seller, you can make almost any content that can be placed in a digital file available for purchase. The content must be your original work or you must have full authority to make it available for sale. The content also needs to qualify under deviantART's Submission Policy and Etiquette Guidelines. The Premium Content Platform is designed for both ease of use and security. Deviants wishing to sell content are able to do so efficiently and ensure their high-quality content is put to its proper use, on their terms, while also generating profit for their hard work. Sellers are able to set their own prices for Premium Content Platform downloads and, once sold, a seller retains 80% of all revenue earned.
When making a Premium Content download available for sale, sellers are encouraged to provide a detailed deviation description about the content being made available for purchase in order to avoid misunderstandings or disappointments from buyers. For example, if the content is a brush that will work only in certain versions of software or if the content is a file that will only open in certain editions of Photoshop or Painter, the description should explain these nuances as much as possible.
To begin selling through the Premium Content Platform, go to the Submit Art page and follow these simple steps: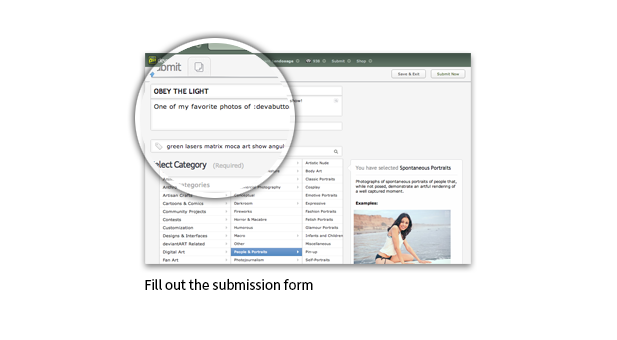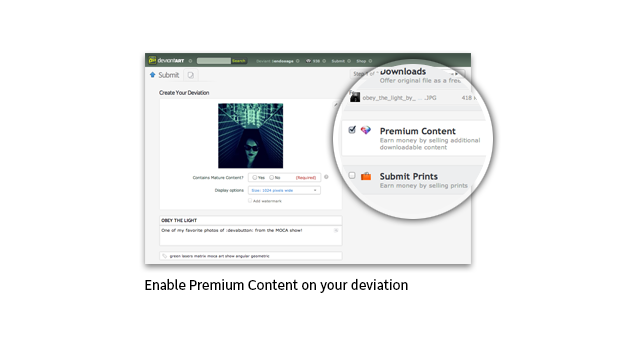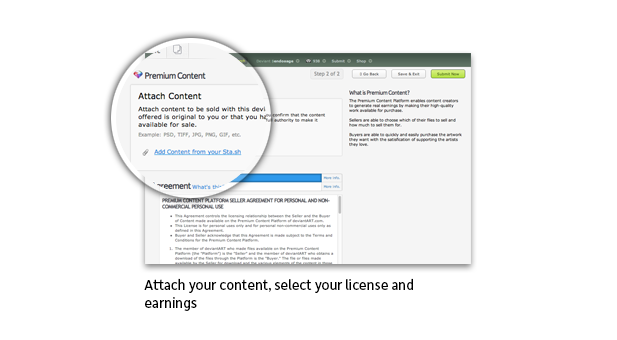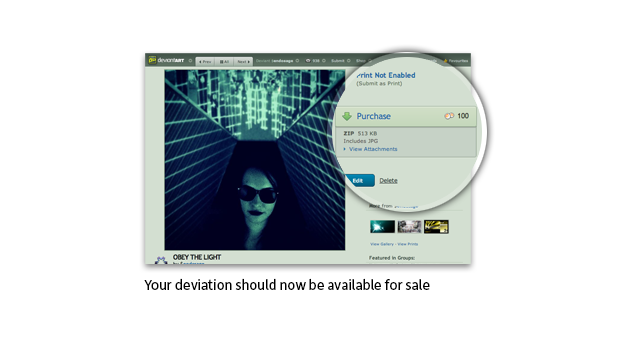 Earnings
Buyers purchase content using deviantART Points. Each time a buyer pays for a download, the seller will be notified about the sale through an Activity Message in the Message Center. DeviantART charges a fee on each download equal to 20% of the price set by the seller at the time of the download, and places the remaining 80% into the seller's My Earnings account in U.S. dollars. After a short holding period of approximately 14 days, the seller's earnings from the sale will be available to be withdrawn by the seller either as U.S. dollars (via PayPal or check) or as deviantART Points.
Buying Premium Content
Buying Premium Content is easy. Whether you're looking for tools to aid your latest photomanipulation or you are searching for the perfect desktop wallpaper, the Premium Content Platform is a fantastic way to fuel your creative mind. Buying Premium Content is a straightforward and user-friendly process.
Once you've identified Premium Content that you're interested in, click the "Purchase" button, enter your password, and agree to the Seller's Agreement. Your download will start immediately.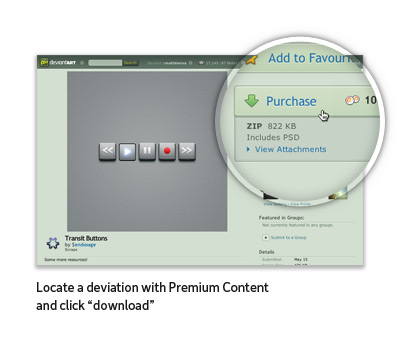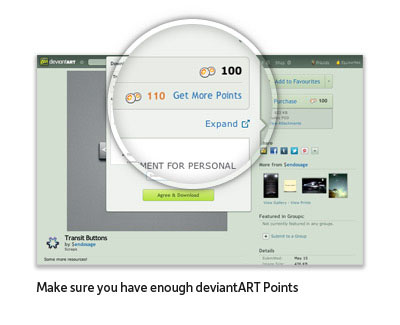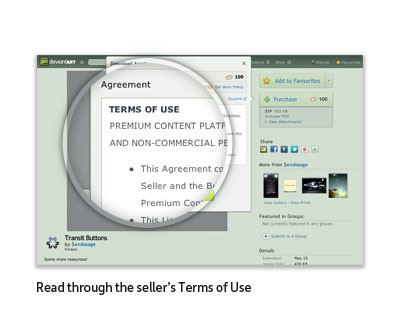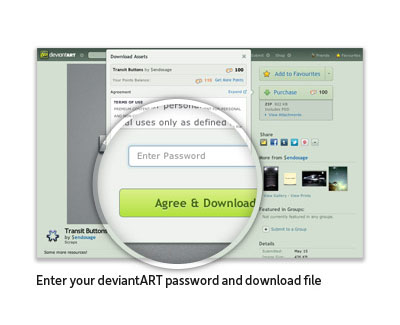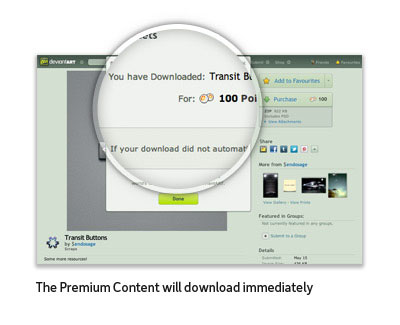 Rating Premium Content
In order to assist future Premium Content buyers, we encourage those who have purchased content to rate sellers on a five-star scale. In addition to rating sellers, buyers are also encouraged to leave feedback about the download in the comments section of a deviation. It only takes a moment to rate a seller and/or leave a comment and feedback is crucial in helping others make purchasing decisions.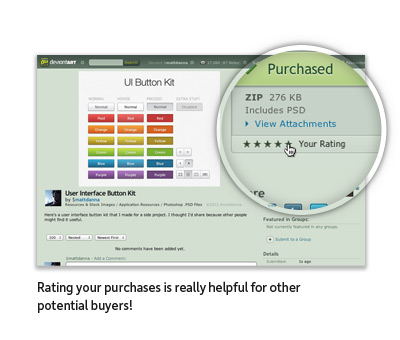 Eligibility and Agreements
Selling on the Premium Content Platform is a privilege and not a right of membership. The launch of the Platform will be staged by selecting target groups of sellers before the Platform is extended to all members. People who have the ability to sell via the Platform will be notified with a Hot Topic notification in their Message Center. All members will be enabled to buy content on day one.
Sellers enter into an agreement with the buyer on each download. When making a download available for sale, sellers can use a standard Personal Use/Personal Non-Commercial Use License Agreement. Alternatively, sellers can insert a Custom License Agreement. These options are explained at the time the seller makes the content available for sale.
Important Information
Occasionally a dispute may arise between a buyer and a seller. The most likely issue will be a concern by the buyer that the download doesn't meet his or her expectations. This can be avoided most of the time with a good description of the content on the deviation page. The seller should accept responsibility for providing an adequate description and the buyer should accept responsibility for reading that description before deciding to make a purchase.
Buyers can request a refund within 7 days of their purchase using the refund button on the Order Detail page. Sellers are provided with a streamlined method to provide refunds within thirty (30) days of the request made by the Buyer. Sellers should always consider issuing a refund in the case of a Buyer who is unhappy. Buyers and Sellers should always behave politely toward one another.
The deviantART Help Desk is available in the event that the buyer and the seller cannot resolve their dispute. Both the buyer and the seller should read the Terms of Use for the Premium Content Platform before using the Help Desk. However, in general, buyers should proceed at their own risk.
You can report content that should not be made available on the Platform using the Report Deviation button, the same way you would report a deviation for other issues. Should a fraudulent circumstance arise that requires the attention of deviantART staff, buyers should file a report within 7 days of purchase. To report a deviation, click the Report Deviation button and select "Premium Content Issues". You will then be prompted to select what the issue is, and to leave more information, so that staff can handle the situation as smoothly as possible. If deviantART staff find that fraudulent activity has occurred, appropriate action will be taken — ranging from suspending a deviant's ability to buy or sell Premium Content, to a permanent site ban.
As a reminder when purchasing Premium Content, the buyer is expected to abide to the agreements made when the content was originally purchased, the same way the seller is expected to abide by the Terms of Use and Seller Agreement.
‹‹ Back to Original Article