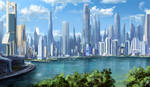 DeviantArt.com will celebrate its 15th birthday in August 2015. While many online communities have come and gone during the last decade and a half, DeviantArt remains because of our passionate and committed community. In that time, we've celebrated many milestones, and it became apparent we were in need of a place to share our victories and our challenges. And since we want to move toward more complete transparency with the community, what better time to also showcase and discuss what's to come down the road as the future of DeviantArt?
Today, we're introducing the DeviantArt Timeline, which will highlight the work we've accomplished in the past while laying the groundwork for what's to come. Everything beyond present day on our Timeline acts as a roadmap for the future, welcoming deviants to follow progression and development toward future goals and promises. We want to bring the community along with us while planning our future, and will be constantly engaging deviants about upcoming feature releases and site changes, mockups, and feedback.
Our Timeline is interactive — scroll left, scroll right, click events for additional details.
View the Timeline!
---
Share Your Thoughts
Did we miss any important events?

How do you feel about what's to come?

Post a status update about Timeline!