Saturday kicked off Day 3 of Comic-Con, and the crowds poured onto the convention floor to start the weekend in Geek Style.
At noon, deviantART hosted our final panel:
How to Supercharge Your deviantART Profile Like the Masters
. Moderated by none other than our fearless ninja, Angelo (aka
spyed
), we were honored to have the following superstars share their deviantART experiences with the crowd:
- Adam Warren (
AdamWarren
-- "The Dirty Pair," "Empowered")
- Mark Brooks (
diablo2003
, from Marvel Comics)
- Jim Zubkavich (
Zubby
-- Project Manager of Creative Services, Udon Entertainment)
- Dave Elliott (
DeevElliott
-- "Heavy Metal Magazine")
- Wenqing Yan (
yuumei
, creator of "Knite," "1000 W0RDS")
- Kevin Eastman (
Kevineastman
-- co-creator of Teenage Mutant Ninja Turtles)
- Chris Sanders (
alohalilo
creator of "Lilo & Stitch")
It was truly a remarkable and informative hour. Brains were picked from every angle and our panelists described everything from the importance of joining deviantART, to how maintaining one's Profile Page can help launch a career. (Fear not! If you weren't able to attend in person, word on the street is that video highlights may be showing up on
hq
in the near future.)
spyed hosts our "Supercharge Your Profile" panel.
As things were winding down, each panelist was asked to summarize the best piece of advice they wanted to impress on the crowd. The following is a quick soundbite of what each had to say.
Be persistent, relentless, and unstoppable, even when you want to stop. Especially when you want to stop.
-Adam Warren (
AdamWarren
)
Thrive on criticism.
-Mark Brooks (
diablo2003
)
Create something that's genuine and something you like.
-Jim Zubkavich (
Zubby
)
Don't be a lurker. Be positive and that will come back to you.
-Dave Elliott (
DeevElliott
)
Don't be afraid. Everyone starts out not being awesome. Immerse yourself in the process, and before you know it, you'll be great.
-Wenqing Yan (
yuumei
)
Whatever you think is art... is art. Period.
-Kevin Eastman (
Kevineastman
)
Whatever you do, try and put a story in your work. It will make you a better artist.
-Chris Sanders (
alohalilo
)
With our last panel out of the way, we were free to focus our energies in other directions, while the deviantART booth in Artists' Alley buzzed along like clockwork.
DaneRot spends his downtime by sketching Hulk!
Besides the myriad amazing reasons we had to be psyched about coming to Comic-Con, this year was especially exciting, because we
just launched
our
Premium Content Platform
earlier this week. It's always a good feeling to launch a new feature that we know will enrich the lives of deviants, but to launch something that directly benefits artists and generates them real earnings, well, you can understand that we'd be brimming with excitement to spread that news to everyone we meet.
Friend of deviantART Uwe Maurer of Ambient Design brought
spyed
and me (
Heidi
) to
The Art Department's
booth to talk about some really exciting things. Most of them we have to keep hush-hush for now, but what we can say is that there may be some interesting ways for Premium Content to kick-start their students' portfolios and careers.
We were also thrilled to hear that, while we were running around Comic-Con, Bleeding Cool
wrote an article
about the potential impact Premium Content offers independent artists.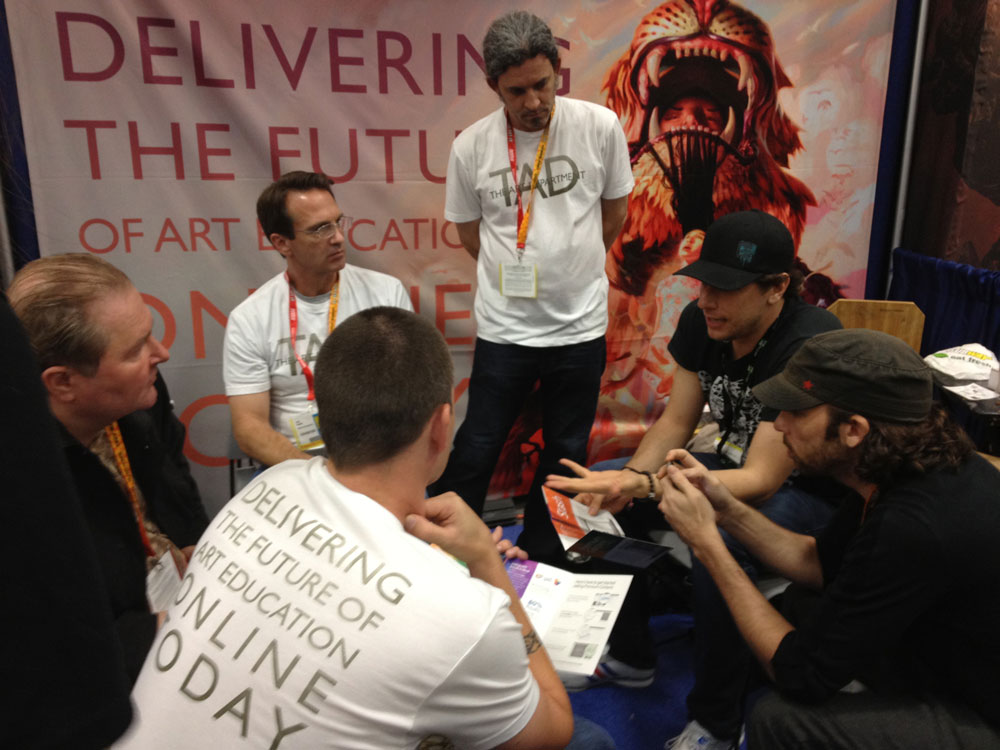 Since we had a camera crew hanging around for some interviews we planned to do with artists, we thought we'd learn a little more about the artists that make up Comic-Con. Today,
spyed
was able to make his way through the artists sitting in the Small Press section. As you can see, there were some pretty big hearts inside the artists in Small Press.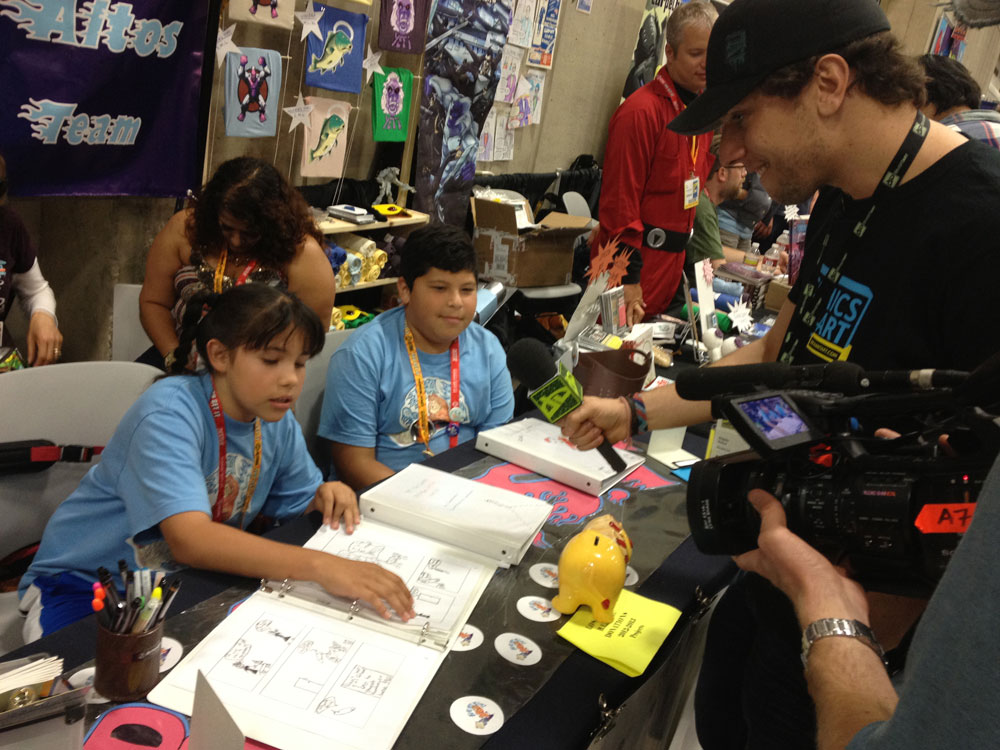 Walking around outside of Artists' Alley also meant getting to spend time at some of the other booths we'd been rushing past, promising to return to for two days now.
marioluevanos
and
TheLaurenVerse
took a few moments to dig through bins to recreate the deviantART logo on the giant LEGO wall!
Last year (which was deviantART's first year sponsoring Artists' Alley), we offered two scholarships to artists emerging artists who'd always dreamt of going to Comic-Con. It was such a success that, this year, we offered six scholarships, and set them up near the deviantART booth.
On Thursday, we hosted
mleiv
and
larkinheather
, while Friday saw the arrival of
UNDERANANGEL
and
SpyrosVerykios-ComiX
. Today, we had super artists and deviants
Mogorron
and
sambees
. Though weary from travel, they were excited to display their works in Artists' Alley, meet professionals in their industry, and have their portfolios reviewed by the experts!
Other Happenings
chriscopeland and jeffwamester use DeviantArt muro.
damphyr and megturney battle it out as Wolverine and Mulan.
The amazingness that is cosplayers attending Comic-Con.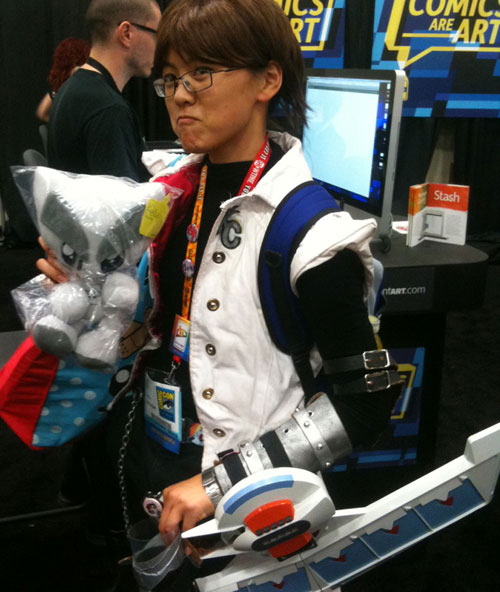 Follow deviantart on Twitter for the chance to win free swag...like Fella!
That about wraps up Day 3 of Comic-Con, and we all know what that means -- tomorrow is the final and saddest day of Comic-Con. However, we're trying to make the good cheer last as long as we can before we start X-ing out the calendar days until Comic-Con 2013.
~
Heidi
and
TheLaurenVerse
Read more:
Comic-Con: Day 1
Comic-Con: Day 2
Comic-Con: Day 3
Comic-Con: Day 4