San Diego Comic-Con Day 1 is winding down to such wee hours, some sticklers might call it "Technically A Few Moments Into Day 2." But we live by the belief that new days don't technically start until after you've fallen asleep, and all of the deviantART staff in attendance are still buzzing with energy after such an amazing first day on the convention floor.
For those of you unable to make it to San Diego, allow us to paint a picture for you.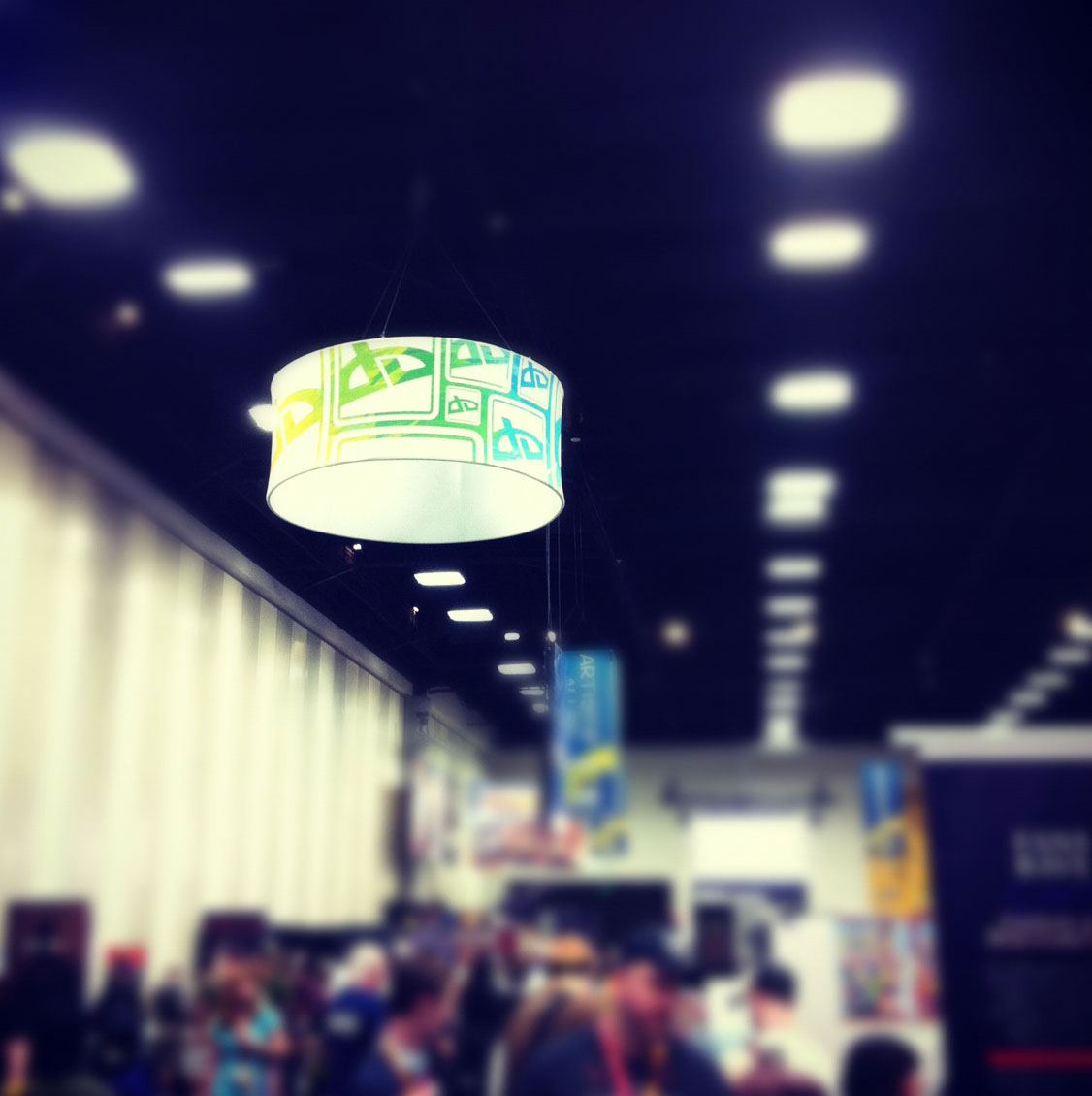 Try not to get hypnotized as our deviantART signage spins from the convention ceiling!
The first thing you see as you walk in the door (provided you walk in at door G) is the radiant deviantART band of hope hanging from the ceiling like a beacon for artists and art lovers to join their devious brethren at the mecca of creativity: Artists' Alley.
Like last year, deviantART is sponsoring the alley, offering comic artists comfy seats, slick carpeting, deviantART swag, and the contentment that comes from knowing how awesome deviantART thinks they are.
We've provided not one, but two
huge
display screens streaming art from artists within Artists' Alley -- one showcasing portrait-style art, the other rotated to feature landscape. The displays, measuring roughly 11 feet wide, are hung from the convention ceiling right over the alley for all to see, beckoning everyone to come closer and meet these legends in person.
endosage and mattdanna prepare the booth.
The deviantART booth itself features kiosks with chairs for weary walkers -- and not the undead kind or those from Westeros. Six of the kiosks feature iMacs and Intuos tablets, ready for anyone who wants to play with
deviantART muro
. The seventh kiosk features a 24-inch Cintiq where newbies and pros alike can enter into the digital artist's playground that is so much fun, it frequently requires a wipe-down after patrons and staff alike drool on it in amazement.
It didn't take long for artists to flock to our humble corner and let their imaginations run wild.
Darke-Imp
and her friend took a few minutes to whip up a devilish Dante from the video game "Devil May Cry."
mejia29
stood by this piece he called "one of the best things he's ever made," and we were honored to be right there for the historic moment.
Comic-Con wouldn't be complete without sassy Marvel characters, so
xashe
drew us one of the craziest of them all: Deadpool.
MarceloBriseno
stopped by Artists' Alley again this year to whip up a quick "Empty Skull" portrait, and it looks amazing.
It's Franchesco!
One of our favorite things about walking through the alley and talking to the artists is that they each have a story. They each had a dream they pursued and the perseverance to hone their talent, and it's truly an inspiration to all of us. There are many paths that they may have taken to end up in the alley, but the looks on their faces when a fan comes up for an autograph or to purchase some original art is so awe-inspiring and motivational, it reminds us staffers why deviantART loves Artists' Alley.
danlev agrees! Comics are art.
Day 1 is coming to a close (we still haven't gone to bed yet! It's still Day 1!), and we can barely wait to get going on Day 2. Who knows what the future will hold? More comic book purchases? New, awesome panels to attend? A shy deviant quietly creating a breathtaking masterpiece on
deviantART muro
as a crowd looks on in awe? Well, we can tell you that ALL OF THESE THINGS WILL DEFINITELY HAPPEN, but you'll have to tune in to our next Journal to see just how they go!
~
Heidi
and
TheLaurenVerse
Read more:
Comic-Con: Day 1
Comic-Con: Day 2
Comic-Con: Day 3
Comic-Con: Day 4