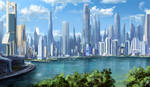 It's no secret that DeviantArt is a complicated site. Have you ever invited a friend to DeviantArt, only to have them ask a bunch of questions about how to get started? Or have you ever spoken with a fellow deviant about a feature you use daily, only to learn they didn't know that feature existed? It's our aim to make a new deviant's first experience as inspiring and welcoming as those who have made this community their home. We've spent a lot of time thinking about how to make DeviantArt a simplified and unified experience and, as mentioned in the DeviantArt Timeline, today we are announcing the beginnings of a site simplification process.

In the coming weeks and months, DeviantArt will begin to make changes to the way things are named and where they appear. Each of these decisions is informed by analysis of real member behavior for both logged-in and logged-out deviants. Our goal is to present experiences we all love at DeviantArt more clearly and reduce instances of confusion that contribute to complexity. Ultimately, this should improve participation from everybody — adding more favourites, comments, and deviousness to the site as a whole.
Cleaning Up Naming
A while back, we asked the community about collections usage. In response, we heard things like, "Collections? Do you mean the folders in our galleries?" and "Do you mean the journals where people feature a collection of artwork?" These are perfect examples around how the naming conventions on DeviantArt — the names we've given products and features — need work.
DeviantArt has been around for 15 years. As mentioned, the site is admittedly complicated and there are many terms, often with multiple meanings, that deviants need to learn as a member. When we designed the DeviantArt Mobile App, we were able to essentially start from scratch and focus on keeping things simple. Now it's time to bring that same mentality to the desktop site by removing complications and consolidating site terminology.
We'll provide explicit details soon, but here are some examples of how we might change terms used on the site's navigation:
Favourites, "Collections", the "featured" folder in your favourites, and +fave could become: favourites

Gallery, deviations, art, and artwork could become: deviations
Watch, watchlist, deviantWATCH, and +watch could become: watch

Messages, notifications, notices, hot topics, and inbox could become: notifications

Members, deviants, users, and visitors could become: deviants
Navigation Design: Tier One
When looking at our existing navigation, emphasis is placed on search, shop, and DeviantArt's home/browse. However, we know that deviants prefer to visit their messages, profile, and so on.

Let's take a look at the site's most used features and functions, and see how they can be translated into a new, easier to use navigation.


(Please note: This is just a representation for how the new site navigation could be structured. It is not meant to be a design nor does it use real colors. For now, we're only focusing on the placement of DeviantArt's core features.)

In the new header arrangement above, the logo would bring you to your watch, notifications (messages) are represented by the number "264" (not necessarily consolidated into one number), Notes are represented by "8", search, and explore come afterwards, but are still at the top.

We plan on splitting Messages into three distinct components:
Watch, which is currently the "deviantWATCH" section of your messages, is content submitted by the people you watch. Since deviantWATCH is vital to community health and we want to optimize this experience for the consumption of deviations by deviants you +Watch.

Notifications will replace what is currently the "feedback" section of messages. In the future, this will be a more powerful experience than what it is today. Based on community feedback, using Messages can often feel like a chore. We've also heard that deviants avoid checking their Messages because of how cluttered everything can become, so our aim is to make notifications smarter and easier to manage.

Notes. We have exciting plans for notes. In the near future, we'll be bringing them to our Mobile App and, a little further out, we'll be transitioning them to a more chat-like system.
Search and explore also appear on the top navigation:
Search will function similar to how it works today, with an improved design.

Explore, which is currently known as browse (and the front-page), will include What's Hot, Daily Deviations, Today, etc.
Navigation Design: Tier Two
Below is a potential second level navigation:





Our watch system is the center of the DeviantArt experience for every deviant and we want to bring it to the homepage of DeviantArt.

The beauty of this design option for our home experience is that these elements can be mirrored on profiles and have the same experiences. If profile "tabs" and home/watch "tabs" were organized in the same manner, DeviantArt would be a lot easier for new people to use. Symmetry would make DeviantArt intuitive. Today, we're suffering under the load of features and naming conventions that create a giant cloud of confusion.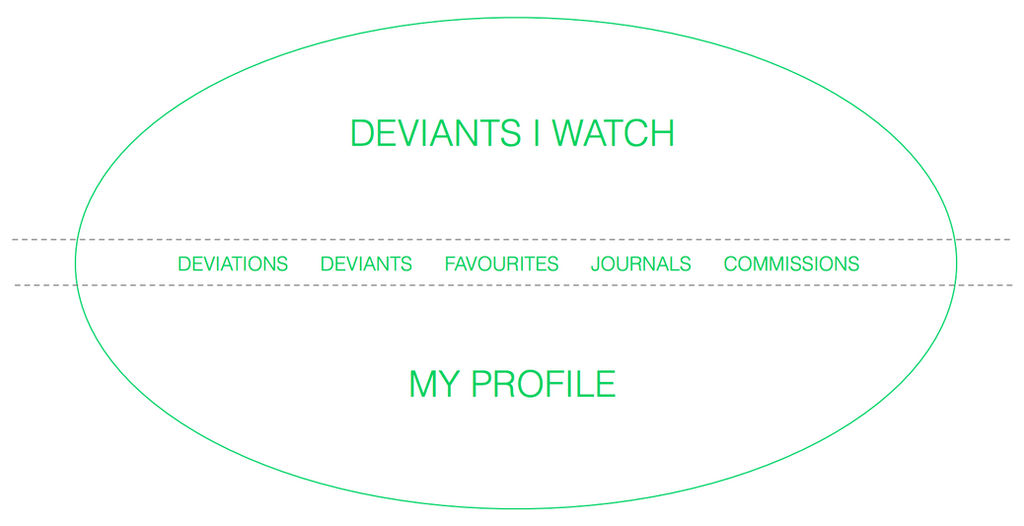 We want to streamline DeviantArt's naming conventions, so that we can present a profile featuring exactly what you are then able to watch: deviations, deviants, favourites, journals, and commissions.

Changes in naming and updates to the interface in this direction will not happen all at once, but will instead roll out over time. Small changes may begin happening as soon as next week.
---
Share Your Thoughts
As DeviantArt grows, we strive to find more ways to connect you with the things and people that matter to you most, but we're becoming more and more cognizant of wanting to simplify the process — so that we can bring you the best experience and do it well.

How will these types of changes impact your experience at DeviantArt?

What other things can we unify or simplify?

Which site terms/names do you find confusing? Which took you a while to understand?

Post a status update about Timeline!