10th BIRTHDAY BASH WRAP UP

It's always bittersweet when a party ends, but in our case, the warm fuzzies we got from celebrating a decade of deviousness at the House of Blues in Hollywood will remain for the next 10 years and beyond. Our 10th BirthdAy Bash was an absolute blast, and we're only just now beginning to get back into the swing of normal work and not awesome-sauce-party-planning-24/7.
The turnout was amazing! We had over 1,000 people show up throughout the day, and nearly 8,000 visitors joined us through the Interwebs via our live uStream channels and streaming #Auditorium chat. We're truly touched that so many of you were able to make it to the House of Blues and that those who couldn't be there in person joined us online!
$spyed welcomed deviants to the party by releasing the much-anticipated "It's coming..." feature we've been developing for months – the amazing deviantART muro, our new drawing tool. Reaction to deviantART muro has been nothing short of tear-jerkingly inspirational to all of us who work every day on new ways to help our artists grow and produce art in ways never thought possible. If you haven't had a chance yet, give deviantART muro a go! It's downright addictive for all skill levels.
The bars are packed… with artists trying out deviantART muro on one of forty laptops throughout the place. You couldn't order a drink there, but someone could sure whip you up anything imaginable!
In the keynote speech, $spyed spoke on how work in the past gives us the tools to progress into the future. He gave a brief history of deviantART through the years, where we've come to where we're going. He showcased a few selected deviants' first deviations and compared them to their astounding current works, outlining how their artistic talents have grown and matured throughout the years. He spoke of the World Tour and how touching it was to hear firsthand accounts about how deviantART has changed lives. Finally, he gave a glimpse into where we're headed with the community and groups and general 21st century mind-blowings.
After Angelo's stick-figure attempt at `Artgerm's famous Pepper, `Artgerm HIMSELF came out and drew her wishing deviantART a happy birthday in front of a crowd of onlookers!
Off the stage, there was no shortage of squee-inducing things to do. On the second floor, deviantART superstars `precurser, $endosage, $liquisoft, and `Artgerm blew up the tutorial room, showing a rapt crowd of deviants how to tackle some of the more-interesting facets of artistic ability. Our art gallery and user-submitted postcards from the Birthady Postcard Project adorned the walls and delighted the eyes of everyone strolling through.
Up on the top floor, users present at the party could watch their own galleries streaming in a live feed on plasma screens in almost every room. Finally, an artist's dream – the art supply room in the back allowed anyone passing by to jot down a sketch, paint a watercolor, sculpt some clay, or make a collage at a table with all their devious friends.
Art appreciators are taken aback by the talent of
some of our print artists.
Top all that off with real-live llamas who loved to pose for pictures and jammin' DJs who kept the crowd dancing late into the night, and we humbly proclaim the party a HUGE SUCCESS!
Jerry and Seinfeld (yes, really, the names of the llamas) show the love. Seinfeld the Llama is thinking to himself, "What is the DEAL with the House of Blues? It's not a house, and it's not blue. Come on, people. Will somebody please help me out?!"
And it was all thanks to you! We were absolutely floored by the outpouring of support our deviants showed us, and it makes us proud to keep working for the community for many years to come. To everyone reading this... thank you, thank you, thank you for calling deviantART your artistic home. We love you.


We'd like to take a quick, yet important, moment to thank one of our own — the person most responsible for the planning and organizing of the 10th BirthdAy Bash in Hollywood. If you attended the party, or enjoyed it from the comfort of your home, you have $LaurenKitsune to thank. Her tireless effort and immense dedication to ensuring the success of the event was remarkable and awe-inspiring for the entire staff.
Lauren never gave up, despite unexpected setbacks, and used her creativity and ingenuity to create an event that will live on in the hearts of many throughout the years. Thanks to her true devious spirit, deviantART celebrated its 10th birthday in style. For this, we thank you $LaurenKitsune!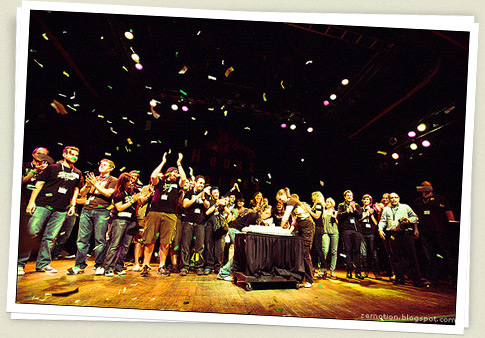 All of the cute animated flags are courtesy
of `capncraka!