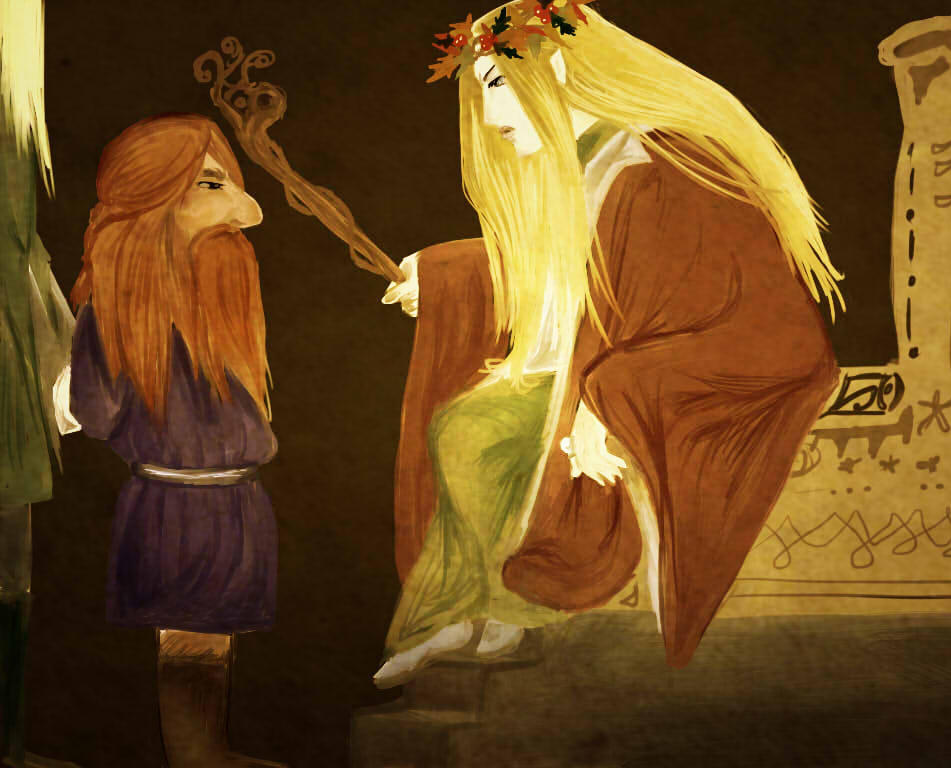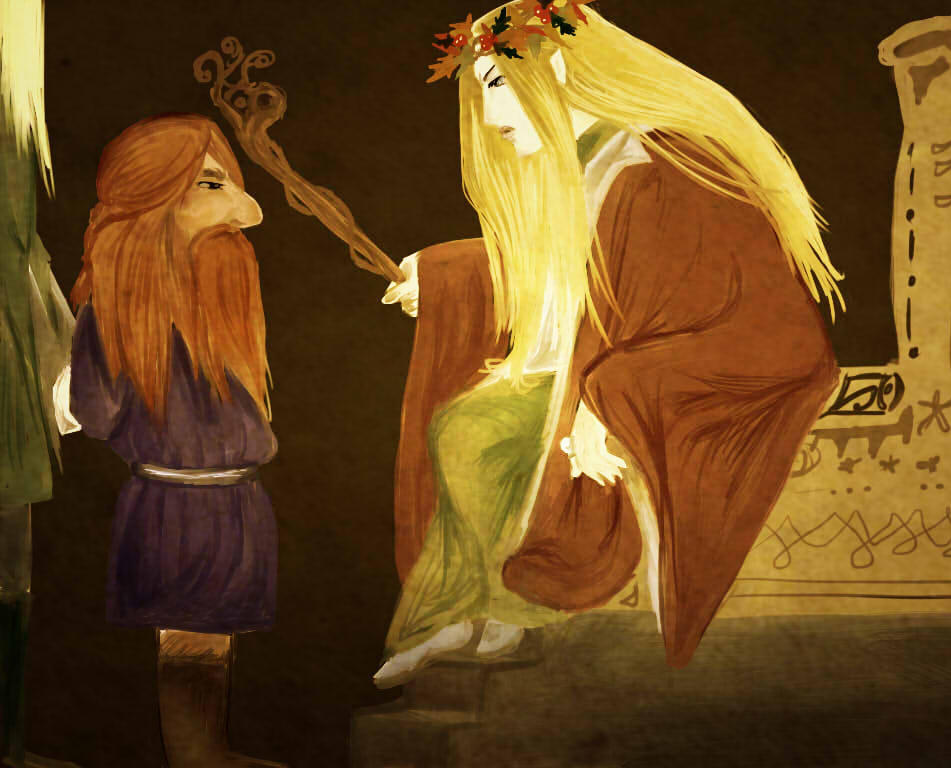 Watch
*Guffaws* I swear this was supposed to be Thorin retained and led before the Elvenking for intense questioning, but looking at it now it just looks like Legolas introducing the boyfriend to his less-than-approving father! *hides*

ah well, if it can redeem me, I did honestly draw this as Thorin, this is how I see him, though I will admit I already have a huge crush on the guy playing him in the upcoming movie - he just looks so
badass
!
I'm pretty psyched about Lee Pace as Thranduil too though, he's very attractive*.* I needed me some proper, flamboyant flowery/leafy crown though, so here is my idea of Thranduil, the epic Elvenking

Edit: This has been added to

's website:
[link]
- go take a look at it, it's awesome and has a multitude of interesting info about the upcoming Hobbit-movie!

Exactly~ The best way to introduce your boyfriend to your daddy~ Interracial love~ Hm. Awesomeness.

No. I know it's not about that, I know, I know.

Reply

Haha well, I actually think a pairing between them is cute, I just don't think of them as a romantic pair normally

I'm so excited about the hobbit-movie by now that I'm almost neglecting my studies though

Reply

It is cute, yeah.

I'm not really into any LotR slash, but I see the beauty of some of the same-sex pairings in it.

Surely those two would never make a romantic couple, but that's why it's fun, isn't it?

Oh-oh. Me too, me too~! I want to watch it too~!

And neglecting the studies. Oh, yes. Awesome. >< *shivers because she looked left and saw the tower of books next to her on the bed.

*
Reply

There is only one slash-pairing I can't help but love, but that one belongs in the silmarilion anyway so no, I don't really have any lotr-ones either

Haha studies suck sometimes

Reply

Love it! Thorin looks so exasperated, in an "at least I'm retaining my dignity, flower-boy" sort of way.
Reply

Hha that was more or less the expression I wanted him to have

I'm very glad it came across like that

Reply

Oh! I remember this fragment xD Both of them were so stubborn here xDD
I love how you drawn Thorin

Reply

Indeed, I love how similar they are when it comes down to it

hehe I'm glad you like him~

Reply

Nice! *Gives thumbs up*

xD
Reply

haha thank you

We might not get anywhere near Mirkwood in our rpg, but if we do, I call dips on Thranduil!

Reply

X-D

Fair enough, though currently we're in Minas Tirith, so it's highly unlikely I'm afraid ^_^''xD
Reply

yes, I know, but I would love to play with him at some point

Reply

I understand xD

Though currently, I have no ideas as to how to do that if we should both have chars ^_^''xD
Reply