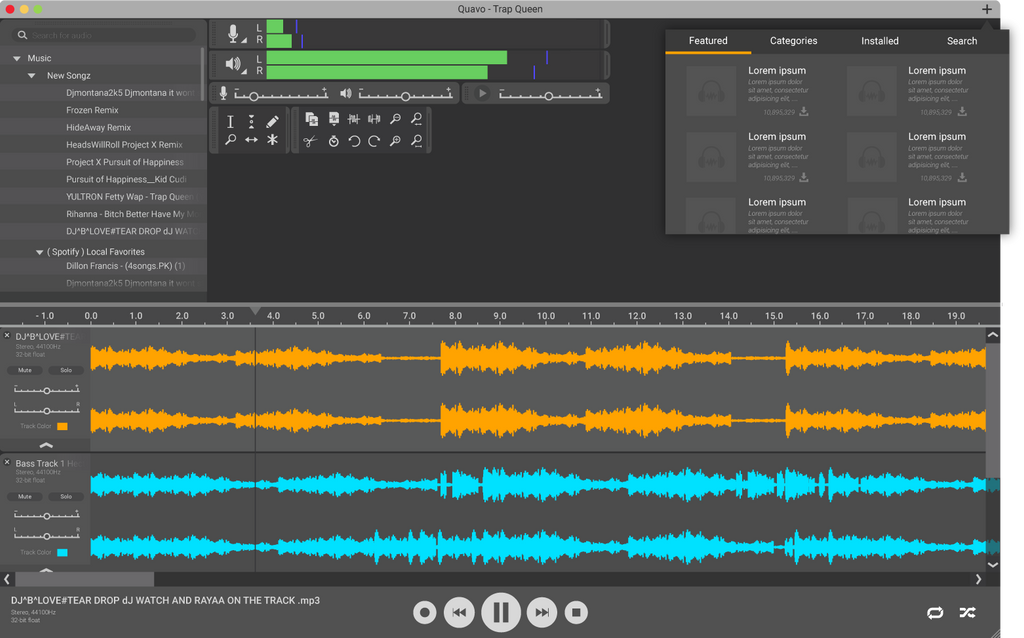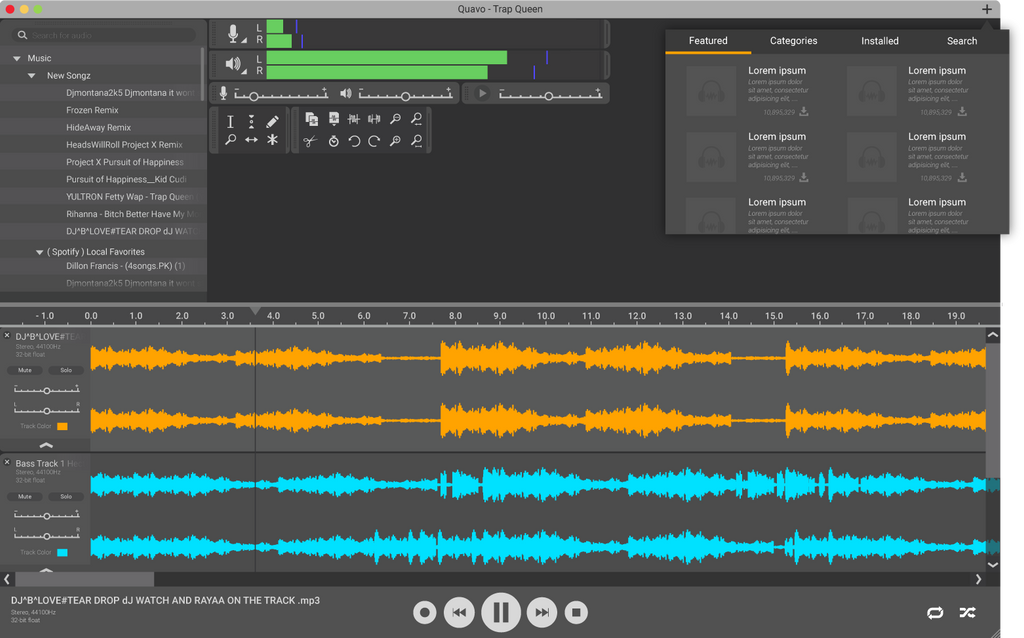 This Project was to inspire a new design for an audio mixing software called Audacity

Interface Design
-Hector Rosado





Audacity
free, open source, cross-platform software for recording and editing sounds
-----Download-----


Audacity is a free program written by a worldwide team of volunteer developers. Audacity is available for Windows, Mac, and GNU/Linux (and other Unix-like systems).

Is this awesome design of Audacity somwhere going, or it is just a empty idea here?

I love this idea, and, Audacity should finaly have a new look. It looks boring, and it is old styling, in comparison to other audio software out there.

We should starting somthing with this idea. Is someone who has starting jet?
Reply

So I just heard on a podcast I listen to that Audacity is looking into revamping their UI. You should totally reach out to them again.
Reply

It IS possible to make a real version of this, if I have the time, I'll do it!
Reply

A lot of code is involved to put this together once summers over and I'm back at my technical school maybe we can work on it together and submit the code to the audacity-team page
Reply

Although I was actually planning to improve the entire Audacity UI, and not just make it a "flat" interface!
Reply

Yes more improvements shall be made as well for example:

• There should be a mobile version which would help increase the popularity of this software, and make projects go faster and easier.

• An account system should be added which could help in saving and sharing files.


Reply

Too much.

Anyways, the flat UI Audacity thing was poorly made and hacked together, so development has stopped on it.
Reply

Audacity really needs a new look, because it just looks outdated at the moment. I'd be satisfied with something like your concept (-: gj!
Reply

This is an amazing design you have done here. I especially got exited when I saw that it was a design to revamp Audacity. There is one thing that I do think is a bit strange and that is the pop over menu. It is very mobile which is not a bad thing but it looks as though it is a desktop application. If Audacity were to be ported to Android or IOS then this would work. But as a desktop app it would be better in a menu bar or something.

I think you should reach out to the Audacity developers and try to make this a reality. I think it would be a major benefit to the project.
Reply

Thank you so much for your opinion ill try a newer concept as an update to that one and make it seem more of a Desktop application. I've also considered making a Audacity concept of it being an actual phone app, but iim not sure of how the features would be setup. And yes i have reached out to the audacity-team and asked them to consider changing the design for their application, but all i got back was something about posting it on a forum page meant for suggestions. Which had a lot of submissions.

Thanks again for letting me know what you thought about the Audacity concept i've made. You i was not very encouraged by much people on makeing the app version of Audacity. Let me know what you think.
Reply

I don't think that Audacity is appropriate for the phone but maybe the tablet. But I don't know I don't use it much. maybe it could be done in such a way that would work. Don't let that stop you from making a concept for the phone.

Developers can be a bit difficult to work with. Most of them will not work on but what internist them. Even if it clearly would benefit the project they will not do it. for example the GIMP team absolutly will not add the ability to put dialog above the canvas so that people can move the tool options to the top. reasons they will not do this? they don't want to copy something that Photoshop does just because Photoshop does it and a lot of people who use Open Source software(including many GIMP developers) use netbooks. and there for adding the tool options to the top of the canvas will take up too much vertical screen estate. Its not like we could do it in such a way that give the USERS the choice....

I would like to see what else you can come up with for other Open Source applications.
Reply

Thank you again for motivating me with your words. I'm sure you'll see more of these projects soon
Reply