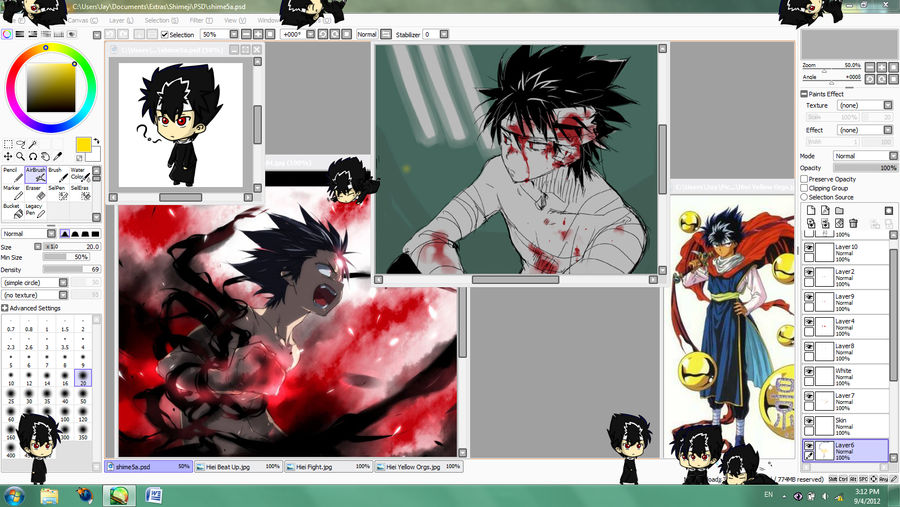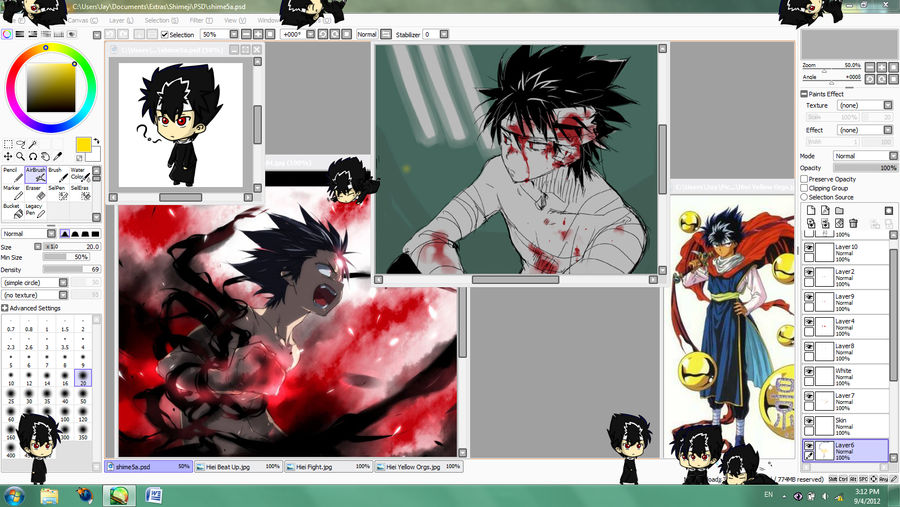 Watch

Please be sure to read everything!

Its here! Finally I give you my YuYu Hakusho Hiei shimeji!
He'll climb the sides of your screen, all over the pop-ups and multiply. But watch out, he'll also try to steal your internet screens!
Please download here! ---> FORMER LINK
Issues with Shimeji upkeep - it needs a new upload space and I'm not current with shimejis so I dunno if this file will keep breaking. Give me some time.
p.static.cyfzcdn.com/personal/…
Quick image of it working on Win8~
WHAT YOU WILL NEED:

A computer running on Windows or
(Sorry, Mac users, I've seen the Mac version but I don't currently have any instructions for you)

If you run MacOS/Unix:
p.static.cyfzcdn.com/jay/Shime…

The latest version of Java.

Winrar or 7zip, to unpack the rar file.
Simply take say, Winrar, grab the file and click the 'extract to a specified folder' option. Pick where it goes and have fun!


WINDOWS USERS ONLY: Like before, use the .exe file to start; however if that does not work, please try the .jar file - as there is some possible bug or compatibility issue with the current version of Java, my friend and I have put together a fix (mostly him, me making it less crowded). If your file no longer works, please download again! Just be aware that the file may take a tad longer now!
Defunct advice is defunct (1/18/17) - should your .exe file not be working, please let us know, as we do not know if this is still an ongoing problem.



Works in
Win10!
p.static.cyfzcdn.com/jay/win10…
MENU:
When you start the program, a blue button will appear on the taskbar. Right-clicking it will bring up a menu that will either look like a bunch of Japanese or a bunch of squares. Since this will most likely be unreadable to you in either case, here's what the options do!
1. Creates another shimeji
2. Will call shimeji over to your mouse
3. Removes all shimeji except for one
4. Returns all windows that the shimeji may have thrown off the screen
5. Exits out of the program.
You can also right-click on a clone to remove them one by one.
TO UNINSTALL:
Just delete the folder.
Made using the now not on dA Hetalia Japan shimeji as a base :c
Hiei & YuYu Hakusho (C) Togashi Yoshihiro

I don't know where to find the .exe file. I know this is really old, but where is the .exe??
Reply

You're looking for Shimeji.exe inside of the folder called "Shimeji_Hiei". Depending on how you unpacked the RAR archive you may have that folder inside of a folder called "Shimeji_Hiei_fixed".
Reply

"Shimeji_Hiei" was inside the "Shimeji_Hiei_Fixed" folder and inside the "Shimeji_Hiei_Fixed" folder was nothing but that other folder. No .exe or anything.
I go inside the "Shimeji_Hiei" and there's nothing besides 3 other folders. Inside the "IMG" folder there's the .jar file that doesn't work, and no .exe file.
Just icons of what are supposed to be the .exe file.
I checked inside all the other folders, too, but there wasn't anything to be found.
Reply

For added measure here are the .exe, .bat, .jar, and original Japanese readme.
p.static.cyfzcdn.com/jay/shime…
I put them in a separate archive, open with WinRAR or 7Zip and put them into the root folder ("
Shimeji_Hiei") of the program. Depending on how you unarchive them they may be in a folder called "shimejicomponents". Do not leave them in this folder, they must be in "Shimeji_Hiei".
Reply

It finally works!!!!! :'DD Thank you so much for the re-download!!
Reply

Good and you're welcome! :3

(Sorry for the late reply, I've been busy and have a night schedule.)
Reply

Oh yeah, I'm using Windows by the way. I forgot to say that.
Reply

So you don't see any of these in this screenshot?
p.static.cyfzcdn.com/jay/shime…
Redownload the archive located here (same link as the one above):
p.static.cyfzcdn.com/jay/Shime…
I went ahead and repacked everything and tripled checked that all of the files were included.
The other thing I need to ask is, are you using Windows or a Mac?
Reply

No, I didn't see any of that at first. I'm redownloading it as I type this, so I'll reply to your next message with what happens next.
Reply

not that terribly old - either way the .exe file should be with in the Shimeji Hiei file itself. So wherever you saved the main file, with in that once its opened, should be a .exe file. My friend, who hosts the download file, and I just checked the file from the link - the .exe and back up .jar files are there. This being said, my personal copy of the shimeji has somehow lost those files. If this is some kind of previously unknown problem, we'll see what we can do to fix it if possible. If yours are missing, I would suggest redownloading the file, if you haven't already to see if they are there this time.

If they are not, please let us know.
Reply

Yeah, I got there but there's no .exe there's only the .jar file. I don't know what's up, but the .jar file didn't work at all and there's no .exe for me still.
I've already redownloaded it 2 times but it hadn't worked either time.
I can try one more time, though.
Reply

We have a request, if you're willing to redownload again - can you screen shot the files and what you see inside for us? We're not sure how this can be going wrong as we've also tested the download link. A visual may help.
Reply

Darnit! Its not working agian. T_T I have windows 8. It worked once, but your directions are pretty vague.
Reply

The directions can only what they are - there's only two files to try; you double click the shimeji.exe file or the shimeji.jar file. That said, my computer genius cohort who is keeping my little art project here alive just re-downloaded the file and its functioning just fine. I'm not sure what more to tell you unless you can explain why its not working on your computer or the same issue pops up on one of ours.
Reply

But then why does a Java thing come up in japanese? I have all the current javas. It worked last time. T__T
Reply

Oh and if the Japanese is what I think it is, please delete your existing copy and redownload it from above. If this does not fix it, then I'm sorry to say that I may be unable to fix whatever is causing problems with you. I have been able to get it to work on several different copies of Windows XP on through to 8 without problem. There should be no problems with compatibility as the required version of Java comes with the Shimeji.
Reply

The patch is working. Turns out I had some sort of virus that was hindering all of my computer. So it wasnt directly linked to your shimeji. Sorry for all that.
Reply

The correct java is actually with in the shimeji files now - the fact that you're getting the Java message (which pops up in Japanese because I'm still running the original Japanese files) could mean you've taken those files out or are running the wrong downloaded file. Please do what my friend is asking, he's the only one who is going to know what's going on because he's the one who fixed it in the first place.
Reply

The patch is working. Turns out I had some sort of virus that was hindering all of my computer. So it wasnt directly linked to your shimeji. Sorry for all that.
Reply

Oh no, that's alright! I'm glad you got that figured out, that's not a good thing to have running around your computer!
Reply

I pre-packaged it with the version of Java needed to run the program so any external version of Java should not come into play, can you do us a favour and screenshot what is appearing?
Reply

The patch is working. Turns out I had some sort of virus that was hindering all of my computer. So it wasnt directly linked to your shimeji. Sorry for all that.
Reply

Hey there!
I'm the friend making the patches. I can verify that the current patch works as you can see from this screenshot:
p.static.cyfzcdn.com/personal/…
What would help with the instructions? All you need to do is run "shimeji.exe" and if that fails to load run "shimeji.bat". If that doesn't work, then there is something breaking that shouldn't be. If you could, if those fail, can you try running the shimeji on another Windows 8 computer? Currently I have managed to get it work on several different computers (outside of my VM banks).
Reply

The patch is working. Turns out I had some sort of virus that was hindering all of my computer. So it wasnt directly linked to your shimeji. Sorry for all that.
Reply

(The latest patch is from May 5th, 2014. If you downloaded the Shimeji before that date then you may wish to redownload the Shimeji again.)
Reply

aww, he doesnt work. darn new computers.
Reply

Hello again! I just wanted to tell you that we did make a fix, and while its working now on both my computer and my friends, if you'd like to try again, please hit that download link! If you do, please let me know if everything works out!
Reply

Reply

Thanks for bringing this up - my friend and I (as he hosts the file) weren't aware that it had stopped. I've got a webpage that states a fix, as the issue isn't your computer its that JAVA for 64bt systems has updated to a version that the older shimeji files can't (or won't) work with anymore. I would give it to you, but its not very easy to follow. There's a number of things that might happen from here - either we'll find a way to fix it, see if someone has a more working file, or something in JAVA might update and fix itself. My friend is seeing it as a bug with JAVA rather than something else.

Though its been a couple years since I made it, its still something of my pride and joy so I'm going to see if there's anything I can do to fix it back up (and perhaps get the other shimeji that people have working again as well).
Reply

YAYYYYYYY I've been waiting for this xD
Reply

Oh, I am loving this! Thank you!
Reply


Thank you!
Reply

Reply

That is really great to hear!
Reply

did u draw those and what a shimeji?
Reply

Yes I drew all the images and placed them into the program. A shimeji is a little program that produces a little desktop buddy! They walk around your screen, climb the sides and sometimes steal you internet screens! In this case, a little Hiei would wander around, climbing, jumping and doing a momentary change of clothes!
Reply