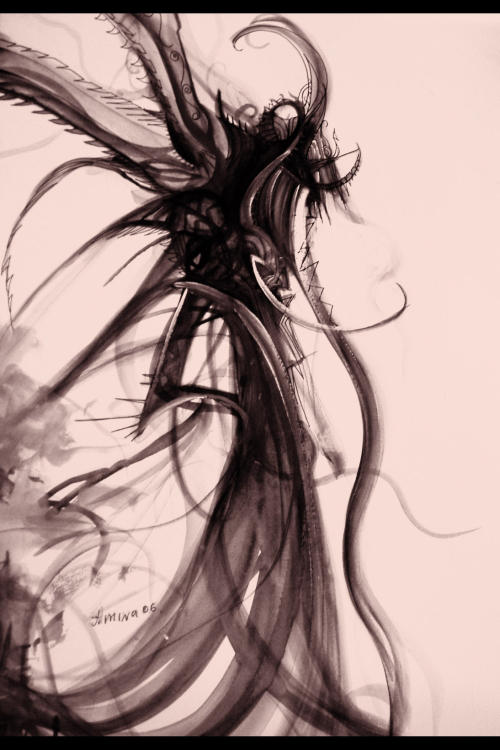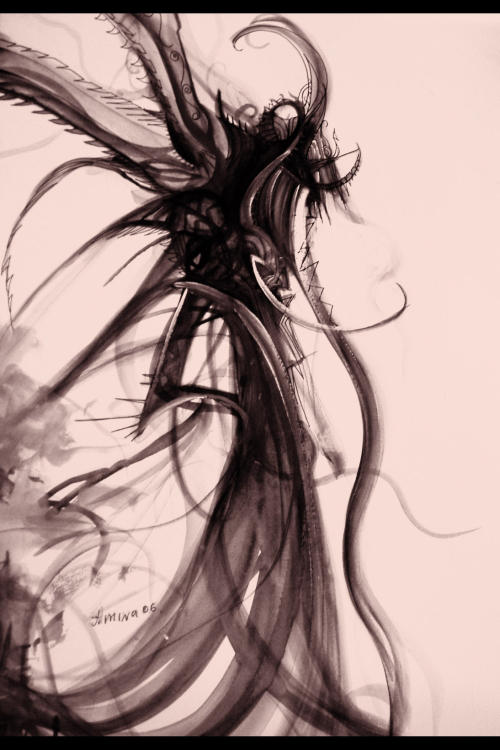 Watch
one of dark angels of Arei's army O_O

you can't see his/her face cause of this long hair... mhehehe ;3

who said that angels are beautiful?!?
So, here it goes:

The obscurity in this piece is very impact-ful and goes well with a dark angel. The tendrils of smoky body are very well done and menacing. The amount of detail around the head area is great, but I'm really glad we can't see a face. In my mind, a dark angel would represent fear and fear has no face, so I really like the usage. Also, the juxtaposition of the swirly tendrils and the sharp angles is great, it's very visually pleasing!

On the other hand, I'm not sure if I really care for the serrated knives/saws coming out of the head area, it seems just a bit cheesy to me. I would rather they were smoky/hazy like the bottom half of the picture or were something else.

Overall the effect is very nice and I'm really impressed with the use of the media (ink wash? watercolor?). I will be perusing your gallery for more great pieces like this one!
The Artist thought this was FAIR
24 out of 25 deviants thought this was fair.
This is the type of art I was looking for! I love how you used a Gothic theme for the angel giving it its uniqueness and flawless touch. Also, I think the actual design itself is just pure creativity! You have used a good amount of transparency at the bottom of the dress and the hair adds a great touch in the whole picture. The way everything is wavy and refined shows gracefulness and femininity. You have left me speechless, SPEECHLESS I tell you! Keep on drawing and keep up the good work! This is just way beyond phenomenal! XD
The Artist thought this was FAIR
5 out of 5 deviants thought this was fair.