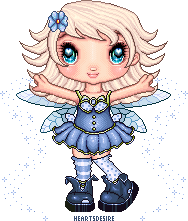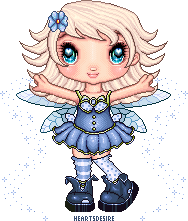 Watch
Introducing the memorable , unique in style , may not always seem to match , somewhat wild , yet it all comes together in her own way , she is loyal , and her gift comes every year to sprinkle that spray of blue magic to brighten a falls day ( autumn ) ......... Forget me not the Pixel fairy.
I noticed uszatyarbuz is holding a contest , inspired by a pixel drawing they did and you have to draw your own idea to it.
A small DTA contest (+extra prizes!)
For me I wanted my own entry to be my version , I was even inspired enough to make my own chibi style base for it ( not released yet ). I wanted her to use the blue shades and the idea on the outfit and hair and wings but in my way...... I do hope it is ok and not to different that you can't tell it was inspired by it but i really love her.
Base is my own but unreleased ( my chibi style) , pixel shaded in photoshop.