WELCOME:
We're proud to introduce Six Star Stables, home of
HorseArt-RPG
high performance Knabstruppers. We only breed purebred, realistic, and high-standard Danish Knabstrup horses with a goal of top sport in mind.
Six Star Stables is based in stunning Denmark, birthplace of the Knabstrupper breed, but frozen semen to any of our available stallions can be shipped internationally due to our state of the art on-site reproduction laboratory.
RULES:

When requesting to breed to one of my horses, please make sure you send me the following information or a link including said information: Name, Gender, Breed, Age (not younger than 5 years of age, please), Height, Discipline, Color (with genotype), Bloodlines (if not Foundation), Image, and your Ranch link.

As "payment" to breed to one of my horses, I request one drawing depicting my character (and if you want to include your character to make it a conventional "mating pic", that's fine too.)

You can design the resulting foal or I can for you, if desired. I just ask that I approve the design beforehand, so that I can make sure that the genetics are realistic.

Due to our adherence to all KNN breed standards, we don't personally breed undesirable - though sometimes popular - traits within the breed, such as wall eyes, rat tails, the gray gene, Tobiano, etc. However, you may still breed our horses out to horses with these defects; the resulting offspring simply won't be admissible for top KNN grading titles. As such, this also means we do allow cross-breeding to different approved breeds, as long as they are healthy, realistic, quality horses.
STALLIONS:
Name:
SSS Absalon
("Axel")
Gender: Stallion
Age: 9 years old
Breed: Knabstrupper (Classical)
Sire & Dam: Foundation
Color: Extreme fewspot leopard on a mealy ("pangaré") bay base
Eyes: Left is white; right is brown
Genotype:
Ee / AA / Pg / LPLP / PATN1
Height: 16.1hh
Temperament: Wary, intelligent, polite, a little unpredictable
Discipline(s): Dressage (retired)
Offspring:
SSS

Wealhþēow
,
CS Hwithoveth's Ghost
Availability:
Available
. Realistic mares please
Image(s):
Name:
SSS Berengarius
("Ben")
Gender: Stallion
Age: 11 years old
Breed: Knabstrupper (Sport)
Sire & Dam:
SSS Valdemar
x
SSS Brynhild
Color: Sooty liver chestnut snowflake sabino
Eyes: Brown
Genotype:
ee / aa / Sty / Sb / Lp / PATN
Height: 17.0hh
Temperament: Sweet, quirky, weird, silly, kind
Discipline(s): Retired 3-Day-Eventer (retraining for Equitation)
Offspring:
N/A
Availability:
Available
. Realistic mares please
Image(s):
Name:
SSS Elverkonge
("King")
Gender: Stallion
Age: 9 years old
Breed: Knabstrupper (Sport)
Sire & Dam:
Famous Last Words x FFEC Mack On Me
Color: Black fewspot
Eyes: Brown
Genotype:
EE / aa / LPLP / PATN1
Height: 16.0hh
Temperament: A ham, sociable, trainable, sweet, goofy
Discipline(s): Dressage (retired)
Offspring:
BRlS Sobredosis el Passion
,
WIS Subnautica,
HDF Katarina
Availability:
Available
. Realistic mares please
Image(s):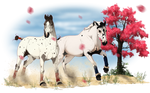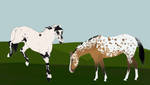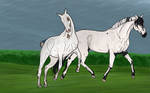 Name:
SSS
Heoroweard
("Hero")
Gender: Stallion
Age: 13 years old
Breed: Knabstrupper (Sport)
Sire & Dam:
WR Deus x EA Ewendela
Color: Buttermilk buckskin roan leopard
Eyes: Amber
Genotype:
Ee / Aa / Cr / Rn / Lp / PATN1
Height: 16.1hh
Temperament: Competitive, brave, bold, needs stimulation
Discipline(s): 3-Day Eventing
Offspring:
SSS Geirskögul
,
Coup de Grace
Availability:
Available
. Realistic mares please
Image(s):
Name:
SSS Lotherus
("Luther")
Gender: Stallion
Age: 7 years old
Breed: Knabstrupper (Sport)
Sire & Dam:
VS Boudewijn x CBS Last Waltz
Color: Black varnish roan sabino
Eyes: Brown
Genotype:
Ee / aa / LPLP / Sb
Height: 17.0hh
Temperament: Cheeky, naughty, cocky, and dominant
Discipline(s): Show Jumping
Offspring:
Mateo
Availability:
Available
. Realistic mares please
Image(s):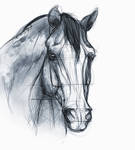 Name:
SSS
Øthbiorn
("Odin")
Gender: Stallion
Age: 14 years old
Breed: Knabstrupper (Classical)
Sire & Dam:
Jericho x SSS Røskva
Color:
Silver dapple sabino leopard
Eyes: Golden
Genotype:
Ee / aa / Sb / Lp / PATN1
Height: 16.2hh
Temperament: Curmudgeon with a heart of gold, workhorse, sassy
Discipline(s): Combined Driving
Offspring:
Knopsvane
Availability:
Available
. Realistic mares please
Image(s):
Name:
SSS Valdemar
("Vlad")
Gender: Stallion
Age: 17 years old
Breed: Knabstrupper (Sport)
Sire & Dam:
BCE Acid Washed x St. Pr. Luonnotar 46
Color:
Grulla sabino snowflake; hidden sooty carrier
Eyes: Golden
Genotype:
Ee / aa / Dn / Sb / Sty / Lplp / PATN
Height: 17.2hh
Temperament: Cheeky, trickster, courageous, a good egg
Discipline(s): Show Jumping (retired)
Offspring:
WIS Valkyrie's Ambition
,
WIS Vernon's Sinful Kiss
,
SSS Albatross
Availability:
Available
. Realistic mares please
Image(s):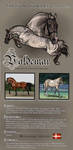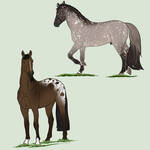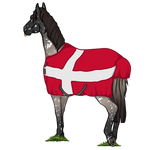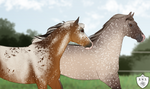 MARES:
Name:
SSS
Brynhild
("Bryn")
Gender: Mare
Age: 12 years old
Breed: Knabstrupper (Sport)
Sire & Dam:
Northwood's Royal Black Gold x Smithsonia
Color:
Liver chestnut fewspot leopard
Eyes: Light brown
Genotype:
ee / Aa / LPLP / PATN1
Height: 15.1hh
Temperament: Pig-headed, sassy, alpha, spirited, gritty
Discipline(s): 3-Day-Eventing (retired)
Offspring:
BRlS Sobredosis el Passion
,
Untitled
Availability:
Available
. Realistic stallions please
Image(s):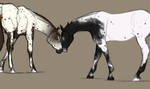 Name:
SSS
Freawaru
("Fea")
Gender: Mare
Age: 13 years old
Breed: Knabstrupper (Sport)
Sire & Dam:
SSS Lotherus x SeE Locomotion
Color: Chestnut sabino snowcap
Eyes: Dark brown
Genotype:
ee / aa / Sb / LPLP / PATN2
Height: 16.3hh
Temperament: Bombproof, sweet, unflappable, calm and quiet
Discipline(s): Broodmare
Offspring:
PrettyYoungThing
Availability:
Available
. Realistic stallions please
Image(s):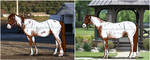 Name:
SSS Geirskögul
("Gert")
Gender: Mare
Age: 8 years old
Breed: Knabstrupper (Sport)
Sire & Dam:
SSS Heoroweard x BK Sign of Ambition
Color:
Brownskin dun roan snowcap
Eyes: Amber
Genotype:
EE / Ata / Cr / Rn / Dn / LPLP / PATN2
Height: 15.3hh
Temperament: Unpredictable, spooky, flighty, wired, nervous
Discipline(s): Puissance
Offspring:
AoF's Maurnosaur
Availability:
Available
. Realistic stallions please
Image(s):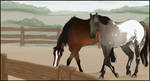 Name:
SSS
Mikkeline
("Mila")
Gender: Mare
Age: 11 years old
Breed: Knabstrupper (Sport)
Sire & Dam:
GFEC Colour My Pheromone x EbF Kiss with a Fist
Color:
Bay blanket Sabino
Eyes: Light brown
Genotype:
ee / Aa / Lp / PATN1
Height: 17.1hh
Temperament: Sensitive, smart, classy, work-minded and electric
Discipline(s): Dressage
Offspring:
HDF Katarina
,
SSS Albatross
Availability:
Available
. Realistic stallions please
Image(s):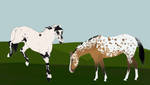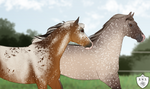 Name:
SSS
Røskva
("Roxanne")
Gender: Mare
Age: 14 years old
Breed: Knabstrupper (Classical)
Sire & Dam: Foundation
Color:
Silver dapple sabino blanket
Eyes: Light brown
Genotype:
Ee / aa / Z / Sb / Lp / PATN2
Height: 15.3hh
Temperament: Skittish, nervous, flighty, internalizer, wary
Discipline(s): Broodmare
Offspring:
SSS

Øthbiorn
,
Hail Mary
Availability:
Available
. Realistic stallions please
Image(s):
Name:
SSS
Snedronningen
("Snowe")
Gender: Mare
Age: 10 years old
Breed: Knabstrupper (Classical)
Sire & Dam:
Baltsaros x RRS Freyja
Color: Bay whiteborn fewspot
Eyes: Black brown
Genotype:
Ee / Aa / LPLP / PATN1
Height: 16.0hh
Temperament: Badass, independent, gritty, bossy, tough
Discipline(s): In-Hand Classical Dressage
Offspring:
Knopsvane
Availability:
Available
. Realistic stallions please
Image(s):
Name:
SSS

Wealhþēow
("Willow")
Gender: Mare
Age: 8 years old
Breed: Knabstrupper (Classical)
Sire & Dam:
SSS Absalon x GSR Never Say Never
Color:
Mealy bay near leopard; flaxen carrier
Eyes: Deep amber
Genotype:
Ee / Ata / ff / Pg / Lp / PATN1
Height: 15.2hh
Temperament: Calm, collected, safe, intelligent, loyal
Discipline(s): Western Reining
Offspring:
N/A
Availability:
Available
. Realistic stallions please
Image(s):