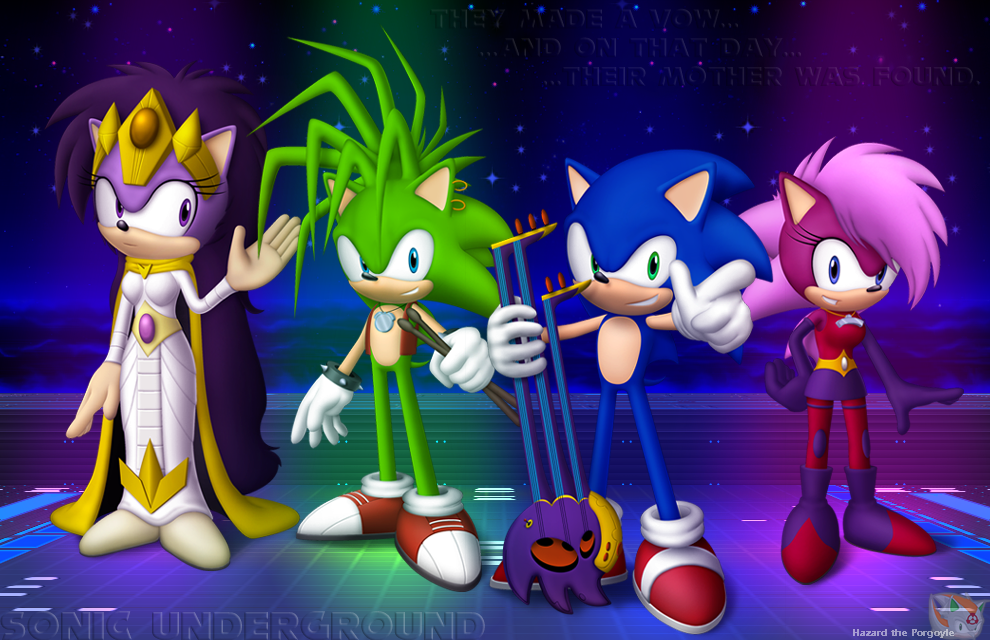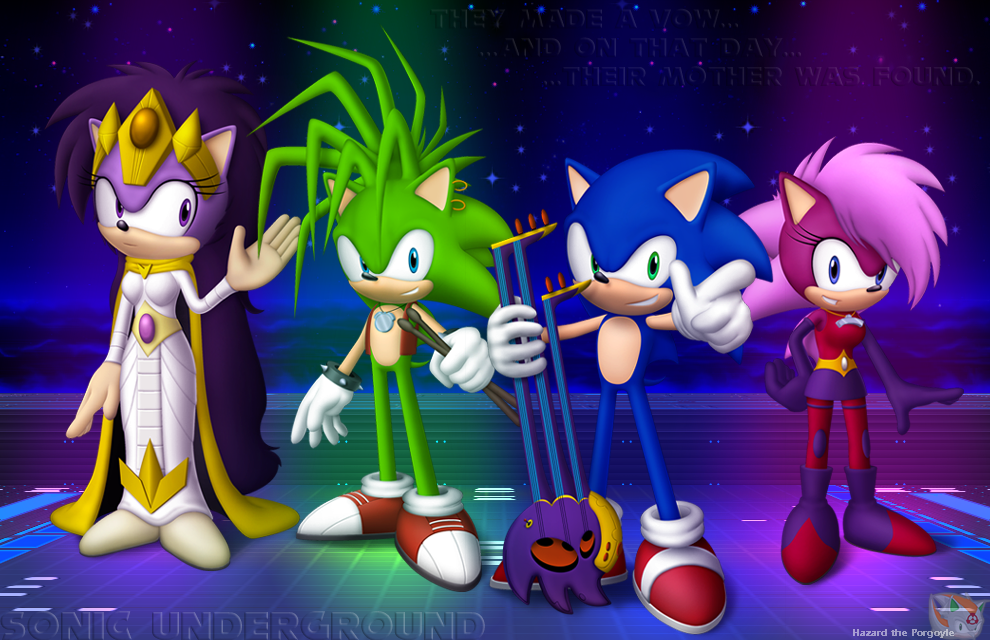 No one has permission to re-post this. Period.
Queen Aleena, Manic, Sonic and Sonia stand on the precipice of a new world, ready to fill it with the music and life that had once been lost. The Sonic Underground need not be underground any more!
Production Notes:
- I'll admit, this piece veered wildly off of what I was intending to do. I wanted to start a subseries of pieces alongside the normal boss pieces (found here:
[link]
) devoted to those characters that I would never get to draw otherwise. The boss pieces limit my character choices, so I wanted to make not-too-fancy side pieces, maybe featuring 3 or 4 characters each, that I could use to say, "I haven't forgotten that these guys exist!" With this one, I drew the three odd hedgehogs out, looked at it, and realized it would be quite awkward to have them without our favorite blue hog amidst them. I added Sonic, got all of their renders together, realized it wouldn't be that hard to whip up a background if I used some old parts, did so, and now we have this. Now, given that I wasn't planning on making a big scene out of it, I didn't really plan any action-filled (or even cohesive) poses, so don't be surprised if you get that impression that they're all just sort of standing around in cheesy poses - that was the point before the piece exploded into the final result up there.
- I've seen some pieces of this variety that have become dumping grounds for comments about how the show sucked and the characters messed up the continuity, yadda yadda. You will find that any comments left of that variety that do not also contain points about the art I put my time into will be hidden without haste. Yes, it was a cheesy show; doesn't mean this is the place to complain about it.
That said, comment away and have fun.
Happy 21
st
Anniversary Sonic.
Character concepts - Sonic Team & DiC Entertainment
Piece - *
Hazard-the-Porgoyle