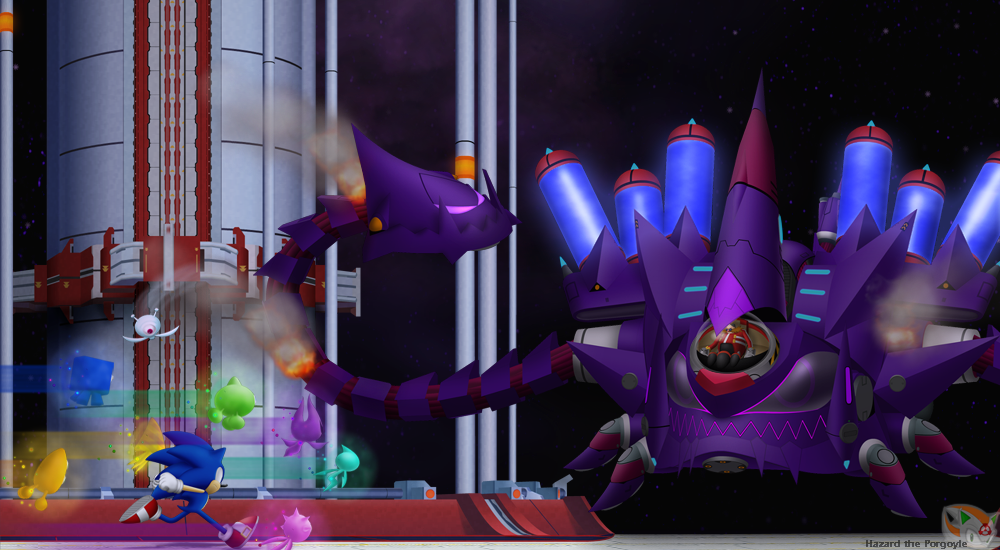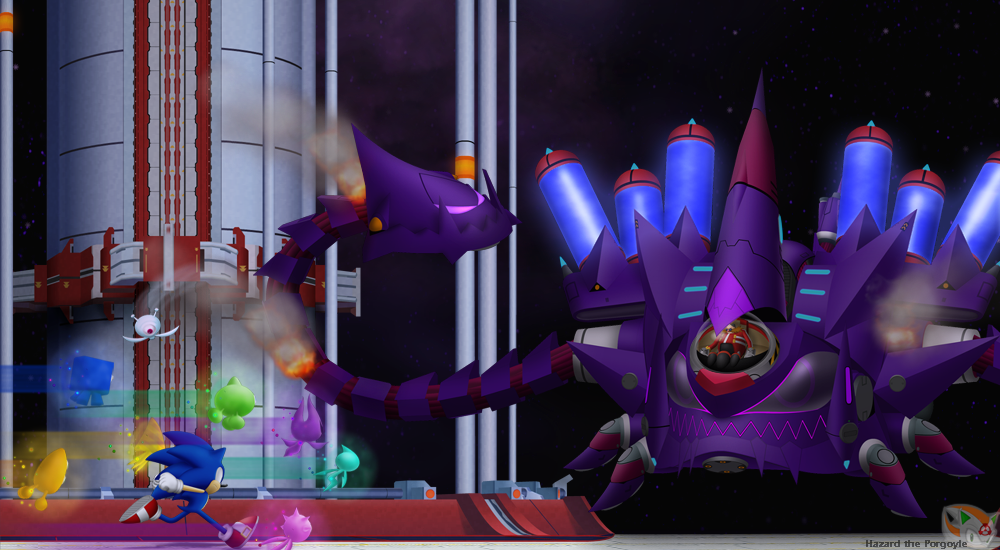 No one has permission to re-post this. Period.
Terminal Velocity
Vs. the Nega-Wisp Armor
As the demise of Eggman's Amazing Interstellar Amusement Park comes closer to certainty, the Doctor decides he is not going to take the loss in stride. He decides that Sonic's extermination is all that matters now, but puzzlingly the power of the Nega-Wisp Armor isn't as impressive as the Doctor had hoped. Eggman should have savored Dark Gaia's power while it lasted, because the Wisps have some things that that beast did not - consciousnesses and a will to fight back. As the Wisps already in the mechanical beast fight to hinder it, Sonic's personal entourage prepares to unleash the ultimate power contained within them...
...UNLIMITED COLORS!
Production Notes:
- This is one of those pieces that has been in development for quite some time, but only recently have I had the free time to push it into "completed" territory. I started this file so long ago, in fact, that Sonic's head here was used for two other deviations, one of which was posted back in mid-December 2010 (Exception) before it could even be used for the deviation it was created for. Yeesh, time flies fast.
- The boss was ironically the fastest component of this, by far. One day drawing, another shading, and that's it. Other parts were made in less time, sure, but when taking about pure speed, the boss takes the cake.
- I tried to make interesting use of the curved road in this battle to create what you see. It was exaggerated a bit, but I'm not complaining. Both Sonic and the boss are good and visible while still being in decent scale.
- The white Wisp there is one that had escaped the boss after Sonic landed a hit, and it is heading towards Sonic, explaining its different positioning/perspective.
Concept - Sonic Team
Piece - *
Hazard-the-Porgoyle
I really love the detail you put in this piece, especially with the Nega-Wisp Armor. I also like the transparency you gave the Wisps charging towards the Nega-Wisp Armor. I also love the detail you gave each Wisp, especially with the eyes of the Rocket and Cube Wisps popping out. In fact, this almost looks like a screen from the game, but I can tell it isn't.

There were a few things that could be improved. While the Space Elevator looks great, it felt a little bare, and in the game, it had a little more to it. The capsules in the back of the Nega-Wisp Armor are fine as they are, but could provide a little more liquid inside of them. I know it's hard to draw the liquid inside the capsules, but it's just a suggestion.

Four stars were given for originality since it is fanart. I do admire the style you used and you did a great job with the piece, but since it is fanart, I can't give out five stars for this. (Sorry, just a personal thing.)

Overall, great work, and I'll be looking forward to seeing more.
The Artist thought this was FAIR
29 out of 29 deviants thought this was fair.
You drew the Egg Nega Wisp Armor very nicely. It takes both skill and effort to draw something that complex and succeed. I can't really say much more on the robot. Amazingly drawn, that's all.
Sonic and the Wisps were done nicely. Drawing Sonic when he had just rescued the White Wisp was a thoughtful detail. Nice idea. However, since he had just gotten the last Wisp, I think that you should have drawn Eggman either beginning to stumble or about to lauch his final attack (depending on whether you were drawing the DS or Wii version).
Overall, though, this was very well done. Good work, as usual.
The Artist thought this was FAIR
23 out of 23 deviants thought this was fair.