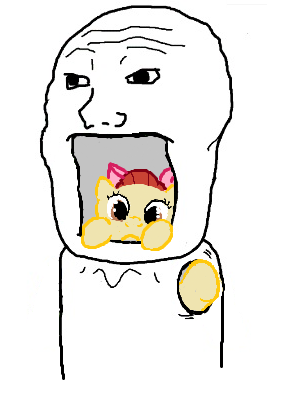 From 2012 to 2015 I invested hundreds of hours in the Brony community. About eleven months ago I got on board the Trump Train. Then I tumbled down the alt-right rabbit hole. I went from painting pastel ponies to heiling Hitler in ten months flat. What a time to be alive.
I first got acquainted with the Brony phenomenon early in 2012, during season 2. Lauren Faust was still involved with the show's production. The Brony fandom was making the news. /mlp/ and EQD were in full swing. MLP:FIM had officially acknowledged the fandom with a speaking role for Derpy in "The Last Roundup".
The show hit a few buttons for me. The Flash animation was smooth. Character designs (credit to Lauren Faust) were great. Voice-acting (credit to Tara Strong, Tabitha St. Germain, Ashleigh Ball, etc...) was great. Writing was great for season openers and closers (credit to Faust again), and generally good for filler episodes. But the best aspect of MLP:FIM, in my opinion, was the fan-created content. Fallout: Equestria was the magnum opus of all fanfics. JanAnimations, MisterDavie, HotDiggityDemon and others were uploading professional-quality, highly entertaining animations to Youtube. It was a good time to be a Brony.
During winter break 2012-2013 I dropped out of university and bummed housing off friends while looking for a job. It took almost a year before I finally got one. I ran pretty low on savings in that time. Anyway, not knowing what to do with myself, I downloaded Inkscape and started making MLP vector art. In winter 2013-2014 I discovered Stable-Tec Studios. They were recruiting content creators to animate Fallout: Equestria. I liked the idea and signed up.
That was the height of my engagement with the fandom. I worked off and on with Stable-Tec, producing some concept art and backgrounds for them until winter 2014-2015 when I formally left the group. After this my activity slowed and I eventually stopped following MLP:FIM and Brony content creators.
Departure was not a condemnation. All things must come to an end. But I did have some issues with the production of MLP:FIM and the Brony community at large.
Faust was the creative genius behind MLP:FIM. Under her direction, the first season was excellent. Alas, she lost her position as executive producer after season 1. She left the show entirely after season 2. I believe she was ousted due to a conflict of interest between her vision for the show, and the desire of (((corporate interests))) at (((Hasbro))) to use MLP:FIM as a vehicle to push merchandise and (((Cultural Marxist))) propaganda. These (((corporate interests))) had Derpy renamed and redubbed in "The Last Roundup". (((They))) went around slapping copyright claims on JanAnimation and MisterDavie videos. (((They))) had Double Rainboom taken down, if I recall correctly, with a threatening letter.
As Faust lost control over the show, continuity and direction evaporated. Characterization was discarded. Moral lessons became convoluted and were sometimes completely back-ass-wards. I'm thinking "May the Best Pet Win". The painfully contrived canyon rescue allowed the sluggish ground-bound tortoise to win. The folk tale it parodied, the Tortoise and the Hare, was a moral tale that cautioned against hubris. The flying pet candidates did not suffer from hubris, Rainbow Dash did. Victory was thus handed to the least appropriate candidate on a technicality. I'm thinking of the string of Spike episodes where the only male lead was made out to be greedy in "Secret of my Excess", weak in "Dragon Quest", a clumsy oaf in "Spike at your Service", then greedy again and a compulsive liar to boot in "Just for Sidekicks". Whatever happened to Peewee the phoenix anyway? I'm thinking "Super Speedy Cider Squeezy 6000". Automation promised greater volumes of higher quality cider. The machine had the potential to solve the cider shortage and bring greater profits to the Apples. That was actually a bad thing because reasons. I'm thinking "Keep Calm and Flutter On" where the incarnation of chaos was "reformed" with emotional blackmail. Ugh. What a shit-show.
Lauren Faust proved herself a good leader with a vision. In my opinion, that is exactly why (((Hasbro))) ousted her. (((They))) wanted weak, controllable leadership. (((They))) wanted it, (((they))) got it, and the product suffered as a result.
Weak leadership sullied my experience in the Brony community as well.
While I was with them, Stable-Tec Studios had no strong authority. There were two ostensible co-heads. Decisions were made by committee. Bad behavior was tolerated. People were doing whatever work they felt like, or sometimes nothing at all. There was one particular... literal autist... who was attending every meeting and involving himself in the activity of every department. He was obnoxious, contributed nothing of value, yet was never removed. That is not the sort of environment that produces results. And it hasn't, I'm sorry to say.
This same shit was going on in a local Brony group I joined. Group leaders took the loving and tolerating meme too seriously. They failed to check obnoxious members online or at meetups. It compromised the whole thing.
At root, everything that sullied my opinion of MLP:FIM and the Brony community issued from the cancer known as (((Cultural Marxism))). Tank needed to win the pet contest BECAUSE he was the worst candidate. Spike's character was assassinated BECAUSE he's male (and a dragon, which is badass). The Super Speedy Cider Squeezy was evil BECAUSE it was a superior method for making cider. Lauren Faust was ousted BECAUSE she had the ability and will to make the show into a timeless classic. Autists were to be loved and tolerated BECAUSE they fucked up social life for the rest of us.
(((Hasbro))) doesn't want children to learn proper moral lessons. (((Hasbro))) doesn't want children to aspire to lofty ideals. (((Hasbro))) doesn't want to produce timeless classics. (((Hasbro))) wants a mass of ignorant sheeple it can push its cheap sweaty plastic on. And (((Hasbro))) is just a microcosm of the (((hostile elite))), who control finance, media, and academia. (((They))) use these institutions to push their (((Cultural Marxist))) poison into every aspect of life, corrupting society from within.
If you have no idea what I'm talking about, perhaps this video will make things clearer:
If that piques your interest, check out therightstuff.biz. They have great podcasts.
I acknowledge that I jumped straight from 0 to 1488 here. Feel free to PM me with a note if you want to debate, ask questions, or for more information or resources.