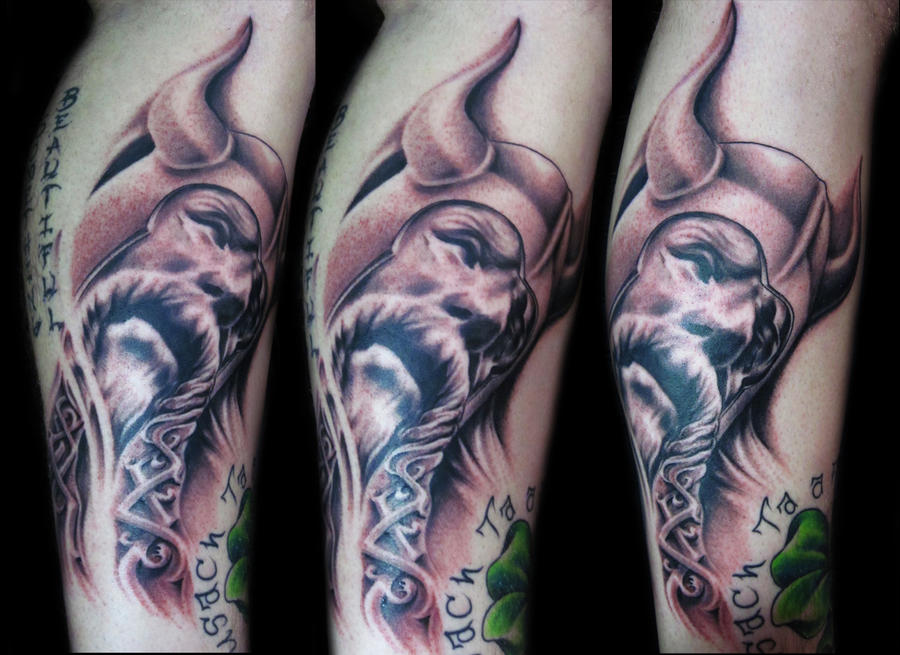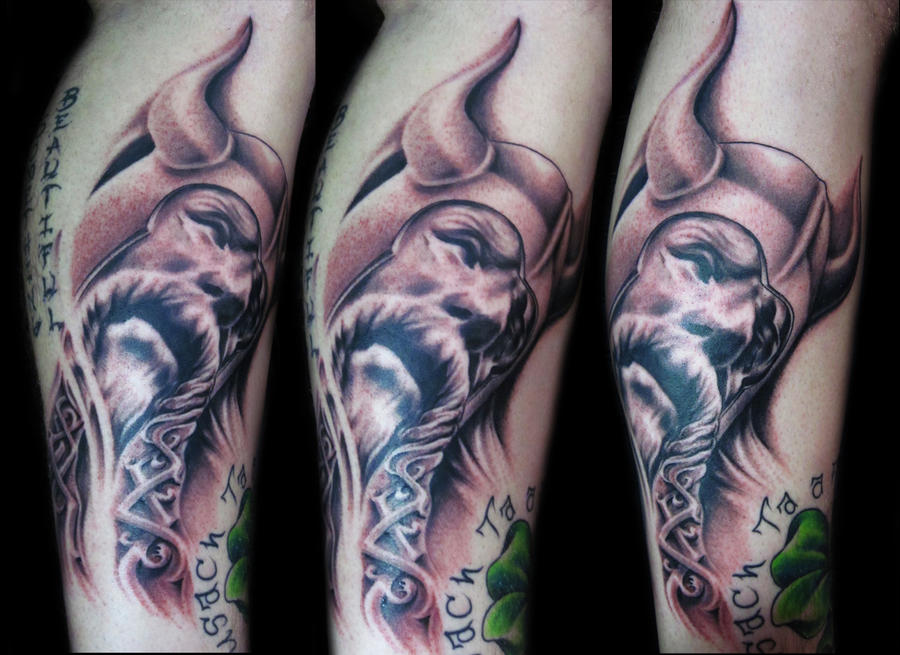 Watch
Freehand viking with Norse knot work coming out of his mustache. Hope you love it as much as I do. Carl Grace.
Please bear with me, this is my first time critiquing something on here, and it's a little weird for me critiquing and artist who in my opinion, blows my work away, but here goes.

The first thing I notice is the great contrast, this is a piece that looks like it will heal nicely, and it seems to have a good silhouette, I think it would look good from a distance as well as up close.

The line work and shading are very smooth, crisp and clean.

The mouth area looks a little strange, the mustache portion doesn't seem to be very realistic, but it could be stylized. I think it could use a little more shading on the upper left side of the lower lip...I'm not sure why but that area looks unfinished to me. I'm a little wary of criticizing that too much, it might have been an intended effect.

The expression on his face is really interesting, it makes me wonder what the story behind the picture is.

The knotwork bordering the image looks awesome, really original, a creative twist on the usual stuff you see.

All in all an awesome piece, your work is a great inspiration.
The Artist thought this was FAIR
1 out of 1 deviants thought this was fair.

I like the knot work comming out of the mustace, and it looks like alot of time was spent on it. This makes me want to listen to Amon Amarth now.

Reply

Reply

Quick addition to that critique, I just read the description of this picture, I see now that the stache is indeed stylized. Sorry bout the mix-up.
Reply

its all good, thank you for the critique, I agree about the lower lip.
Reply

congradulations on your first critique, i think you did a good job.
Reply

Thanks! I'd like to start doing more of them.
Reply

I would like to participate in Critiques eventually, but I'm so affraid that my work would get picked appart. I mean it's not like my work is critiqued because I deal with that in my Drawing 1 class for college, but that's amongst peers. Some critics could be unnecessarily harsh online...but I guess that's why the artist can mark that critique with a fair or unfair flag. One of these days I'll do it, but right now I need to work on renewing my subscription.
Reply
What kinda ink do you use?
Reply

Reply

Reply