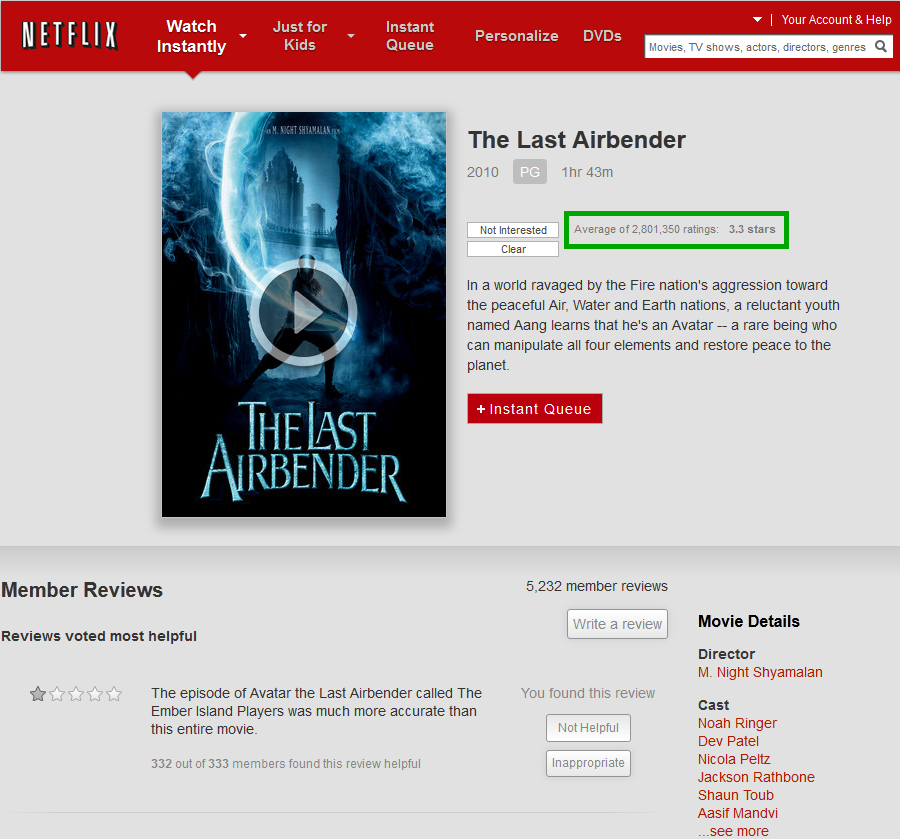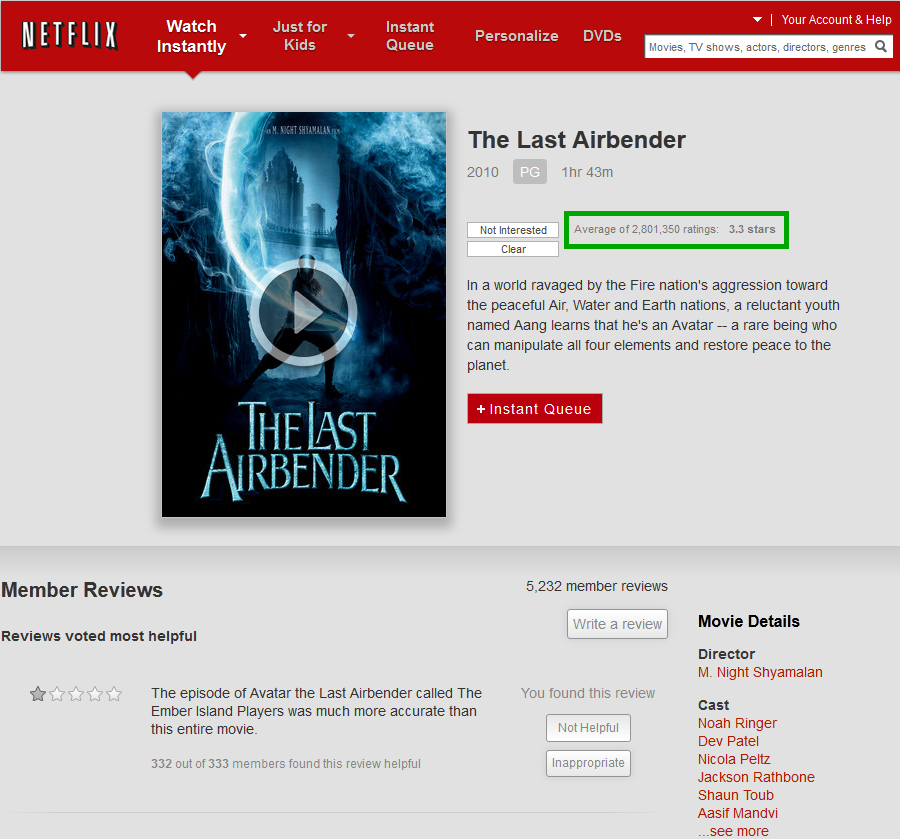 Hey guys, this is a screenshot of the Netflix entry for
The Last Airbender
as of 6/22/2012, which can only be viewed by Netflix members. I took out my account information, and adapted the image to fit 900 pixels wide, and highlighted the ratings in
GREEN
. Otherwise, everything else is unchanged.
The average of
2,801,350
member ratings is
3.3/5.0
stars. The number of member ratings appear to be growing at thousands per day.
Because of the sheer sample size for the number of members, the 3.3 rating is statistically significant, more so than limited sample size for rotten tomatoes and the Razzies. Netflix members are mostly people who actually bothered to watch the movie. Haters and bigots generally do not AND are not the audience that the studios look and target for. So for the film fans out there, don't let anyone give you crap that this movie is "universally hated".
Note that there are
5,232
members reviews which are mostly 1-star and negative, which had hardly effect on the average member ratings. The cold hard truth is that, haters are a
vocal minority
. As I mentioned elsewhere, bashing the movie and calling it racist will not hurt the movie or its prospect for the sequels, but hurt the image of the fans of
Avatar: The Last Airbender
show, AND may even hurt aspiring Asian actors.
The cast and crew of the movie are doing just fine:
Cowboys & Aliens
,
Aim High series
,
The Hunger Games
,
Snow White and the Huntsman
,
Bourne Legacy
,
After Earth
, etc., etc.. If Paramount did cancel the sequels, the one that will get the shaft is the Airbender franchise itself, not these wonderful people. The Asians will get burned too for that matter, since the sequels are supposed to feature them in the Earth Kingdom, with Toph and Suki as Asian cast members in the lead roles.
BTW, there is currently
1,850,297
likes on its official facebook page
[link]
. Also, feel free to retweet this
[link]
and the response
[link]
from Shaun Toub. Adios!
Netflix star system
(★★★★★) "Loved It"
(★★★★☆) "Really Liked It"
(★★★☆☆) "Liked It"
(★★☆☆☆) "Didn't Like It"
(★☆☆☆☆) "Hated It"
UPDATE:
2,901,084 member ratings as of 2012/07/16
UPDATE:
3,001,893 member ratings as of 2012/08/13