Hey guys we're down to the last three days to support our Kickstarter campaign.
We're pretty close at 80% funded.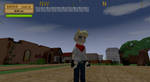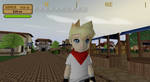 :thumb482344222:
(pre-alpha graphics, subject to change)
Check us out if you have a chance

www.kickstarter.com/projects/7…
Some Key features we have in our game are:
Create a custom character
We really want to redefine how character creation is done. First we don't want to limit players by gender specific options so you start from a blank character and you create them however you want. We also want to have more feature from other races such as dark skin and forgotten hair textures and styles besides straight.
Choose a profession.
Then when you are done creating your character you can choose a profession you would like to roleplay as. Depending on the profession you chose will change the way you play the game. Each profession has specific upgrades and unique quest lines. Not only that but in a player run market the items you create will be important in sustaining the world with what it needs.
Farm, Fish, Mine, Cook, Raise Animals.
Everyone can do these, except if one is your profession you will far exceed what you can do in the others can't.
Craft unique items
You will spend most of your days gathering materials and crafting many items. You can craft items from other professions but you will be able to unlock and craft more items in your profession. You can gather materials from quest, foraging for materials in the game world. These items can be used to court NPCs complete quests or fill out personal wikis to gain achievements.
Customize your house
After selling the materials you craft you can use it to customize your house and farm. Customize it with furniture and other décor. Then invite friends over to hang out later.
Dating
Let's say you finished doing all of the above, maybe you want to start building relationships with the NPCs. The NPCs will all have their own in depth storyline which you can unlock and explore. Depending on what you want you can do a best friend quest-line or a romantic questline with the NPCs of your choice. Your gender in the game does not affect who you can date.
Quests
Finally the game comprises of many mini quest lines you can complete. The different types of quests you can do are:
Errands: Easy quests which are basic request from NPCs such as deliveries.
Profession quests: Quests that are specific to your profession.
Mystery quests: Quests that involve puzzle solving and sleuthing
NPC quests: Quests that unlock the true secrets and character of an NPC,
Romantic quests: Quests to court an NPC and date them
Match making quests: Quests where you hook up 2 NPCs.
You aren't obligated to any specific quests it's up to you to decide what is the most fun to you.
Have fun with friends
You can do all these and more with friends at the same time. Or if you decide to play solo that is also an option.
For more questions or information feel free to check out our website
www.pumpkin-online.com
Thanks