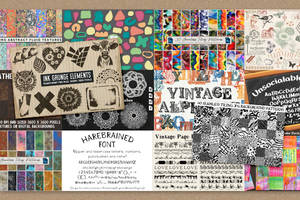 HG Designs Subscriber Area
Lots of high resolution goodies for graphic design including textures, photoshop brushes, seamless patterns and more.
---
Suggested Premium Downloads

Pattern Paper Series 1, part a.
Description
This is the first in a series of both patterned and simple solids which make up an overall project including corresponding vectors, alphabets and other unique elements created in PS and Illustrator.
The project is titled \\\"Holly Jolly\\\" and corresponds directly with the holidays using the above seen color palette. Should you be unable to d/l - PLEASE message me! I will upload the zip ASAP but in case I haven\\\'t yet - let me know.
All feedback is welcome!
Thanks, Harper, for these lovely papers! I am not a scrapbooker; I make cards and love to use digital papers that I print out for my cards. Thanks for enabling my love affair with pretty papers!