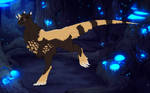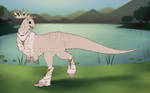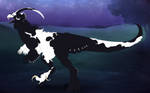 XIII - I Ain't Afraid of No Ghost

Fear is a force that drives almost all creatures in times of great stress. Learning to stand and face your fears is important, but it's also important to learn when to back down and acknowledge that you're afraid for a reason.
° Draw or write about a time that your Kukuri was scared - what or who were they scared of and how did they deal with their fear and learn from the experience, or did they learn nothing at all?
° A parent or guardian must be visible in the picture.

Tisiphone slowly entered the sewer system below the coliseum she had fought in a lot of times during the past weeks.
It brought all those glorious and magnificent memories to her head.
The glorious victories she had achieved inside these dusty sandstone walls, right under the impressive arches.
But now she wouldn't feel the warm sun on the back of her head and no crowds would be cheering for her and her opponents.
Now she was underneath all that glory, walking through filthy, gooey water flowing and carrying many gory things with them.
Tisiphone recognized a few of those small objects.
They were small blue and white mushrooms.
The large Prairie Dove immediately knew their source and her heart skipped a beat on the instant before picking up an incredibly crazy pace.
It was not reassuring that the only 2 Kukuri who were accompanying her into the sewers were a nerve wreck of a Rook and a Velvet Dove who seriously creeped out even Tisiphone.
With a sigh, Tisiphone tried to calm down herself at least a little bit.
After all these Mushrooms had already lost their glow.
It was unlikely their source was still anywhere near and they could even be left over from the cruel fights against the wicked infested fighters that this arena had seen just a few weeks ago.
The scent of them was still noticeable in the air.
The sweet scent of blood mixed with the disgustingly strong scent of the oh so common blue goo those beasts released.

~~~
What did happen? The Hazel Rook with the pitch black eyes could barely replay what was going one. This time of the fight in the Carnival of Life everyone seems to go crazy. The NPCs became uncontrollably and everyone seems to panic. His Fur stands up; as he still had the bad feeling something was coming. Something that could change everything. //T-They used to l-life there. The a-answered must b-be there…//, did the Devil Horn Rook try again and again to calm himself down. But it did barely work. His legs were shaking with every step he did take, deeper and deeper into the darkness. The air was wet, from the water that must be somewhere down there. //C-Calm Arawn…//
What would he be giving to be able to not be alone there? A friend or his grandma at his side would be helping… But there was no one. Only he on his own…
"Arawn… You are not alone.", did suddenly whisper a Vice behind him and did let the Rook scream in fear und jump away, only to turn around, open his dark eyes wired and stars right at a known face.
"E-Elisie… Grandma!" The big Dove with her light brown fur did star right down at her scared grandson, with her normal, blank eyes, who still seem to eat at each soul, who was meeting her black eyes. Arawn shiver, even if it was a common feeling for him. He used to life after the loss of his parents a very long time together with Elisie, who did show him, how he could survive. "W-What are you doing there?", he slowly ask, feeling how his heart slowly became more calm. He was no longer alone!
"The Beasts…", she said and starts with her dark eyes right at her Grandsons ones. "And there call. They are calling for something. And it's coming. I was feeling it. We have no time for chatting little Arawn. It's near."
Suddenly another sound appears out of the darkness and gave the little Rook another heart attack.
He could smell the toxic smell of the cursed Shroomes there and so was assuming one of the free rooming NPCs or Poor infected Souls did found him and Elisie. But it wasn't like that. Only the shadow of a black and white, feathered Kukuri appeared out of nowhere and gives the little Hazel one another heart attack. So big!
"Another lost soul…", welcomed Elisie the big Dove, with her emotionless black Eyes out of the dark. Arawn keep silence, having no words, which he was brave enough to speak out to the Dove. Even if he was questioning himself what she was doing there.
The Feathered one growls a bit, but Elisie didn't care. "You must also be looking for the core child. Follow me. It's time."
Still a bit confused, but knowing that it was no use to question Elisies confusing and dark mind and words, Arawn, gave the Dove a long look, before following his Grandma. He had a really bad feeling about this.
~~~
Hearing the sounds of claws scraping on the cold stone floor was slowly driving Tisiphone over the edge.
Every little thing would be able to send her in a mindless state by now, randomly attacking anything that dared to come near her or possibly even look at her weird.
The long mane on her back had risen long ago, every hair on her back stood and whenever a cold wind swayed through the underground maze of wet tunnels her body shivered ever so slightly. It was barely noticeable to anyone except Tisiphone, who felt every shiver like an earthquake going through every little bone inside her muscle packed body.
Her eyes seemed calm, but they were lying.
They were misguiding every soul looking into the deep blue sea and the wide green meadows behind glass.
Tisiphone's thoughts started to fill with scenarios of infected Kukuri surrounding the three lost souls.
One after another biting into her thick fur with it's disgusting rotten teeth and their blue ooze mixing with her scarlet blood.
Her nose was still picking up the smell of Mushrooms and she could tell Arawn and Elisie were picking them up too.
Arawn was slightly shaking and his eyes were filled with the same fear that Tisiphone was so fixed on hiding.
Elisie on the other hand was calm and serious. She kept her nerves and calmed down her grandson and even Tisiphone down a little just with her sheer presence.
~~~
Interested but also scared did watch Arawn the big Dove with the feathers. He did rarely meet someone, who did not care about the Black-Eyed Lineage from Elisie, like her. On the other since he was somehow happy about the fact, that she seem not to care.
Suddenly an abnormal sound appears and a disgusting smell filled the air, letting Arawns Fur rise in fear. Hissing and growling, blue lights appear in the shadows with lifeless, white eyes. Contaminated Kukuris without any question. They did found them.
Arawn's black eyes did open wide, while he steps back in fear. And did appear a new smell in the air, as soon one of the lost souls choose to attack with a loud, painful scream and bite the big Dove. A metallic taste did appear in Arawn mouth, as he remember the taste of the blood. Blue and Red Stuff was flying around, while both Kukuris start their fight, splitting it on Arawn and Elisies Fur…
The Velvet Dove didn't blink, watching with her dark eyes the fight, before lower her head and also starts to attack. Her big Moose Horns enter the infected Flesh of the Poor Soul, letting him scream again. But none of the Doves show and mercy, while facing this nightmare.
Two other Contaminated Kukuris did enter them. One was a Black Raven, common Rook, while the other one was a little, black Kukuri. Arawn could not tell if it's was only a poor Mini or a Puppy.
Arawn took a step back, heavy breathing, not able to enter the fight. How could Life send this curse to them? How should someone be able to face this nightmare?
His young heart beats fast, as the lifeless eyes of the Raven rook turn to him. The little infected one scream, than Jumps, heading right for Arawns Face, who was still frozen in fear.
"Move!", suddenly growls the big Prairie Dove, covered in blue slime, before smashing her Horn right into the poor little Body. The Mini Kukuri did scream and Arawn could swear that he was seeing it cry out. Facing him again, as it would be his fault.
Arawn starts to shake as suddenly a flashback of his past caught his soul and head, let him see again his Father, who told him again, that he was a useless and should have died. Beating him up and letting him cry, without understanding, what he should do…
With a loud scream, Arawn broke and fall on the ground, cover his head with his hands and shout out: "I AM SORRY!" again and again, still facing the Illusion in front of his eyes. He was the reason the Contamination backs than killed his Mother and did destroy everything. It was his fault!
Elisie only look for a little moment to Arawn, than running to him and borrow down to the younger Rook. "Dear we have no time for this. Better you let someone else taking over…"
A whining from Arawn stops and only a small nod of his head shows that he did hear Elisie, before the whole shaking of his body did stop and something change. In the Next moment Rawin took over, free the body from his misery and let him stand up again. The Pupils of his dark eyes was as shape as the ones of a cat, before he growls and then smile, also attacking the Contaminated Kukuris. Arawn may never get over his Deep fears or would be ever able to let the past behind him and forgetting about what he had done, but Rawin was different. He did have no conscience or struggle. As long he could rip these contaminated bags of Flesh and Mushrooms into little pieces, he was happy with it.
Elisie also start to smile, a dark and twisted smile, while watching her broken grandsons other side fight next to the Prairie. Seem like he was with Rawin's Help able to still overcome his biggest fears… What a good puppet toy he did become!
~~~
Tisiphone tore at the many bodies surrounding her.
Amber, Pearl, Raven and Crimson fur was flying through the air whenever she moved and all the different blood was mixing inside her strong jaws.
The metallic taste mixed with the disgustingly sweet taste of mushrooms and she could feel the ever so familiar affects the mushrooms had on Kukuri.
Her gaze hardened and her rage overtook even the last corner of her mind.
Her muscles tensed up even more and she entered the familiar state of pure rage and anger while leaving any consciousness behind her.
She didn't even notice how Arawn changed.
How every muscle in his body, every essence of his being suddenly took a 180 degree turn as if Arawn had never existed at all.
The big Prairies eyes were only fixed on the blue glow.
Those little lights dancing around her mockingly as if they were whispering to her.
"Just give up. You don't stand a chance anyways"
"You know you'll lose, don't you remember"
The voices were clouding inside her head and Tisiphone roared as loud as she could.
Her whole body was shaking when she did.
All she wished to do was rip those mushrooms out of their backs and see those blue lights mocking her die miserably.
She wanted to rip their emotionless white eyes out of their sockets and bury them where they could never retrieve them.
She would just watch them stumble through the rest of their life and no longer could they mock her with their empty gazes or dancing lights !
A small laugh escaped her dark throat at the thought of their misery.
Holding onto that thought for motivation Tisiphone pushed forward into the mass of glowing and slimy bodies and started scratching and biting left and right, ripping out large parts of flesh and just carelessly throwing them away again.
In her rush she didn't even care about Elisie who fought her way through the masses slightly behind Tisiphone and Rawin who battled with a few Ravens behind Elisie.
To be clear she didn't notice anything !
No wounds the Fighters were able to rip into her pink flesh, no blood that was escaping a large gash on her flank and not even her feathers which were slowly ripped out of her flesh one by one.
The only thing she would notice were the empty eyes of the shroomified Kukuris and their high pitched screams when Tisiphone ripped out various parts of them or even complete limbs.
Those screams were like music in Tisiphones unhinged mind.
She smiled over the whole width of her black and white face.
Gone was every part of her previous fear and nervousness and it left no traces behind on her actions and expression.
Behind her Elisie looked at the Prairie Dove, while holding a little white contaminated Pup beneath her foot.
She curiously studied Tisiphone's absence of emotions and a little smirk crossed her mouth.
She whispered lowly and with a noticeable rasp in her dark voice.
"Seems like Rawin isn't the only puppet tonight"