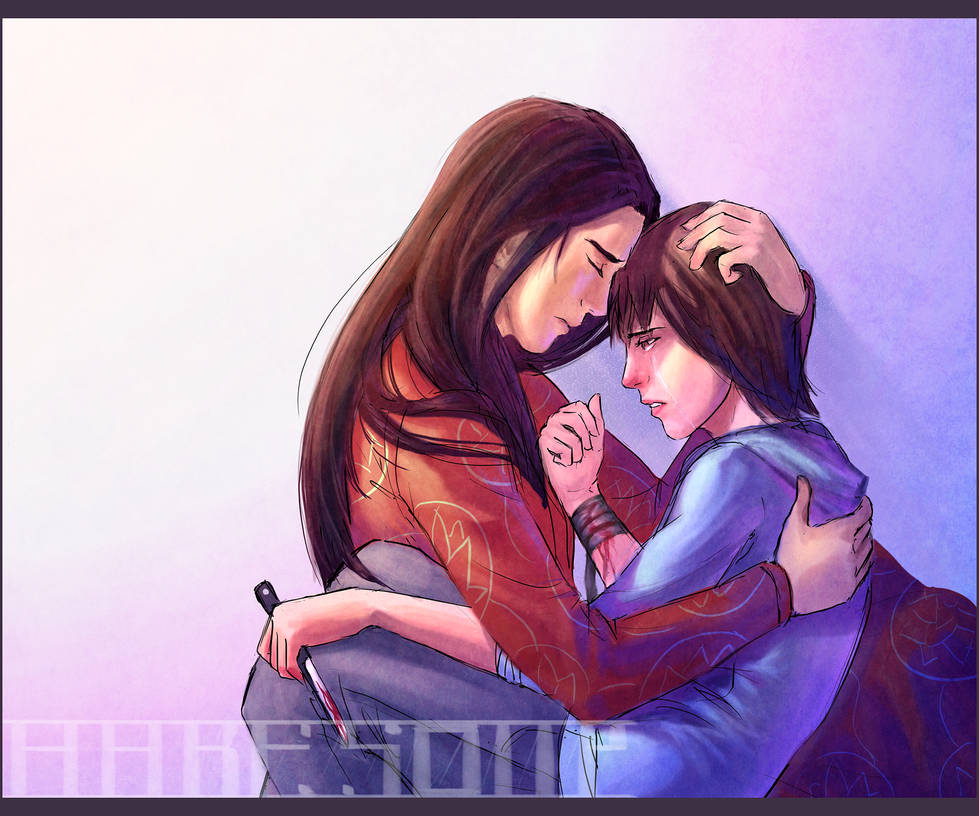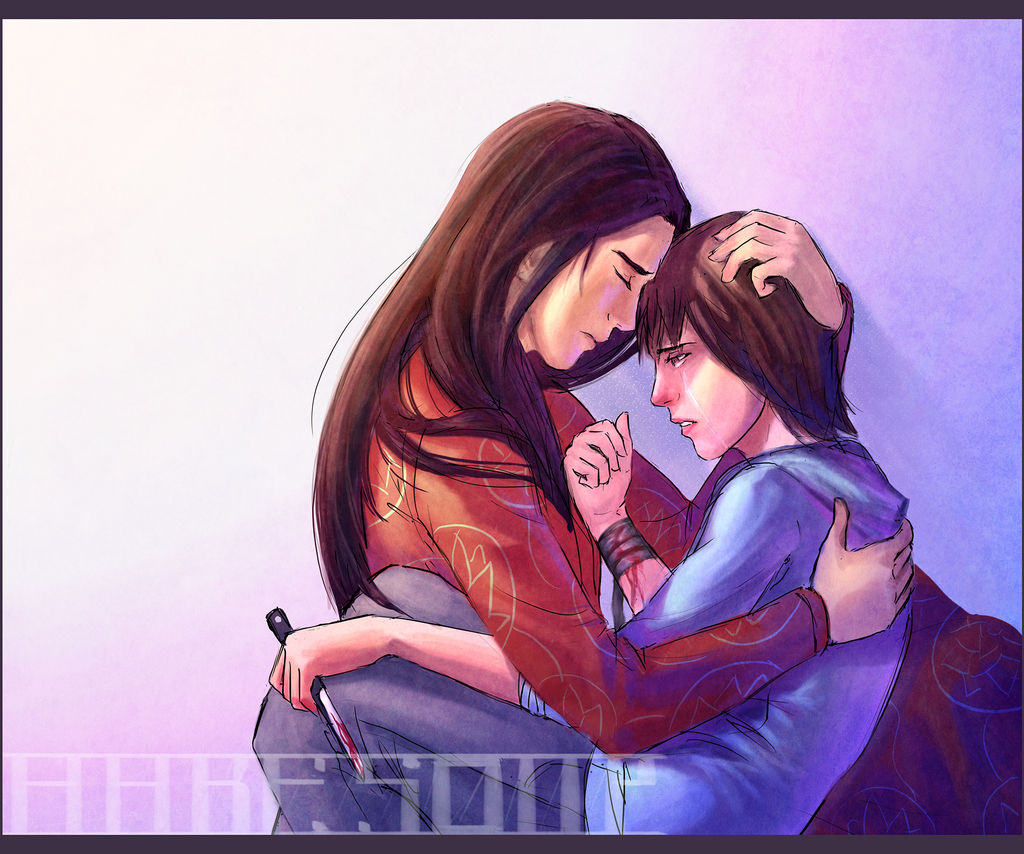 Watch
This is an illustration of this scene,
Moon Scar
from
TasukraVonLiathmore
's story, Nightale. From what I read about it, it's a story about the journeys of Tasukra and Leonardo, but more so, it's a story that explores emotional battles, trials and triumphs. The title is from a line within the excerpt linked above.
Originally, I'd drawn the picture with the moon scar exposed to help it have a bolder impact, but after reading it again, I thought the symbolism of the ribbon/ makeshift bandage was really important too. To me, the short scene was really understandable, since I know several people who suffer from depression. I just want to give a message to everyone who is suffering:
At some point or another we will all be wounded, but we will heal. Some time or another we will all be scarred, but we will remember how strong we are.


Texture by Enchantedgal-stock, found here: Watercolor Painting texture

Characters, story © TasukraVonLiathmore

Art © HareSoup

I love the depth and emotion here. I appreciate art like this, because those who suffer from depression can not only relate to the feeling, but also gain comfort that they aren't really alone. You can really see the sadness, despair and fear in the younger individual. I like how the older embraces the younger, despite everything that's happened.
I also really enjoy the message of hope.. how we are going to fall at times.. but in the end, things will be alright.. That if we hold on, even when it's hard to breath, we will heal in time. <3
Thank you for this.

Reply

Something about this picture feels so incredibly real, I just love the way he's comforted, makes me happy & sad at the same time ;u;
Reply

That means a lot to me, since I wanted this to have a more serious effect on viewers than most of my other art, considering the context and how deeply important it is to the person I drew it for. Thank you so much again. ;u;
Reply

You totally managed to get the feeling through!

I can understand that it was important to you, I also put the most effort into drawings that represent characters I care about or that shows them in a specific scene that's special to me. And you're more than welcome!
Reply

Reply

Very emotional, I love how the feeling is jumping off the canvas. The poses and expressions are very well done here.
Reply

Oh my... god....
This is... wow... This is... I honestly would have never expectes such a deep.... beautifull drawing of them...
I am so... it went directly into me... This is so an...amazing drawing, so deep and full of meaning of the story, about the depression that.... I have no... no words for it....
I... this is really deep... and I have no... iedea how to tell how deep and warm and important this is to me.... I have no clue how to thank you...
I always say I am a writer, but on moments like this my emotions take over and I have no words, no anything... to get out of my mouth... I was just sitting here... crying out of emotion unable to think... what to write... A thank you so so much sounds so little to the big meaning this has to me.... and the emotion it caused me...
Really, from the bottom of my heart, thank you so... so so much... As I promised to everyone who suports me, who understand the message of Nightale... I promise if I someday publish the book you will be mentioned...
Depression is a real issue, a real thing out there and you make it seen through the amazing art of your's where people can relate to

Thausand thanks.... This is beautifull... It expresses everything words may cannot be able to say
Reply

Reply

I forgot to ask~.... Could I may use this picture as cover-picture for the text of Moon Scar?

Obviously with your mention and proper credits! *3*
Reply


It really means a lot, lot to me

Thanks to people like you who sees the message of Nightale, I have the strenght to work on it, giving my best to publish it one day... And I promise once I get it into English I will send you one!
I think it really is relatable, and it is a deep and nice message to those who see this picutre and suffer depression you sendded out such a nice message that it will help a lot of people~ It made my day, and I am sure it will made a lot of other peoples day, to see that out there are people who understands them
Reply