Gallery Description and Miscat Month
Heya guys!
My name is
Hardrockangel
and I used to be the CV for the
Icons & Handhelds
category.
Icons & Handhelds
is one of the smaller (and let's face it: more confusing) categories on DeviantArt.
Which is why I'm here today with a guest-journal at
projecteducate
to clarify the most-used subcategories, and make submitting art to them a lot easier.
Are you ready? Let's go!

What are Icons & Handhelds?
Wedged between the larger categories on DeviantArt, there sits a smaller category under the name of
Customization
.
Fun fact: this category actually goes all the way back, directly to the roots of DeviantArt!
Back then, the website started off as a place geared mostly towards customization via wallpapers and icons.
As DeviantArt grew and expanded, so did the categories.
And the
Customization
category continues to provide Deviants with new resources every single day.
So let's take a look at some of the things that are offered!
Customization & Handhelds
Customization & handhelds
offers just about everything you could want or need to customize your handheld-devices. Whether you're looking for a wallpaper, icons or even a full custom theme, this gallery can offer you that little extra bit of art to make your smartphone or your PSP completely and uniquely yours.
Most of the custom themes that are offered on DeviantArt can be downloaded for free. Installation can differ per theme, though, so make sure to check the artist's notes on how to best go about customizing your device with their art!
To install iPhone-themes, please note that your iPhone needs to be jailbroken. An explanation on what jailbreaking is, how it's done and what the effects & consequences are can be found
here
.
<da:thumb id="618447204"/>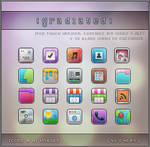 Customization & Icons
Customization & icons
is a large (and active) subcategory which holds cursors, signature banners and more. Among the most important subcategories, however, are those for the different icon-types: avatars, OS icons and dock icons.
Avatars are the ones most of you guys are already using. They're the little image on your DeviantArt page that appears next to your username, for instance. They can be pixeled or drawn, animated or static.

But most importantly of all, they can be found in the subcategory Customization > Icons > Avatars. Below are some examples of free to use icons that you can use on DeviantArt.




OS Iconsoffers art that can be used to replace the default desktop-icons on your OS, such as on Windows and Mac. They can be found under the subcategory of Customization > Icons > OS icons.

A guide on how to replace your default desktop-icons can be found here for Windows and here for Mac.




Dock Icons similarly offers art that can be used to replace the default icons, more specifically the icons in dock launchers such as the Windows-applications detailed in this article.

Installation can differ per application, so make sure to check the artist's notes on how to use what they're offering. Dock Icons can be found under Customization > Icons > Dock icons.



Cursors are not to be forgotten, however! They may be but little, but they are really important if you'd like to know where you're clicking. And why not customize that too, with what you can find under Customization > Icons > Cursors ?

The gallery offers options for Windows and Mac, so there's something for almost everyone there!





In conclusion...
If you love customizing things to make them personal and uniquely yours, this gallery might be your next biggest love. You just haven't fully discovered it yet, although I hope this article has shed some light on what lies hidden in this wonderful category.
And now... go forth and customize!